Attention A T users. To access the menus on this page please perform the following steps. 1. Please switch auto forms mode to off. 2. Hit enter to expand a main menu option (Health, Benefits, etc). 3. To enter and activate the submenu links, hit the down arrow. You will now be able to tab or arrow up or down through the submenu options to access/activate the submenu links.

National Cemetery Administration
Keokuk National Cemetery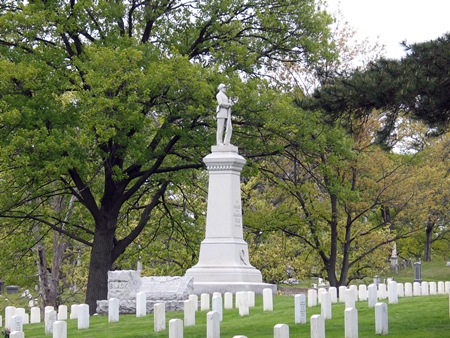 Office Hours: Monday thru Friday 7:30 a.m. to 4:00 p.m.
Closed federal holidays except Memorial Day and Veterans Day.
Visitation Hours: Open daily from dawn to dusk.
This cemetery has space available to accommodate casketed and cremated remains.
Burial in a national cemetery is open to all members of the armed forces who have met a minimum active duty service requirement and were discharged under conditions other than dishonorable. A Veteran's spouse, widow or widower, minor dependent children, and under certain conditions, unmarried adult children with disabilities may also be eligible for burial. Eligible spouses and children may be buried even if they predecease the Veteran. Members of the reserve components of the armed forces who die while on active duty or who die while on training duty, or were eligible for retired pay, may also be eligible for burial. For more information visit our eligibility web page.
The nearest commercial airport is the Quincy, Ill., airport. From the airport, turn right onto Route 104, take 104 to Route 96. Follow Route 96 from Quincy to Hamilton, Ill., (35 miles). At the intersections of Routes 96 and 136, turn left. Follow Route 136 for approximately 1.5 miles, cross the Mississippi River; the City of Keokuk begins here. Continue through Keokuk on Main Street, which is also Highway 218/61, to the intersection of Main and 18th street, turn left on 18th Street. The street ends at the original section of Keokuk National Cemetery. Continue through the adjacent Oakland Cemetery to the first left. The Western section and administration building are at the next left.
Fax all discharge documentation to the National Cemetery Scheduling Office at 1-866-900-6417 and follow-up with a phone call to 1-800-535-1117.
For information on scheduled burials in our national cemeteries, please go to the Daily Burial Schedule.
The Rock Island National Cemetery in Rock Island, Ill., performs all administrative functions for Keokuk National Cemetery. Please contact the cemetery staff at the number above.
For educational materials and additional information on this cemetery, please visit the Education section, located below.
Cemetery policies are conspicuously posted and readily visible to the public.
Floral arrangements accompanying the casket or urn at the time of burial will be placed on the completed grave. They will be removed when they become unsightly or when it becomes necessary to facilitate cemetery operations such as mowing.
Flowers and containers: Fresh cut flowers may be placed on the gravesite at any time. Temporary flower containers are provided for your convenience and are the property of the cemetery. Please do not remove these containers from the cemetery grounds. Under no circumstances will items be tied, wired, glued, or otherwise attached to the headstone or marker. Permanent flower containers are no longer permitted.
Artificial flowers: Artificial flowers will be permitted on the gravesite during the period Oct. 10 through April 15. (Easter specific artificial decorations will be removed and discarded beginning the 2nd Monday after Easter to facilitate preparations for Memorial Day). Christmas decorations, wreaths, grave blankets (no larger than three feet by five feet), etc., are permitted beginning the Friday after Thanksgiving. They will be removed beginning March 1 each year. Decorations removed from the gravesites will be discarded after 30 days from the pick up date.
Potted plants: While they are not suggested, because of damage to the grass, live potted plants will be permitted on the gravesite for a period 10 days before through 10 days after Easter and Veterans Day. They are permitted the Friday before through the Sunday after Memorial Day. (It is recommended that the family remove potted plants as soon as possible to minimize damage to the grass and/or headstone/marker.)
Unauthorized decorations: The following items are not permitted on the gravesite: Potted plants (except as above), statues, permanent plantings, vigil lights, breakable items (i.e., glass/ceramic vases), balloons, toys, stuffed animals, shepherd's hooks or similar devices, U. S. Flags (except on Memorial Day weekend), other similar commemorative items or markers.
Perpetual care: Guidelines provide for grounds maintenance, cutting the grass and trimming around the headstones/markers, and all areas of the cemetery on a weekly basis. This includes the removal and disposal of unauthorized grave decorations and artificial arrangements (except during periods specified above). Fresh cut floral arrangements will be removed from the gravesite and disposed of by cemetery personnel when they become withered, faded, or otherwise unsightly. Any decorations or floral items that have been displaced from the gravesites, due to wind or other factors out of our control, will be removed from the graves and disposed of by cemetery personnel.
VA regulations 38 CFR 1.218 prohibit the carrying of firearms (either openly or concealed), explosives or other dangerous or deadly weapons while on VA property, except for official purposes, such as military funeral honors. Possession of firearms on any property under the charge and control of VA is prohibited. Offenders may be subject to a fine, removal from the premises, or arrest.
Until 1837, the sole inhabitants of the area that is now the town of Keokuk, Iowa, were members of the Sauk and Fox tribes. In 1837, however, the tribes agreed to a treaty that allowed limited settlement of white farmers. Shortly after the treaty went into effect, white settlers began to migrate into the area. But the greatest number of settlers did not arrive until 1842 when a second treaty compelled the Fox and Sauk to move farther west. The treaty would go into effect in May 1842, although white settlers had begun camping along the county border a month earlier. Subsequently, at one minute after midnight on May 1, anxious settlers rushed in to stake their land claims.
By the beginning of the Civil War, Keokuk was home to a population of approximately 13,000 people. Its location, at the confluence of the Des Moines and Mississippi rivers, made an ideal location for the transportation of produce for the war. The first Civil War facility in Iowa was Camp Ellsworth, located near Keokuk, where troops were mustered as early as May 1861. More posts, including Camps Rankin, Halleck and Lincoln were established in 1861 and 1862. As the war progressed, five Army hospitals were established in the area to help care for the thousands of sick and wounded soldiers transported up the Mississippi River from Southern battlefields. Most of the original interments at Keokuk National Cemetery came from these hospitals.
The 2.75-acre Keokuk National Cemetery was originally a part of Oakland Cemetery until the city donated the land to the U.S. government in the mid 19th-century. According to an 1871 inspection report, just after the Civil War there were 627 interments; 600 known Union soldiers and 27 unknown soldiers. Not mentioned in the report were the remains of eight Confederate soldiers buried at the national cemetery, who died in Keokuk as prisoners of war.
In 1908, when the frontier post of Fort Yates, N.D., was abandoned, the remains buried at this post cemetery were reinterred at Keokuk. Similarly, in 1948, 156 bodies removed from the post cemetery at Des Moines, Iowa, were reinterred here.
Keokuk National Cemetery was placed on the National Register of Historic Places in 1997.
Monuments and Memorials
The Unknown Soldiers monument was erected in 1912 by the Women's Corps of Keokuk in honor of 48 unknown soldiers buried at the cemetery. The monument is a large granite obelisk topped with the figure of a Union soldier standing at parade rest.
The American War Dads and Auxiliaries of Iowa erected a bronze wreath dedicated to Unknown Soldiers. Date of dedication is unknown.
Medal of Honor Recipients
Private First Class John F. Thorson (World War II) U.S. Army, Company G, 17th Infantry, 7th Infantry Division. Dagami, Leyte, Philippine Islands, Oct. 28, 1944 (Section D, Site 71).
Other Burials
Born in Cork, Ireland, Michael Crowe (1849-1883) emigrated to New York as a young man and enlisted in the U.S. Army in 1867. Initially Private Crowe served with the 34th Infantry as a wagoneer, then he transferred to the 7th Cavalry just before the Great Sioux War of 1876 in which Sioux and Cheyenne Indian tribes engaged federal troops to preserve their culture and lands in the Black Hills. On June 25-26, the 7th U.S. Cavalry, under the command of Lt. Col. George Armstrong Custer, took the offensive. In the infamous Battle of Little Bighorn, Custer and one-third of his men died. Crowe survived and remained in the army until his death in 1883. Pvt. Crowe was buried in the post cemetery at Fort Yates (ND), which was decommissioned in 1903; in 1908 his remains were reinterred in Keokuk National Cemetery (Section H, Site 796).
First Sergeant Columbus H. McCaa, Troop G, 1st U.S. Volunteer Cavalry -- Date of Death July 6, 1946, (Section H, Site 1151). First Sergeant McCaa, a member of Teddy Roosevelt's Rough Riders, participated in the San Juan Hill Campaign.
return to top