Attention A T users. To access the menus on this page please perform the following steps. 1. Please switch auto forms mode to off. 2. Hit enter to expand a main menu option (Health, Benefits, etc). 3. To enter and activate the submenu links, hit the down arrow. You will now be able to tab or arrow up or down through the submenu options to access/activate the submenu links.

National Cemetery Administration
History: Historic Resources
100 Years of Historic National Cemetery Burial Records
By 2012, NCA completely digitized its original burial system: hand-written ledgers from the 1860s to 1960s. Through a partnership with Ancestry.com, NCA's ledgers — along with others in the National Archives & Records Administration (NARA) collection — are available to Ancestry.com subscribers and free to visitors to NARA facilities.

Note to History and Genealogy researchers: The NCA Historian Program staff is unable to undertake primary research for the public about veterans who may or may not be interred in NCA cemeteries due to the volume of these requests. Researchers should contact the National Archives & Records Administration or other offices recommended in the FAQs.
---
Lincoln's Gettysburg Address in the National Cemeteries
The affiliation among President Abraham Lincoln, his Gettysburg Address, and the national cemeteries is relevant today. The speech Lincoln gave at the dedication of the Soldiers' National Cemetery in Pennsylvania on November 19, 1863, is iconic. In 1909, for the nation's observation of the centennial of Lincoln's birth through activities formal and popular alike, Congress directed that cast-iron Gettysburg Address tablets be placed in the national cemeteries. In November 2018, one of these historic tablets was installed at the Department of Veterans Affairs headquarters for employees and visitors to see.
Abraham Lincoln's Gettysburg Address in the National Cemeteries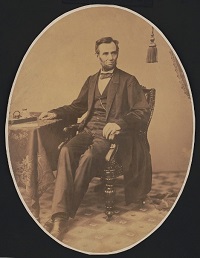 ---
Gettysburg Address Tablets for National Cemeteries to Honor Abraham Lincoln Bicentennial
February 2009 marked the bicentennial of President Lincoln's birth. In 1909, to celebrate the centennial of this event, the U.S. Army placed his Gettysburg Address, cast in iron, in all national cemeteries. Over the years some tablets were removed, and the number of national cemeteries increased. This project assures that all national cemeteries contain this symbolic artifact of NCA's origin.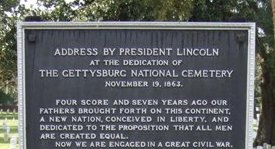 ---
Cleaning Government-Furnished Headstones and Markers
The National Park Service's National Center for Preservation Technology & Training completed a study in 2011* to evaluate general cleaning needs of marble government-issued headstones.
Cleaning should be safe for the individuals involved and prolong the life of Federal headstones and markers produced over the past 150 years. The NCA 2011 study (above) addressed marble headstones. The NCA cleaning page provides current guidance for treating marble, granite and bronze grave markers.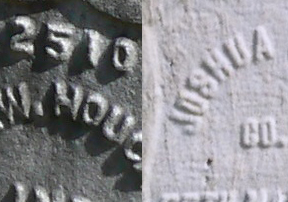 ---
National Register of Historic Places (NRHP) & Designated National Historic Landmarks
Many of the oldest national cemeteries and soldiers lots managed by NCA are recognized as historically significant and are listed on the National Register of Historic Places (NRHP) and/or designated as a National Historic Landmarks (NHL).
This 2011 guidance outlines how the National Park Service determined that all national cemeteries are eligible for the NRHP regardless of age.
National Register Eligibility of National Cemeteries (Policy Clarification)
---
Rostrums in National Cemeteries
Rostrums or speakers' platforms were introduced to national cemeteries in the decades after the Civil War. Of all the rostrums built between 1873 and 1956 in what are now NCA-managed properties, thirty-seven are often still the centerpiece of Memorial Day events. These structures are significant as contributing features to their historic cemetery landscapes and are a testament to commemorative traditions in the United States.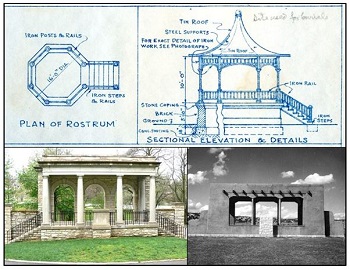 ---
Rostrums Documented for the Historic American Landscapes Survey
As components of historic cemeteries, rostrums were the subject of a research and documentation project* completed in 2014 for the Historic American Landscapes Survey (HALS), National Park Service. The HALS Collection is housed at the Library of Congress*. History reports, drawings, and photographs about the national cemetery rostrums may be found here.
---
Rostrums Over the Years – Illustrated
This interactive timeline was developed by Mallory Bordonaro, M.A. in Public History, Central Connecticut State University, who was an NCA History Program intern in 2017–18 through the Virtual Student Federal Service* program.
---
Lodges in National Cemeteries
Quartermaster General Montgomery C. Meigs approved a prototype for superintendent lodges to be built in national cemeteries in August 1871. The prototype came from a design by architect Edward Clark, which civil engineer Thomas Chiffelle then refined. The 1½-story building with an L-shaped floorplan included a small front porch and a mansard roof. Once Meigs approved the design, 55 of the French Second Empire-style lodges were constructed between 1871 and 1881 of brick or stone.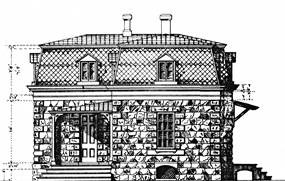 Since the mid-1880s, the prototype has been known as the "Meigs Plan" for its association with the quartermaster. Several lodges exist at national cemeteries, including Richmond, Virginia; Keokuk, Iowa; and Port Hudson, Louisiana. They originally served as a dwelling for the superintendent and his family; one first-floor room, accessed through a separate door, was designated as a cemetery office. Today NCA oversees 18 lodges, and these historic resources house NCA offices or other tenants.
» Lodges in National Cemeteries
---
Recording Historic Lodges
In 2014, NCA funded a study of the lodges built for superintendents assigned to national cemeteries, built between 1867 and 1960. Research about designers, builders, and materials was completed for the Historic American Landscapes Survey (HALS) collection, National Park Service. History reports, drawings, and photographs about the lodges may be found here or at the Library of Congress*.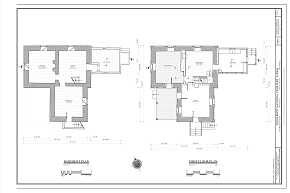 ---
Preserving Historic Lodges
NCA has engaged in partnerships with the National Park Service, Historic Preservation Training Center, to help preserve some of the oldest and most significant cemetery buildings: the first permanent superintendent lodges.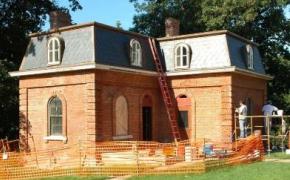 ---
Roll of Honor: Accounting for Union Dead
Over six years (1865–1870), the U.S. Army Quartermaster General issued 27 volumes of the Roll of Honor, listing the names of more than 300,000 Union soldiers buried in national and other cemeteries. An 1871 inspection report stated that national cemeteries at Corinth (3,762), Memphis (8,819), and Nashville (4,001) contained thousands of unknowns. These unknown graves were originally marked with 6x6 square blocks with a grave number cut into the top surface.
A large number of Union dead were also interred in trench graves at Salisbury National Cemetery, the former Salisbury Prison cemetery. Because it was not possible to identify individual burials here, the federal government erected a large obelisk monument near the trenches to honor the dead. However, the government did identify the names of soldiers who were likely buried in these four cemeteries. Click on the links below for searchable versions of the burials in these cemeteries, transcribed from Roll of Honor:
Roll of Honor, 1869, No. XX (20), Corinth National Cemetery (Mississippi)
Roll of Honor, 1869, No. XXI (21), Memphis National Cemetery (Tennessee)
Roll of Honor, 1869, No. XXII (22), Nashville National Cemetery (Tennessee)
Roll of Honor, 1868, No. XIV (14), Salisbury National Cemetery (North Carolina)
---
The Quartermaster Review: Articles by Edward Steere
Articles by Edward Steere that appeared in The Quartermaster Review, in 1953–1954:
Early Growth of the National Cemetery System*
Evolution of the National Cemetery System 1865–1880*
Expansion of the National Cemetery System 1880–1900*
National Cemeteries and Memorials in Global Conflict*
---
NCA History Program Navigation
* External Link Disclaimer: This page contains links that will open in a new tab and take you outside of the Department of Veterans Affairs website. VA does not endorse and is not responsible for the content of the linked websites.
return to top