Attention A T users. To access the menus on this page please perform the following steps. 1. Please switch auto forms mode to off. 2. Hit enter to expand a main menu option (Health, Benefits, etc). 3. To enter and activate the submenu links, hit the down arrow. You will now be able to tab or arrow up or down through the submenu options to access/activate the submenu links.

National Cemetery Administration
National Cemetery Lodges: Documented for the Historic American Landscapes Survey
The lodges constructed by the Quartermaster's Department are a catalog of American housing types that spans a century. Between 1867 and 1960, the U.S. Army Quartermaster's Department built lodges for cemetery superintendents that provided residential and office space. In the early twentieth-first century, 72 of these buildings exist on NCA-managed cemeteries, including 18 designed in the distinctive Second Empire style that date to the 1870s.
For this reason, national cemetery lodges were the subject of a NCA research and documentation project completed for the Historic American Landscapes Survey (HALS) in 2014. The HALS collection is housed at the Library of Congress. The history reports, drawings, and photographs about the lodges may be found here.
The HALS documentation project included measured drawings of the cemetery lodge at Finn's Point National Cemetery, New Jersey. This Second Empire-style lodge retains many of its historic features and floorplan, and the drawings record it in detail.

Plans issued by the Quartermaster's Department in 1871 (left), NCA; and plans (right) drawn of the lodge at Finn's Point National Cemetery in 2012. HALS, Library of Congress.
The dual purpose of the lodge building, for housing and administrative needs of the superintendent, defined early floorplans and architectural design. The function also determined the placement of the lodges within the larger cemetery setting. They were near the entrance gates for visitor access.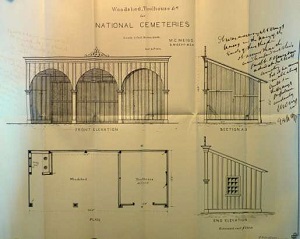 Tool houses were also constructed to meet the superintendent's needs. They stored equipment and materials needed to maintain the cemetery and house bathroom facilities for visiting public. Only a partial exterior of one NCA tool house survives. It was constructed for Alexandria (VA) National Cemetery in 1887. The Quartermaster's drawing (right) is representative of the development of standardized Army plans for buildings of all types. The tool house is reminiscent of shed-like horse barns with an open front partitioned by two posts; for the tool house, it took an arcaded form.
The HALS history reports prepared about the national cemetery lodges also are available here.
HALS National Cemetery Lodges History Reports

Cemetery Name (Station No.)
HALS No.
HALS Documentation
National Cemetery Administration, Lodges
DC-46
National Cemeteries Lodges
Alexandria, Louisiana (825)
LA-4-A
Alexandria LA National Cemetery Lodge
Alexandria, Virginia (826)
VA-2-B
Alexandria VA National Cemetery Lodge
Annapolis, Maryland (801)
MD-6-A
Annapolis National Cemetery Lodge
Baltimore, Maryland (802)
MD-4-A
Baltimore National Cemetery Lodge
Baltimore, Maryland (802)
MD-4-B
Baltimore National Cemetery Assistant Superintendent Residence
Barrancas, Florida (828)
HABS No.
FL-388
Barrancas National Cemetery Lodge
Baton Rouge, Louisiana (829)
LA-5-A
Baton Rouge National Cemetery Lodge
Beaufort, South Carolina (831)
SC-1-B
Beaufort National Cemetery Lodge
Beverly, New Jersey (804)
NJ-2-A
Beverly National Cemetery Lodge
Black Hills, South Dakota (884)
SD-2-A
Black Hills National Cemetery Lodge
Camp Butler, Illinois (806)
IL-7-B
Camp Butler National Cemetery Lodge
Camp Nelson, Kentucky (833)
KY-1-A
Camp Nelson National Cemetery Lodge
Cave Hill, Kentucky (834)
KY-8-A
Cave Hill National Cemetery Lodge
Chattanooga, Tennessee (835)
TN-1-A
Chattanooga National Cemetery Lodge
City Point, Virginia (836)
VA-8-A
City Point National Cemetery Lodge
Cold Harbor, Virginia (837)
VA-4-A
Cold Harbor National Cemetery Lodge
Corinth, Mississippi (838)
MS-3-A
Corinth National Cemetery Lodge
Culpeper, Virginia (839)
VA-18-A
Culpeper National Cemetery Lodge
Cypress Hills, New York (808)
NY-2-D
Cypress Hills National Cemetery Lodge
Danville, Virginia (841)
VA-21-A
Danville VA National Cemetery Lodge
Fayetteville, Arkansas (842)
AR-1-A
Fayetteville National Cemetery Lodge
Finn's Point, New Jersey (811)
NJ-3-A
Finn's Point National Cemetery Lodge
Florence, South Carolina (843)
SC-2-A
Florence National Cemetery Lodge
Fort Bliss, Texas (886)
TX-2-A
Fort Bliss National Cemetery Lodge
Fort Gibson, Oklahoma (844)
OK-3-A
Fort Gibson National Cemetery Lodge
Fort Harrison, Virginia (845)
VA-24-A
Fort Harrison National Cemetery Lodge
Fort Leavenworth, Kansas (887)
KS-1-A
Fort Leavenworth National Cemetery Lodge
Fort McPherson, Nebraska (890)
NE-1-A
Fort McPherson National Cemetery Lodge
Fort Rosecrans, California (892)
CA-7-A
Fort Rosecrans National Cemetery Lodge
Fort Sam Houston, Texas (846)
TX-3-A
Fort Sam Houston National Cemetery Lodge
Fort Scott, Kansas (893)
KS-3-B
Fort Scott National Cemetery Lodge
Fort Smith, Arkansas (847)
AR-3-B
Fort Smith National Cemetery Lodge
Fort Snelling, Minnesota (894)
MN-1-A
Fort Snelling National Cemetery Lodge
Glendale, Virginia (848)
VA-5-A
Glendale National Cemetery Lodge
Golden Gate, California (895)
CA-8-A
Golden Gate National Cemetery Lodge
Grafton, West Virginia (912)
WV-1-A
Grafton National Cemetery Lodge
Hampton, Virginia (849)
VA-6-C
Hampton National Cemetery Lodge
Jefferson Barracks, Missouri (852)
MO-2-B
Jefferson Barracks National Cemetery Lodge
Jefferson City, Missouri (853)
MO-3-A
Jefferson City National Cemetery Lodge
Keokuk, Iowa (814)
HABS No.
IA-197-A
Keokuk National Cemetery Lodge
Knoxville, Tennessee (855)
TN-2-A
Knoxville National Cemetery Lodge
Lebanon, Kentucky (856)
KY-3-A
Lebanon National Cemetery Lodge
Little Rock, Arkansas (858)
AR-2-B
Little Rock National Cemetery Lodge
Long Island, New York (815)
NY-3-A
Long Island National Cemetery Lodge
Loudon Park, Maryland (816)
MD-5-A
Loudon Park National Cemetery Lodge
Marietta, Georgia (859)
GA-1-A
Marietta National Cemetery Lodge
Memphis, Tennessee (860)
TN-3-A
Memphis National Cemetery Lodge
Mill Springs, Kentucky (861)
KY-5-A
Mill Springs National Cemetery Lodge
Mobile, Alabama (862)
AL-1-A
Mobile National Cemetery Lodge
Mound City, Illinois (863)
IL-9-A
Mound City National Cemetery Lodge
Nashville, Tennessee (865)
TN-5-A
Nashville National Cemetery Lodge
Natchez, Mississippi (866)
MS-2-A
Natchez National Cemetery Lodge
National Memorial Cemetery of the Pacific (899)
HI-3-A
National Memorial Cemetery of the Pacific Lodge
New Albany, Indiana (867)
IN-4-A
New Albany National Cemetery Lodge
New Bern, North Carolina (868)
NC-1-A
New Bern National Cemetery Lodge
Philadelphia, Pennsylvania (819)
PA-2-B
Philadelphia National Cemetery Lodge
Port Hudson, Louisiana (870)
KY-3-A
Port Hudson National Cemetery Lodge
Raleigh, North Carolina (873)
NC-4-A
Raleigh National Cemetery Lodge
Richmond, Virginia (874)
VA-22-B
Richmond National Cemetery Lodge
Salisbury, North Carolina (876)
NC-2-A
Salisbury National Cemetery Lodge
San Antonio, Texas (877)
TX-6-A
San Antonio National Cemetery Lodge
San Francisco, California (903)
CA-1-A
San Francisco National Cemetery Lodge
Santa Fe, New Mexico (904)
NM-4-A
Santa Fe National Cemetery Lodge
Seven Pines, Virginia (878)
VA-23-A
Seven Pines National Cemetery Lodge
Springfield, Missouri (879)
MO-4-B
Springfield National Cemetery Lodge
St. Augustine, Florida (875)
FL-3-A
St. Augustine National Cemetery Lodge
Staunton, Virginia (880)
VA-20-A
Staunton National Cemetery Lodge
Willamette, Oregon (907)
OR-3-A
Willamette National Cemetery Lodge
Wilmington, North Carolina (881)
NC-5-A
Wilmington National Cemetery Lodge
Winchester, Virginia (882)
VA-19-A
Winchester National Cemetery Lodge
Woodlawn, New York (824)
NY-6-B
Woodlawn National Cemetery Lodge
Zachary Taylor, Kentucky (883)
KY-6-A
Zachary Taylor National Cemetery Lodge
---
NCA History Program Navigation
return to top