Attention A T users. To access the menus on this page please perform the following steps. 1. Please switch auto forms mode to off. 2. Hit enter to expand a main menu option (Health, Benefits, etc). 3. To enter and activate the submenu links, hit the down arrow. You will now be able to tab or arrow up or down through the submenu options to access/activate the submenu links.

National Cemetery Administration
Miramar National Cemetery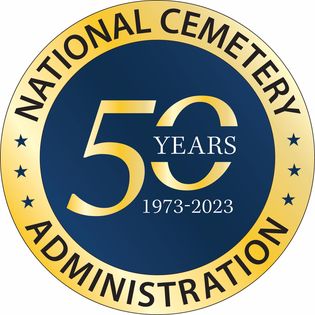 NCA marks 50 years (1973-2023) of serving America's Veterans, Service Members, and Families.

Learn more and watch NCA's 50th Anniversary Ceremony.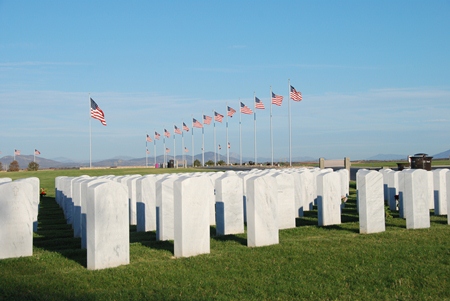 Visitation Hours: Open daily from sunrise to sunset.
Office Hours: Monday thru Friday 8:30 a.m. to 4:00 p.m. Closed federal holidays except Memorial Day.
This cemetery currently has space available to accommodate casketed and cremated remains.
Burial in a national cemetery is open to all members of the armed forces who have met a minimum active duty service requirement and were discharged under conditions other than dishonorable.
A Veteran's spouse, widow or widower, minor dependent children, and under certain conditions, unmarried adult children with disabilities may also be eligible for burial. Eligible spouses and children may be buried even if they predecease the Veteran.
Members of the reserve components of the armed forces who die while on active duty or who die while on training duty, or were eligible for retired pay, may also be eligible for burial.
From the north: Take I-805 South to Miramar Road/La Jolla Village Drive exit. Turn left on Miramar Road. Take a right on Nobel Drive. Turn left into the the cemetery or take I-15 South to Miramar Road, turning to the right. Drive approximately 3-4 miles, then take a left on Nobel Drive. Turn left into the cemetery.
From the south: Take I-805 North to Nobel Drive, turning to the right. Take a right into the cemetery.
From the east: Take either I-8 West, or Highway 52 West. Merge onto I-805 North to Nobel Drive, turning to the right. Take a right into the cemetery.
From the west: Take either I-8 East, Highway 163 North or Highway 52 East. Merge onto I-805 North to Nobel Drive, turning to the right. Take a right into the cemetery.
Fax all discharge documentation to the National Cemetery Scheduling Office at 1-866-900-6417 and follow-up with a phone call to 1-800-535-1117.
For information on scheduled burials in our national cemeteries, please go to the Daily Burial Schedule.
The 313-acre national cemetery in San Diego, CA, will serve Veterans' needs well into the 21st century. It is located about 15 miles north of downtown San Diego at the northwest corner of Marine Corps Air Station Miramar. The main entrance to the cemetery is on Nobel Drive between Miramar Road and Interstate 805.
Miramar National Cemetery includes both gravesite and columbarium facilities, providing a full range of burial alternatives to approximately 235,000 Veterans in San Diego County. Nearby Fort Rosecrans National Cemetery closed to first interment casketed burials in 1966, though it continues to provide casketed interments of family members of those currently interred and inurnments of cremated remains.
For educational materials and additional information on this cemetery, please visit the Education section, located below.
Fresh cut flowers may be placed on graves and in the gravel areas surrounding the Columbarium, Memorial Walls or Memorial Monuments at any time.
Cemetery furnished temporary flower containers are available and located throughout the cemetery in specially marked containers.
All floral items will be removed as soon as they become faded and/or unsightly, and may also be removed every week to accommodate grounds maintenance, to include removal of artificial flowers.
Floral pickup is the 1st and 3rd Wednesday of each month along with daily pick up of faded or unsightly arrangements.
Artificial flowers may be placed on graves and in the gravel areas surrounding the Columbarium, Memorial Walls or Memorial Monuments November through February.
Plantings will not be permitted on graves and in the gravel areas surrounding the Columbarium, Memorial Walls or Memorial Monuments at any time.
Potted plants will be permitted on graves and in the gravel areas surrounding Columbarium, Memorial Walls or Memorial Monuments five days before and five days after Easter Sunday and Memorial Day. During the winter season a Holiday wreath or plant is allowed from December 1 to January 15. Floral blankets are not authorized due to year round growing season.
To maintain the dignity of the cemetery, items such as candles, statues, glass of any kind, vigil lights, shepherd's hooks, wind chimes, pinwheels, balloons, memorabilia, or any item exceeding 24" inches in height are not permitted on graves and in the gravel areas surrounding the Columbarium, Memorial Walls or Memorial Monuments, at any time.
Items of any type will not be secured to Headstones, Niches, Memorial Markers or Memorial Monuments.
Rules of Behavior: In order to preserve the dignity and honor of our Veterans final resting place, please observe the following while visiting the cemetery grounds:
Guns, knives or other weapons are not allowed.
Pets are not permitted outside of vehicles except service animals.
Picnicking, biking, jogging, running or other recreational sports of any kind are not permitted.
Soliciting is not permitted.
Unauthorized gatherings are not permitted.
Please do not litter or park on grass areas.
VA regulations 38 CFR 1.218 prohibit the carrying of firearms (either openly or concealed), explosives or other dangerous or deadly weapons while on VA property, except for official purposes, such as military funeral honors.
Possession of firearms on any property under the charge and control of VA is prohibited. Offenders may be subject to a fine, removal from the premises, or arrest.
San Diego Bay was the location of the first permanent European settlement on the West Coast of the United States due to its natural advantages as a protected harbor. In 1769, Gaspar de Portola, a Spanish Army soldier, established the Presidio of San Diego; Father Junipero Serra founded the San Diego de Alcala Mission. Both were located in the city's present-day Old Town neighborhood, approximately four miles north of the harbor.
San Diego served as a base of operations for the Spanish to colonize the territory of Alta California. New Spain's most remote territory was the southern terminus of El Camino Real, the trail connecting 21 missions.
San Diego grew slowly. The settlement was far removed from Mexican War of Independence (1810–1821) hostilities, in which Spain lost to the newly independent country. Under Mexican rule, San Diego's population gradually increased as the central government encouraged immigration to frontier lands.
During the Mexican-American War (1846–1848), a handful of small battles were fought in Southern California. On December 6–7, 1846, a combined U.S. force of soldiers, sailors, and marines under the command of General Stephen Kearny engaged a small group of Californios (Mexican colonists) in the Battle of San Pasqual, about 30 miles north of San Diego. Eighteen of Kearny's men fell in the battle, but U.S. forces managed to hold the field and win the war. The Treaty of Guadaloupe Hidalgo, signed in February 1848, established the border between the two countries 15 miles south of San Diego. California became a state two years later.
Miramar National Cemetery is located near Scripps Ranch, a neighborhood in northern San Diego located on the historic estate of newspaper publisher Edward W. Scripps. In 1891, Scripps began erecting an Italianate mansion on the property named for and modeled after Miramare Castle in Italy. The moniker eventually became associated with the surrounding mesa; loosely translated, Miramare means "sea view." The 49-room mansion was completed in 1898, and was the home of the Scripps family until 1969, when the property was sold to a real estate developer who demolished the building four years later.
Camp Kearny was established near Scripps Ranch in January 1917 as the United States prepared to enter World War I. During the war, Camp Kearny served as an Army training and mobilization center that could accommodate 32,000 men. After the Armistice, base operations were scaled back, but the government retained the site as a military and civilian air strip. In early 1927, Charles Lindbergh flew the Spirit of St. Louis on test-flights from the base, in advance of his famous trans-Atlantic flight.
In the 1930s, the Navy and the Marines established operations at Camp Kearny, and it served as a headquarters for multiple air squadron groups during World War II. The facility was re-designated as Naval Air Station (NAS) Miramar in 1947 and the Marines moved to Orange County, California.
During the Vietnam War, the Naval Fighters Weapons School popularly known as "Top Gun" was established at NAS Miramar. The installation served as a Naval Air Station until 1997, when it transitioned into a Marine Corps Aviation unit and was renamed Marine Corps Air Station (MCAS) Miramar.
A large resident veteran population and limited burial capacity at nearby Fort Rosecrans National Cemetery—so designated in 1934 but associated with an older post cemetery—was the impetus for building a new national cemetery in the area. In 2008, MCAS Miramar leased land in perpetuity to the National Cemetery Administration to develop Miramar National Cemetery. Approximately one-third of this 313-acre property is reserved to protect federally endangered or threatened species—including the San Diego fairy shrimp, California gnatcatcher, Otay mesa-mint and San Diego button-celery.
Miramar National Cemetery was dedicated in January 2010, and the first burial occurred on November 22 that year.
Monuments and Memorials
The Liberation, a memorial by sculptor Richard Becker that was dedicated on September 16, 2011, honors the sacrifice of veterans captured during America's foreign wars. The San Diego American Ex-Prisoners of War-Chapter 1 donated the 15-foot-tall figurative composition of a bronze soldier and POW flag atop a concrete base.
Medal of Honor Recipients
The Medal of Honor is the highest award for valor in action against an enemy force that can be bestowed upon an individual serving in the Armed Services of the United States. Recipients receive the Medal of Honor from the president on behalf of Congress. It was first awarded during the Civil War and eligibility criteria for the Medal of Honor have changed over time.
Recipients buried or memorialized here:
Sergeant Charles Schroeter (Indian Wars). German-born Charles Schroeter immigrated to the United States in 1860 and became a career soldier. He enlisted in the U.S. Army in 1863 during the Civil War and served in the 1st Missouri Volunteer Cavalry. Private Schroeter reenlisted in the 8th Cavalry in 1866 and his regiment was posted to Camp Whipple, Arizona Territory. He received the Medal of Honor for gallantry in action in the Chiricahua Mountains on October 20, 1869. Discharged from the cavalry in 1871, he then served a five-year tour with the 1st U.S. Infantry before joining the Marine Corps (1876–1881) and attaining the rank of corporal. The unmarried Sergeant Schroeter retired in 1894. He moved to Buffalo, NY, operating a tobacco and candy store, then to San Diego, CA, where he died in 1921. The masonic lodge there held a memorial service for him, but Schroeter's remains were unclaimed for ninety-four years. He was buried on July 9, 2015, in Section 3, Site 1052.
Other Burials
Helen-Louise Brooks (1918–2013) was born in Lowell, MA. After high school she worked for the National Health Service until old enough to join the U.S. Navy Nurse Corps in 1944 for the end of World War II. She remained in the Reserves and earned a B.A. in nursing from Boston University. She returned to active duty for the Korean War and served as the operating room supervisor aboard USS Consolation (AH 15). After Korea she earned an M.A. from Columbia University. From 1968–1969 of the Vietnam War she was chief nurse, Naval Support Activity Hospital Danang, and earned the Legion of Merit with combat "V." She ended her Navy career in 1971 as a captain. Before retiring to San Diego, she directed health bureau nursing services in the Canal Zone. Brooks died April 26, 2013 and is interred at Miramar National Cemetery (Section 12, Site 628).
Lee R. Scherer, Jr., received a commission from the U.S. Naval Academy in 1942 and in World War II flew aircraft carrier-based fighter planes. He first worked with NASA in the 1960s while on active duty with the U.S. Navy. He retired from military service with the rank of captain in 1964. Trained as an aeronautical engineer, Scherer was director of NASA's Armstrong Flight Research Center in 1971–1975, and subsequently became director of the Kennedy Space Center. He managed the unmanned Lunar Orbiter Program from inception to completion in 1967, and the scientific aspects of lunar explorations during the Apollo Program, 1968–1972. Scherer died May 7, 2011 (Section 7, Site 186).
We are developing educational content for this national cemetery, and will post new materials as they become available. Visit the Veterans Legacy Program and NCA History Program for additional information. Thank you for your interest.
return to top