Attention A T users. To access the menus on this page please perform the following steps. 1. Please switch auto forms mode to off. 2. Hit enter to expand a main menu option (Health, Benefits, etc). 3. To enter and activate the submenu links, hit the down arrow. You will now be able to tab or arrow up or down through the submenu options to access/activate the submenu links.

National Cemetery Administration
Leavenworth National Cemetery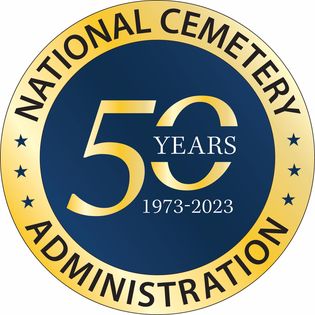 NCA marks 50 years (1973-2023) of serving America's Veterans, Service Members, and Families.

Learn more and watch NCA's 50th Anniversary Ceremony.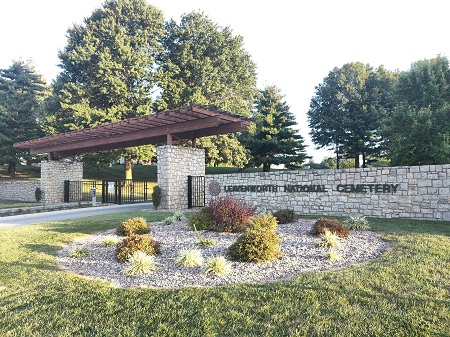 Visitation Hours: Open daily from dawn to dusk.
Office Hours: Monday thru Friday 7:30 a.m. to 4:00 p.m. Closed federal holidays except Memorial Day.
This cemetery has space available to accommodate casketed and in-ground burial of cremated remains. Cremated remains may be placed in the above ground columbarium wall.
Burial in a national cemetery is open to all members of the armed forces who have met a minimum active duty service requirement and were discharged under conditions other than dishonorable.
A Veteran's spouse, widow or widower, minor dependent children, and under certain conditions, unmarried adult children with disabilities may also be eligible for burial. Eligible spouses and children may be buried even if they predecease the Veteran.
Members of the reserve components of the armed forces who die while on active duty or who die while on training duty, or were eligible for retired pay, may also be eligible for burial.
Cemetery is located in Southeast Leavenworth. From Kansas City International Airport, take Interstate 29 North 7.5 miles to Platte City exit 20. Turn left and proceed through Platte City to Highway 92 and turn West for 8.5 miles. After crossing the bridge into Leavenworth turn left on Highway's 73 and 7. Travel four miles to Highway 5 (Muncie Road) and proceed .5 miles. The cemetery is on your left.
Fax all discharge documentation to the National Cemetery Scheduling Office at 1-866-900-6417 and follow-up with a phone call to 1-800-535-1117.
For information on scheduled burials in our national cemeteries, please go to the Daily Burial Schedule.
Leavenworth National Cemetery recently opened a columbarium for placement of your loved ones cremated remains.
There is a Kiosk located by the front door of the administration building to assist you in finding your loved ones gravesite. It contains the names of veterans and their eligible dependents buried at Leavenworth and Fort Leavenworth National Cemeteries. The Kiosk will generate a printed map with the name of the decedent and their grave location.
Leavenworth National Cemetery is the oversight cemetery for two satellite cemeteries — Fort Leavenworth and Fort Scott National Cemeteries and two soldier's lots — Mound City and Baxter Springs in Kansas. Leavenworth also oversees a Union Confederate Monument Site in Kansas City, MO.
Military Funeral Honors
Military funeral honors as organized under the Department of Defense military funeral honors program "Honoring Those Who Served," should be arranged through the funeral director.
Local Numbers For Military Funeral Honors
Air Force: 660-687-6532
Army: 913-684-3557/3558
Coast Guard: 314-606-6792
Marines: 866-826-3628 or 703-432-9524
Navy: 904-542-6357
Army National Guard: 785-646-1520 or 785-646-1208
For educational materials and additional information on this cemetery, please visit the Education section, located below.
Cemetery policies are conspicuously posted and readily visible to the public.
Floral arrangements accompanying the casket or urn at the time of burial will be placed on the completed grave.
We welcome and encourage fresh-cut flowers throughout the year and provide flower containers for gravesite display. Cemetery visitors may use receptacles placed throughout the grounds. Flowers are picked up on the 1st and 3rd Mondays from April 1 to October 1 and one week after Easter, Memorial Day, and Veterans Day. Spent or damaged flowers will be removed. They may also be removed for routine mowing or other maintenance.
Artificial flowers are only permitted from October 1 to April 1 due to the mowing season. All artificial flowers must be placed in plastic vases that are located in receptacles throughout the cemetery. Please do not place artificial flower stems directly into the ground.
On Easter, Memorial Day and Veterans Day, fresh cut and artificial flowers may be placed on gravesites seven days before through seven days after the holiday. During the holiday season, from December 1st through January 20th, wreaths, gravesite blankets, and other seasonal decorations may be placed on gravesites.
To maintain the dignity of the cemetery, commemorative items, balloons, pinwheels, glass items, votive lights, stuffed animals, statues, shepherd's hooks and permanent plantings, among other items, are not allowed.
No floral item or decoration may be attached to a headstone or marker in a national cemetery. Animals may eat fresh flowers and arrangements.
VA regulations 38 CFR 1.218 prohibit the carrying of firearms (either openly or concealed), explosives or other dangerous or deadly weapons while on VA property, except for official purposes, such as military funeral honors.
Possession of firearms on any property under the charge and control of VA is prohibited. Offenders may be subject to a fine, removal from the premises, or arrest.
Leavenworth National Cemetery is associated with the Western Branch of the National Home for Disabled Volunteer Soldiers; one of 11 facilities which served as precursors for Veterans Administration Medical Centers. Today the cemetery encompasses 128.8 acres at the southeast portion of the facility.
Prior to the construction of the healthcare facility, the land had been part of a Delaware Indian reservation, and later the Stockbridge (Indian) Baptist Mission. The cemetery was designed concurrent to construction of the first buildings of the National Home; 17 structures were completed by 1886, the same year Thomas Brennan was interred. The design of the cemetery landscape is attributed to H. W. S. Cleveland, with roads that wind up the hill overlooking the Missouri River valley.
The "Old Soldier's Home," as it was known colloquially, became an integral component of the community. The first local trolley line connected Ft. Leavenworth and the soldier's home by way of the town of Leavenworth.
The medical facility was transferred to the Veterans Administration (VA) when it was formed in 1930. The cemetery was elevated to national cemetery status and transferred to the new National Cemetery System within VA in 1973. Among the noteworthy burials are the remains of 12 Native Americans that were discovered during the excavation for a new medical building and were re-interred in the National Cemetery. Seven Medal of Honor recipients are buried here.
Historic structures in the cemetery include the rest house, a small rustic limestone structure erected in 1921; a 1928 tool house, and a Classical Revival limestone rostrum or "speakers stand," built in 1936. The cemetery was listed on the National Register of Historic Places as a component of the Dwight D. Eisenhower Medical Center Historic District, the former Western Branch of the National Home for Disabled Volunteer Soldiers, in 1999.
Monuments and Memorials
A limestone obelisk monument erected in memory of "Soldiers Who Died For Their Country" was dedicated in 1919. Situated atop the crest of a hill, the monument overlooks the Missouri River valley from the highest ridge of the cemetery. The monument was transported by the Santa Fe Railroad and moved to its present location in 1919 by prisoners and a team of oxen from the state prison in Lansing. Among the graves in this section are early governors (managers) of the soldier's home and their families.
The American Veterans (AMVETS) donated a carillon to the cemetery in 2000.
The "Fighting Fourth" Marine Monument was erected by the Fourth Marine Division Association and dedicated in 2002.
Medal of Honor Recipients
The Medal of Honor is the highest award for valor in action against an enemy force that can be bestowed upon an individual serving in the Armed Services of the United States. Recipients receive the Medal of Honor from the president on behalf of Congress. It was first awarded during the Civil War and eligibility criteria for the Medal of Honor have changed over time.
Recipients buried or memorialized here:
Private William W. Burritt (Civil War). He received the Medal of Honor while serving in the U.S. Army, Company G, 113th Illinois Infantry, for actions at Vicksburg, Mississippi, April 27, 1863. Burritt died in 1901 and is buried in Section 16, Row 5, Site 7.
Second Lieutenant Daniel A. Dorsey (Civil War). Dorsey was one of the first recipients of the Medal of Honor for actions during "The Great Locomotive Chase" at Big Shanty, Georgia, in April 1862. He served in the U.S. Army, Company H, 33rd Ohio Infantry, and was captured during the raid. Released on a prisoner exchange, Dorsey received his award in September 1863. Dorsey died in 1918 and is buried in Section 11, Row 19, Site 8.
Corporal John S. Durham (Civil War). He received the Medal of Honor while serving in the U.S. Army, Company F, 1st Wisconsin Infantry, for actions at Perryville, Kentucky, October 8, 1862. Durham died in 1918 and is buried in Section 33, Row 10, Site18.
Sergeant William Garrett (Civil War). He received the Medal of Honor while serving in the U.S. Army, Company G, 41st Ohio Infantry, for actions at Nashville, Tennessee, December 16, 1864. Garrett died in 1916 and is buried in Section 32, Row 3, Site 26.
Specialist Charles C. Hagemeister (Vietnam) was born on August 21, 1946, in Nebraska. He was drafted while on a break from the University of Nebraska at Lincoln in 1966, and became a medical specialist in Headquarters Company, 1st Battalion, 5th Cavalry (1st Cavalry Division). On March 20, 1967, his unit was ambushed and surrounded at Binh Dinh Province, Vietnam. Braving constant fire for hours, he repeatedly exposed himself to save his comrades and neutralized a sniper and other enemies. President Lyndon Johnson presented the Medal of Honor to Hagemeister in May 1968. He remained in the Army, received a commission, and retired as a lieutenant colonel in 1990. Subsequently, he served on the faculty of the U.S. Army Command & General Staff College at Fort Leavenworth, Kansas. He died May 19, 2021, and is interred in Section 69, Row 6, Site 55.


Sergeant Robert McPhelan (Indian Wars) was born in Queens County Ireland around 1835. He enlisted into the Army in 1858 and was assigned to Company E, 5th United States Infantry Regiment. He participated in the Utah War (1857–1858), then served in New Mexico throughout the Civil War (1861–1865). Following Custer's defeat at Little Big Horn in June 1876, Colonel Nelson Miles led the 5th into the Montana Territory. Peace talks with Sitting Bull at Cedar Creek, MT, failed on October 21, 1876. Approximately 2,000 Sioux surrendered six days later. Sitting Bull and his ardent supporters fled north toward Canada through the winter, however. Nearly thirty soldiers were awarded the Medal of Honor for this winter campaign, including McPhelan. He became a civilian employee with the Quartermaster at Leavenworth after his 1878 discharge. He died of pneumonia connected to service wounds in February 1884. He was buried in the paupers' section of Mount Cavalry Catholic Cemetery in Leavenworth and reinterred on June 4, 2021 in Section 69, Row 6, Site 61.
First Sergeant John H. Shingle (Indian Wars). He received the Medal of Honor while serving in the U.S. Army, Troop I, 3rd U.S. Cavalry, for actions at Rosebud River, Montana Territory, June 17, 1876. Shingle died in 1907 and is buried in Section 22, Row 4, Site 2.
Other Burials
During the construction of Building 122 on the Medical Center grounds, the remains of 12 Native Americans were uncovered. They were reinterred in a single grave, Section 34, Row 21, Site 8, the only group burial in the cemetery. It is believed that they belonged to a small band of Christian Indians, the Munsees, who during the early 1800s were permitted to settle on land now occupied by the Dwight D. Eisenhower Department of Veteran Affairs Medical Center.
Harry H. Hollowell was born in 1914 in Arkansas. His family moved to Kansas when he was child, and there he learned to play the violin and trombone. Hollowell enlisted in the army in 1936 and served in the all-black 10th cavalry at Fort Leavenworth, becoming one of the Buffalo Soldiers. In 1942 his musical talent earned him a place in the Army Music School, and he became one of the first African Americans to train there as a bandleader. Warrant Officer Hollowell then led army bands and directed music programs until his retirement in 1964. At that time, Chief Warrant Officer 4 Hollowell was the first black soldier to hold that rank. He continued to be active in the Leavenworth community, and Hollowell Drive was named for him in 2009. Hollowell died February 14, 2005, and is buried in Leavenworth National Cemetery (Section 57, Row 4, Site 46).
return to top