Attention A T users. To access the menus on this page please perform the following steps. 1. Please switch auto forms mode to off. 2. Hit enter to expand a main menu option (Health, Benefits, etc). 3. To enter and activate the submenu links, hit the down arrow. You will now be able to tab or arrow up or down through the submenu options to access/activate the submenu links.

National Cemetery Administration
Hampton National Cemetery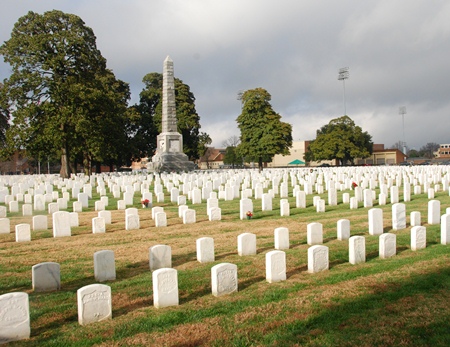 Office Hours: Monday thru Friday 8:00 a.m. to 4:30 p.m.
Closed federal holidays except Memorial Day and Veterans Day.
Visitation Hours: Open daily from dawn until dusk.
Hampton National Cemetery is closed to new interments. The only interments that are being accepted are subsequent interments for veterans or eligible family members in an existing gravesite. Periodically however, burial space may become available due to a canceled reservation or when a disinterment has been completed. When either of these two scenarios occurs, the gravesite is made available to another eligible veteran on a first-come, first-served basis. Since there is no way to know in advance when a gravesite may become available, please contact the cemetery at the time of need to inquire whether space is available.
Burial in a national cemetery is open to all members of the armed forces who have met a minimum active duty service requirement and were discharged under conditions other than dishonorable. A Veteran's spouse, widow or widower, minor dependent children, and under certain conditions, unmarried adult children with disabilities may also be eligible for burial. Eligible spouses and children may be buried even if they predecease the Veteran. Members of the reserve components of the armed forces who die while on active duty or who die while on training duty, or were eligible for retired pay, may also be eligible for burial. For more information visit our eligibility web page.
The directions from the Norfolk International Airport are: From Norfolk International Airport take Norview Avenue to Interstate Highway I-64 West and proceed through the Hampton Roads Tunnel. Take exit 267 (Hampton University exit) and turn left onto US-60W/VA-143W (Settlers Landing Road) toward Hampton University. Turn left onto Tyler Street at the entrance to Hampton University. Proceed to Cemetery Road (approximately .4 miles) and turn left. You will pass through a Hampton University security check point. Cemetery is located straight ahead.
Fax all discharge documentation to the National Cemetery Scheduling Office at 1-866-900-6417 and follow-up with a phone call to 1-800-535-1117.
For information on scheduled burials in our national cemeteries, please go to the Daily Burial Schedule.
Under Development.
For educational materials and additional information on this cemetery, please visit the Education section, located below.
Cemetery policies are conspicuously posted and readily visible to the public.
Floral arrangements accompanying the casket or urn at the time of burial will be placed on the completed grave. Natural cut flowers may be placed on graves at any time of the year. They will be removed when they become unsightly or when it becomes necessary to facilitate cemetery operations such as mowing.
Artificial flowers and potted plants will be permitted on graves during periods when their presence will not interfere with grounds maintenance. As a general rule, artificial flowers and potted plants will be allowed on graves for a period extending 10 days before through 10 days after Easter Sunday and Memorial Day.
Christmas wreaths, grave blankets and other seasonal adornments may be placed on graves from Dec. 1 through Jan. 20. They may not be secured to headstones or markers.
Permanent plantings, statues, vigil lights, breakable objects and similar items are not permitted on the graves. The Department of Veterans Affairs does not permit adornments that are considered offensive, inconsistent with the dignity of the cemetery, or considered hazardous to cemetery personnel. For example, items incorporating beads or wires may become entangled in mowers or other equipment and cause injury.
Permanent items removed from graves will be placed in an inconspicuous holding area for one month prior to disposal. Decorative items removed from graves remain the property of the donor but are under the custodianship of the cemetery. If not retrieved by the donor, they are then governed by the rules for disposal of federal property.
VA regulations 38 CFR 1.218 prohibit the carrying of firearms (either openly or concealed), explosives or other dangerous or deadly weapons while on VA property, except for official purposes, such as military funeral honors. Possession of firearms on any property under the charge and control of VA is prohibited. Offenders may be subject to a fine, removal from the premises, or arrest.
Hampton National Cemetery is located in Hampton, Va., near Hampton Roads, in the vicinity of where the historic Civil War naval battle between the Confederate Merrimac/Virginia and the Union Monitor iron-clad ships occurred in 1862. The cemetery's first burials took place in 1862 and the cemetery is among numerous national cemeteries with origins that date to the Civil War.
The great number of sick and wounded soldiers during the Civil War resulted in numerous military hospitals being set up near battle sites. A 1,800-bed military hospital was established at Fort Monroe, near Hampton. Although the Fort Monroe hospital was better staffed and organized than many Civil War hospitals, the mortality rate was high. Consequently, burials at Hampton National Cemetery included many soldiers who died at Fort Monroe and other military hospitals in the vicinity. Although burials began at the cemetery in 1862, it was not classified by the U.S. Government as a national cemetery until 1866. The legal transfer of 4.749 acres for the cemetery did not occur until 1868.
There are 638 unknowns soldiers buried at Hampton National Cemetery--most of them Civil War soldiers who fell in combat and were originally hastily buried on the battlefield. There are also 272 Confederate soldiers buried in a separate section.
Hampton National Cemetery is one of 13 national cemeteries in which World War II prisoners of war are interred. There are 55 German and five Italian POWs buried in the Phoebus Addition section of Hampton National Cemetery, which is a discontiguous tract of the cemetery.
During World War II, on April 14, 1942, a German U-boat, U-85, was sunk by the U.S.S. Roper on April 14, 1942 off of Cape Hatteras. The entire crew was lost and the boat sank to the bottom of the Atlantic Ocean. On April 15, 1942, full military honors were provided for 28 German sailors from U-85 and they were interred at Hampton National Cemetery. The bodies and a few life jackets were all that surfaced after the submarine was sunk. On board the ship, when it sank, was an Enigma decoding machine. The machine was recovered from the ship during a dive in 2001 and is currently on loan from the German government to the Atlantic Graveyard Museum located in Cape Hatteras, N.C.
Through acquisition of additional land parcels since 1862, the cemetery has grown in acreage from its original size of 4.749 acres to its present size of 27.071 acres. Hampton National Cemetery was listed on the National Register of Historic Places on February 26, 1996.
Monuments and Memorials
The Union Soldiers monument is a 65' tall granite obelisk that was erected through the efforts of Dorothea Dix, the superintendent of women nurses in the U.S. Army during the Civil War. In 1868 Dix transferred ownership of the monument to the United States. The monument inscription reads: "In Memory of Union Soldiers Who Died to Maintain the Laws."
Two small, rusticated granite blocks inscribed "To Our Confederate Dead" are situated near the burial location of 272 Confederates in the cemetery.
Medal of Honor Recipients
The Medal of Honor is the highest award for valor in action against an enemy force that can be bestowed upon an individual serving in the Armed Services of the United States. Recipients receive the Medal of Honor from the president on behalf of Congress. It was first awarded during the Civil War and eligibility criteria for the Medal of Honor have changed over time.
Recipients buried or memorialized here:
Landsman Michael Cassidy (Civil War). He received the Medal of Honor while serving in the U.S. Navy for actions on board the U.S.S. Lackawanna during the Battle of Mobile Bay, Alabama, August 5, 1864. Cassidy died in 1908 and is buried in Phoebus Section B, Site 9503.
Coal Heaver James R. Garrison (Civil War). He received the Medal of Honor while serving in the U.S. Navy for actions on board the U.S.S. Hartford during the Battle of Mobile Bay, Alabama, August 5, 1864. Garrison died in 1908 and is buried in Phoebus Section B, Site 9523.
Sergeant Alfred B. Hilton (Civil War). Alfred B. Hilton was about 21 years old when he enlisted in the U.S. Army on August 11, 1863, in Baltimore, Maryland. Hilton served in Company H, 4th U.S. Colored Troops (USCT), as a bearer of the flag, or national standard. At the Battle of Chaffin's Farm (Fort Harrison, Virginia) on September 29, 1864, he seized the regimental colors when the color-sergeant fell. Sergeant Hilton struggled forward with both flags until severely wounded at the enemy's inner line. Hilton's right leg was amputated, and he died at Fort Monroe hospital on October 21, 1864. Hilton received the Medal of Honor posthumously in April 1865, and he is buried in Section E, Site 1231.
Seaman Edward Madden. He received the Medal of Honor while serving in the U.S. Navy for the rescue of a drowning shipmate while on board the U.S.S. Franklin in Lisbon, Portugal, February 9, 1876. His citation was awarded under the name Maddin. He died in 1925 and is buried in Section E, Site 1014A.
First Lieutenant Harry J. Mandy (Civil War). He received the Medal of Honor while serving in the U.S. Army, Company B, 4th New York Cavalry, for actions at Front Royal, Virginia, August 15, 1864. Mandy died in 1904 and is buried in Phoebus Section C, Site 8709.
First Lieutenant Ruppert L. Sargent (Vietnam). Ruppert L. Sargent was born in Hampton, Virginia, on January 6, 1938. He attended Virginia State University and Hampton Institute before enlisting in the U.S. Army in 1959; he graduated from officers training in 1965. The next year, First Lieutenant Sargent joined Company B, 9th Infantry. On March 15, 1967, Sargent was leading a platoon in the Hau Nghia Province, Republic of Vietnam, when two grenades fell into his group; he threw himself on them to protect comrades. Posthumously, Sargent became the first black officer awarded the Medal of Honor. His company, still in Vietnam, wrote to the City of Hampton with a letter that contained $230 for a wreath for Sargent's grave and funds for his widow. The City of Hampton named its administration building for him in 2002. Sargent is buried in Section FI, Site 7596.
Sergeant Isaiah B. Sapp. He served in the U.S. Army, Company F, 71st Pennsylvania and 3rd Pennsylvania Cavalry and received the Medal of Honor while serving in the U.S. Navy, under the alias Isacc Sapp, on board the U.S.S. Shenandoah for the rescue of a drowning shipmate, December 15, 1871. Sapp died in 1913 and is buried in Section A, Site 10465.
Sergeant Charles Veale (Civil War). Charles Veale was born in 1838 at Portsmouth, Virginia. He enlisted in Company D, 4th Regiment, U.S. Colored Troops (USCT) in 1863 and served under General Benjamin Butler. He received the Medal of Honor for bravery during the Battle of Chaffin's Farm (Fort Harrison, Virginia) on September 29, 1864. Veale was wounded at Fort Fisher, North Carolina, in 1865 and he mustered out in May 1866. Veale's health was compromised, and in 1872 General Butler helped admit him to the Southern Branch, National Home for Disabled Volunteer Soldiers at Hampton. Sergeant Veale died of chronic bronchitis on July 27, 1872, and is buried in Section FI, Site 5097.
Coxswain David Warren (Civil War). He received the Medal of Honor while serving in the U.S. Navy for actions on board the U.S.S. Monticello during the reconnaissance of the Wilmington, North Carolina, harbor and defenses, June 23-25, 1864. Warren died in 1900 and is buried in Phoebus Section C, Site 7972.
return to top