Attention A T users. To access the menus on this page please perform the following steps. 1. Please switch auto forms mode to off. 2. Hit enter to expand a main menu option (Health, Benefits, etc). 3. To enter and activate the submenu links, hit the down arrow. You will now be able to tab or arrow up or down through the submenu options to access/activate the submenu links.

National Cemetery Administration
Indiantown Gap National Cemetery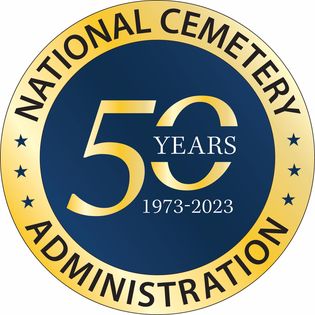 NCA marks 50 years (1973-2023) of serving America's Veterans, Service Members, and Families.

View events, daily photos of national cemeteries and more.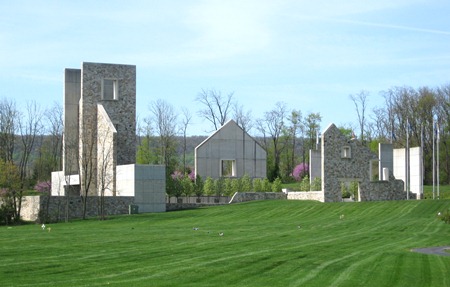 Visitation Hours: Open daily from dawn to dusk.
Office Hours: Monday through Friday 8:00 a.m. to 4:30 p.m. Closed federal holidays except Memorial Day.
This cemetery has space available to accommodate casketed and cremated remains.
Burial in a national cemetery is open to all members of the armed forces who have met a minimum active duty service requirement and were discharged under conditions other than dishonorable.
A Veteran's spouse, widow or widower, minor dependent children, and under certain conditions, unmarried adult children with disabilities may also be eligible for burial. Eligible spouses and children may be buried even if they predecease the Veteran.
Members of the reserve components of the armed forces who die while on active duty or who die while on training duty, or were eligible for retired pay, may also be eligible for burial.
The cemetery is located 25 miles northeast of the Harrisburg International Airport. From the airport, travel Interstate 283 North to Interstate 83 North to Interstate 81 North and take exit 85B. Bear right off the exit and the cemetery entrance is ¼ mile on the right.
Fax all discharge documentation to the National Cemetery Scheduling Office at 1-866-900-6417 and follow-up with a phone call to 1-800-535-1117.
For information on scheduled burials in our national cemeteries, please go to the Daily Burial Schedule.
Yearly events include a Memorial Day Ceremony the Sunday before Memorial Day at 2:00 p.m. and a Veterans Day Ceremony the Sunday before Veterans Day at 2:00 p.m. Both events occur rain or shine.
Indiantown Gap National Cemetery oversees and maintains soldiers plots in Ashland Cemetery in Carlisle, PA, and Prospect Hill Cemetery in York, PA.
For educational materials and additional information on this cemetery, please visit the Education section, located below.
Cemetery policies are conspicuously posted and readily visible to the public.
Funeral arrangements to include a casket spray and three floral pieces accompanying the casket or urn at the time of the burial will be placed on the completed grave. They will be removed at the discretion of the cemetery when they become unsightly or when it becomes necessary to facilitate cemetery operations such as mowing.
Fresh cut flowers may be placed on graves at any time. They will be removed and disposed of when they become unsightly.
Artificial flowers will be permitted only from November 15 through March 1 when their presence will not interfere with grounds maintenance. While potted plants are not suggested, they are permitted 10 days before through 10 days after Easter.
The cemetery will provide temporary plastic containers to the public for displaying floral arrangements. Permanent in-ground containers are not authorized.
In lieu of small individual grave flags, we display the Avenue of Flags, which provides a unique visible tribute to all of our Nation's veterans. Flagpoles will be purchased to extend our Avenue of Flags to include new burial sections.
Christmas wreaths, grave blankets, and other seasonal adornments may be placed on graves from December 1 through January 9. All seasonal adornments, Christmas wreaths, grave blankets, etc., will be removed on January 10. Grave blankets can be no larger than two feet by three feet. Floral items may not be secured to the markers. Wreath easels over 18" are not permitted and will be removed.
Permanent plantings, statues, vigil lights, breakable objects, Christmas trees, balloons, pumpkins, and similar items are not permitted on the graves. VA does not permit adornments, which are:
Considered offensive
Inconsistent with the dignity of the cemetery
Considered hazardous to cemetery personnel (beads or wires may become entangled in mowers or other equipment and cause injury)
Floral items or decorations cannot be secured to headstones or markers. Unauthorized items will be removed by cemetery personnel and discarded.
Please do not park on any grassy areas. Please remain on paved road areas.
During the mowing and grounds maintenance season, all floral items will be removed from graves when necessary to facilitate mowing and maintenance operations.
All items placed on gravesites become the property of the US Government and will be disposed of under federal regulations. Indiantown Gap National Cemetery is not responsible for flowers after they have been placed on gravesites. Flowers are placed at your own risk. They will not be replaced by the cemetery if they are damaged, lost, or stolen. Deer and other wildlife may eat the fresh flowers and arrangements.
A golf cart is available, weather and ground conditions permitting, to physically challenged visitors needing assistance to gravesites during the hours of 8:00 a.m.–3:00 p.m., Monday through Friday.
VA regulations 38 CFR 1.218 prohibit the carrying of firearms (either openly or concealed), explosives or other dangerous or deadly weapons while on VA property, except for official purposes, such as military funeral honors.
Possession of firearms on any property under the charge and control of VA is prohibited. Offenders may be subject to a fine, removal from the premises, or arrest.
Indiantown Gap derives its name from the various Native American communities that resided in this region of Pennsylvania. The first inhabitants were Susquehannocks, an Iroquois tribe first encountered by Europeans in the 17th century. In the mid-1700s, Scotch-Irish, English and German pioneers settled the region and managed to live peacefully with the neighboring Lenape Indians. During the French and Indian War, however, tribes who were allied with French colonists raided many English frontier settlements. As Indiantown Gap increasingly became the site of frequent battles, pioneers built a number of defensive structures, including Swatara Fort, Harpers Fort and Reeds Fort.
In the 1930s, when the Pennsylvania National Guard needed a larger area for training maneuvers and firing ranges, the government authorized the acquisition of 12,047 acres in Dauphin and Lebanon counties. The 55th Infantry Brigade was the first unit to use Fort Indiantown Gap when it held its annual maneuvers at the reservation in summer 1932. The following year, the 53rd Field Artillery first trained at Indiantown Gap, and in 1934, the 28th Infantry Division and 52nd Cavalry Brigade were assembled there. Over 100 buildings from nearby Mount Gretna—including officers' mess halls, administration buildings, latrines and bathhouses—were dismantled and hauled by truck to the present location at Indiantown Gap.
After World War II, Indiantown Gap became a separation center for officers and enlisted men returning from overseas, and eventually home to the 32,000 troops of the 5th Infantry Division and a training center during the Korean War. From 1962 to 1973, Indiantown Gap was the host installation for the largest Reserve Officers Training Corps advanced summer camp nationwide. During this 11-year period, 41,158 cadets completed training. In 1975, Fort Indiantown Gap became a camp for Southeast Asian refugees. For eight months, more than 22,000 Vietnamese and Cambodian refugees were resettled through this facility.
In 1976, a section of Fort Indiantown Gap was selected as the national cemetery for the states of Delaware, Maryland, New Jersey, Virginia and West Virginia. The Commonwealth of Pennsylvania donated Land for the 677-acre site to the Veterans Administration.
Monuments and Memorials
The elaborate Pennsylvania Veterans' Memorial is the largest monument in VA's National cemeteries. The combination open-air space and building stands 107 feet high and 360 feet long. Its design evokes "the ruins of a war-torn building centered in a land of solemnity." Designed by Cee Jay Associates of West Chester, PA, the granite, stone, and concrete composition was dedicated October 7, 2001. The memorial is dedicated to all who serve the nation and veterans of all wars—past and future. Sponsors were veterans, the estate of Major Charles and Eva Hawkins and the state of Pennsylvania.
Born in Pine Grove, PA, Russell William Brown (1922–2018) attended school and listed "acting" as his career field when registering for the draft during World War II. Staff Sergeant Brown served in the U.S. Army from 1942 to 1945 as a paratrooper with the 505th Parachute Infantry Regiment, F Company, for which he was awarded the Purple Heart. His four combat jumps—over Salerno and Sicily (Italy), Normandy (France), and Njimegen (Holland)—and that experience is included in Four Stars of Valor and All American, All the Way, books that chronicle the 505th PIR and 82nd Airborne Division. As a civilian Brown worked for E.I. DuPont. Around 1955 he married and the family lived in Georgetown, KY. He died there on August 31, at age 96, and is buried in Section 3, Site 779.
Born in South Carolina, Robert (Bob) Montgomery (1919–1998) was one of nine children and his father was a sharecropper. During the Great Depression years, Montgomery moved to North Philadelphia where he learned to box and joined "The Slaughterhouse" gym. He turned professional in 1938 and won the Lightweight Championship title in Madison Square Garden in 1943. Montgomery was drafted in World War II and served in the U.S. Army Air Corps, 1944–1945. Corporal Montgomery was discharged at Luke Air Field in Arizona. He returned to Philadelphia and reclaimed his championship title in 1947. Montgomery retired in 1950 but he continued to promote the sport and opportunities for black Americans. Montgomery was inducted into the International Boxing Hall of Fame in 1995. He died August 25 at age 79, and is buried in Section 13, Site 867.
Pennsylvanian Walter B. Pleate (1876–1985) was the oldest U.S. veteran when he died at the VA Medical Center in Lebanon. Born to German immigrants living in Bridesburg (now part of Philadelphia), in 1899 he enlisted in the U.S. Army. Private Pleate's enlistment record notes service as a musician in Company I, 2nd U.S. Infantry, and his discharge in Laguimanos, Philippine Islands. His tour of duty included the Philippines and fighting in the Boxer Rebellion (1900). Pleate returned to Philadelphia after his military service ended in February 1902, and by 1910 he was a helper in the Philadelphia Almshouse and Hospital. In the 1930s Pleate sought veterans' compensation for his Spanish-American War service, and he entered the VA hospital network by 1940. At the time of his death at 109 on December 5, he had no known survivors. Musician Pleate is buried in Section 11, Site 138.
John J. Shumaker (1929–1999) was born in Harrisburg, PA. He served as a commander in the U.S. Navy during the Korean War. Shumaker lived in central Pennsylvania for most of his life and worked as an attorney and businessman. He helped bring the Penn National Racetrack to Grantsville in 1968 and worked as its president and general manager until 1983. That year, he filled a vacant senate seat for Pennsylvania's Fifteenth District and served in that capacity until resigning for health reasons in 1995. He advocated for veterans and formed the state's first veterans advisory board. The Harrisburg Area Community College named a safety center on its campus after him in 1988. Shumaker died on October 13, 1999, and is buried in Section 20, Site 192.
Paul Vathis (1925–2002) was born in Mauch Chunk (now Jim Thorpe), PA. He enlisted in the Marine Corps during WWII as a high school senior and trained in photography. He flew combat missions with the 1st Marine Air Wing in the South Pacific photographing bomb damage. He began a fifty-six-year career as an Associated Press photographer in 1946, most of it with the Harrisburg bureau. His proximity to President Eisenhower's Gettysburg residence made him a regular in the press pool there. This familiarity helped give him access to photograph a Camp David meeting between Eisenhower and new President John Kennedy after the disastrous Bay of Pigs Invasion. "Serious Steps," a photograph taken in this session won the 1962 Pulitzer Prize. He died December 10 at age 77, and is buried in Section 25, Site 504.
We are developing educational content for this national cemetery, and will post new materials as they become available. Visit the Veterans Legacy Program and NCA History Program for additional information. Thank you for your interest.
return to top