Attention A T users. To access the menus on this page please perform the following steps. 1. Please switch auto forms mode to off. 2. Hit enter to expand a main menu option (Health, Benefits, etc). 3. To enter and activate the submenu links, hit the down arrow. You will now be able to tab or arrow up or down through the submenu options to access/activate the submenu links.

National Cemetery Administration
Fort Bliss National Cemetery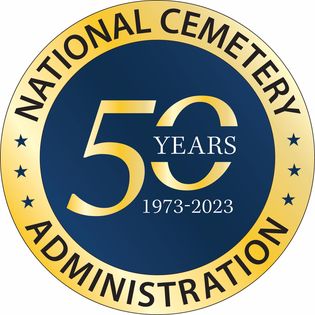 NCA marks 50 years (1973-2023) of serving America's Veterans, Service Members, and Families.

Learn more and watch NCA's 50th Anniversary Ceremony.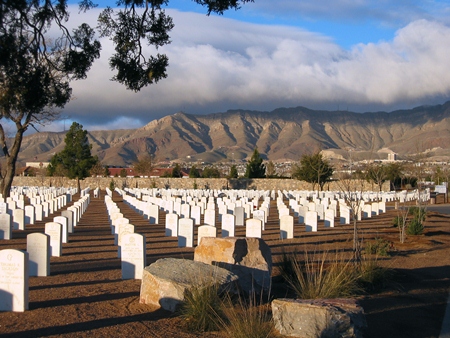 Visitation Hours: Open daily from sunrise to sunset.
Office Hours: Monday thru Friday from 8:00 a.m. to 4:30 p.m. Closed federal holidays except Memorial Day.
VA will continue its practice of honoring special requests for weekend burials for religious purposes, in cases of service members killed in action and on at least one day of any three-day Federal holiday weekend at all open VA national cemeteries. NCA will assess adding other options and national cemeteries in the future.
This cemetery has space available to accommodate casketed and cremated remains.
Burial in a national cemetery is open to all members of the armed forces who have met a minimum active duty service requirement and were discharged under conditions other than dishonorable.
A Veteran's spouse, widow or widower, minor dependent children, and under certain conditions, unmarried adult children with disabilities may also be eligible for burial. Eligible spouses and children may be buried even if they predecease the Veteran.
Members of the reserve components of the armed forces who die while on active duty or who die while on training duty, or were eligible for retired pay, may also be eligible for burial.
The cemetery is located in the central section of El Paso, Texas. From El Paso International Airport, travel Airport Road north two miles to Fred Wilson Avenue, and continue west ¾ mile to the cemetery.
Fax all discharge documentation to the National Cemetery Scheduling Office at 1-866-900-6417 and follow-up with a phone call to 1-800-535-1117.
For information on scheduled burials in our national cemeteries, please go to the Daily Burial Schedule.
The Fort Bliss National Cemetery is a beautiful historic and water-wise National Cemetery located on 83 acres adjacent to Fort Bliss Army Post. Passing through the old gate and past the main flagpole on the tree lined avenue, visitors will have a spectacular view of the cemetery, rostrum, and thousands of stately grave markers framed by the Franklin mountains to the West.
You can contact the National Cemetery directly if you: Need to schedule an Active Duty interment; are cancelling or rescheduling an interment; are changing information originally supplied to the scheduling center; or have a request for disinterment and/or relocation to another national cemetery.
Special Events
Memorial Day Ceremony (May) and Wreaths Across America (December). Please contact the office for dates.
A general Information Kiosk is located just in the Public Information Center just inside the main gate. The Kiosk is available 24-hours a day and contains the names of veterans and their eligible dependents buried at the cemetery. The Kiosk will generate a printed map with the name of the decedent and their grave location.
Military Funeral Honors
After confirming your service time with the National Scheduling Office or local cemetery please schedule military honors by contacting the following:
- ARMY Ft Bliss Casualty Assistance, ph 915-568-6338, fax 915-568-7233
- AIR FORCE Steel Talons Honor Guard, ph 575-572-2077, fax 575-572-2049
- NAVY NAS JRB Southeast Region, ph 904-542-1536 or 9807 or 3852, fax 904-542-3851 or 0422
- MARINES Marine Corps Funeral Request, ph 866-826-3628, fax 713-432-9248
- COAST GUARD Not available. Contact US NAVY Honors
For educational materials and additional information on this cemetery, please visit the Education section, located below.
To ensure all veterans and their family members receive proper dignity and respect, cemetery staff will actively ensure all gravesites and headstones comply with NCA policies and established guidelines.
Authorized:
Fresh-cut flowers and artificial flowers; U.S., POW, and military branch service flags are allowed at Fort Bliss National Cemetery. Flowers must be in plastic vases. Plastic vases are provided by the cemetery and are in receptacles throughout the cemetery and should be returned to the receptacles when no longer needed. Please limit to three (3) vases per gravesite. No other containers are allowed.
Potted plants are only permitted on gravesites 10 days before and 10 days after Easter.
Wreaths, poinsettia's and gravesite floral blankets are only permitted on gravesites starting December 1st through January 20th and may be placed on gravesites along with fresh-cut and artificial flowers. These items cannot not be larger than 2 feet by 3 feet.
Flower pick-up is conducted monthly at the end of each month. Persons who placed items on graves may recover those items from their loved one's gravesites prior to the scheduled pick-up dates. Flower pick-up dates are also posted on several "Next Flower Pick-Up" signs throughout the cemetery.
2023 Floral Pick-Up Schedule:
January 27–31
February 24–28
March 29–31
April 26–28
May 29–31
June 28–30
July 27–31
August 29–31
September 27–29
October 27–31
November 28–30
December 27–29
Unauthorized:
To maintain the dignity of the national cemetery, no items will be attached or glued to a headstone, marker, or niche cover. Arrangements should be no taller than the headstone (24 inches). Any food or alcohol left at the cemetery will be removed immediately.
Headstones are federal property. Modifying them with malicious intent in any way that would cause harm to staff/visitors, or altering (inscription not approved or inscribed by NCA), or marking by paint, marker, lipstick, or any other means is considered vandalism and may be subject to penalty as defined in Title 38 U.S. Code of Federal Regulations, Sec. 1.218 Security and Law Enforcement at VA Facilities.
Cemetery trees, shrubs and/or any other plants may not be decorated with any ornaments of any kind at any time.
General:
Fort Bliss National Cemetery assumes no responsibility for items left on gravesites. Due to the open nature of the grounds, we cannot guarantee against theft, vandalism or the effects of nature. Anyone caught removing items from gravesites not their own will be prosecuted to the fullest extent of the law.
The Cemetery Director reserves the right to remove and dispose of without notice, anything left on graves that violates the intent of these regulations, offends the sensibilities of the public, or the dignity of this cemetery, is an eyesore, or threat to the safety of the public or cemetery personnel.
Questions concerning cemetery floral policy should be directed to cemetery staff at 915-564-0201.
VA regulations 38 CFR 1.218 prohibit the carrying of firearms (either openly or concealed), explosives or other dangerous or deadly weapons while on VA property, except for official purposes, such as military funeral honors.
Possession of firearms on any property under the charge and control of VA is prohibited. Offenders may be subject to a fine, removal from the premises, or arrest.
Fort Bliss National Cemetery, is located within the Fort Bliss Military Reservation in El Paso County, Texas. It was one of seven national cemeteries created between world wars, 1934–1939, to increase the size of the national cemetery system. It was the first major expansion since the Civil War needed due to a growing veteran population and rapidly depleting burial space at existing national cemeteries. New cemetery locations were based on veterans' places of residence. The other interwar national cemeteries are Baltimore, Maryland; Fort Sam Houston, Texas; Fort Snelling, Minnesota; Fort Rosecrans and Golden Gate, California; and Long Island, New York.
Fort Bliss was established after the Mexican-American War (18464–1848) to protect newly acquired territories. The first garrison arrived at the post on the Rio Grande in late 1849. It was officially named in 1854 to honor Lt. Col. William Wallace Smith Bliss (1815–1853)—Chief of Staff to General Zachary Taylor during the war, then son-in-law and personal secretary to him during his presidency. Bliss died of yellow fever on August 5, 1853, while serving as adjutant general of the Army's Western Division. His remains were relocated to the namesake fort in 1955.
The U.S. Army abandoned Fort Bliss during the Civil War and it was occupied by Confederates until they destroyed it following a Union victory at Glorieta Pass, New Mexico Territory, in 1862. The fort was rebuilt and relocated multiple times before its final iteration, five miles east of El Paso, TX, was completed in 1893. It played a minor role in mobilization efforts for the Spanish-American War and Philippine Insurrection (1898–1902). In 1914, it switched from infantry to a cavalry post; Maj. Gen. John J. Pershing was stationed here when tasked with leading an expedition into Mexico to capture Pancho Villa (1916–1917). The fort was a training and demobilization center during World War I (1917–1918), and during World War II (1941–1945) it was the primary training site for anti-aircraft artillery and served as an internment camp for small numbers of enemy prisoners of war. It remains one of the Army's largest and most versatile properties.
Fort Bliss National Cemetery spans roughly 82 acres that was part of the Fort Bliss Military Reservation. The first recorded burials at the fort were in 1863 and the first identified burial was in October 1866. A 2-acre post cemetery was established in 1893 at what is the southeast corner of the larger cemetery, set apart by a stone wall erected in 1914. The need for additional burial space after World War I led Congress to authorize a national cemetery here in June 1936. Construction funds were not appropriated until 1939, after which a stone entrance gate and Spanish Revival-style lodge were completed. The following year the cemetery was improved by the addition of a Neoclassical rostrum made of Texas pink granite and a stone enclosure wall erected by Works Progress Administration laborers. Fort Bliss National Cemetery's first interment was held on March 7, 1940.
New buildings constructed in 2007 mimic the historic regional Spanish Revival architecture. The same year, NCA implemented a dramatic change to the landscape by replacing sod with decomposed granite; this is the first national cemetery transformed to a xeriscape as a conservation measure, consistent with the arid Southwest. This is one of three NCA xeriscape national cemeteries.
Foreign nationals are interred here in addition to U.S. soldiers and civilians. Among the allied burials are 52 Chinese airmen who died in training exercises at the fort in the mid-1940s, a Royal Air Force pilot, and a civilian German scientist. In addition, 48 enemy POWs are interred here.
Fort Bliss is one of more than eighty VA national cemeteries that use upright headstones and flat grave markers in separate burial sections. There are seven private markers in the original post section. The cemetery was listed on the National Register of Historic Places in 2016.
Monuments and Memorials
On December 7, 1984, the Pearl Harbor Survivors Association dedicated a monument to Coast Guard and Navy personnel who lost their lives at Pearl Harbor on December 7, 1941.
The Military Order of the World Wars dedicated a granite monument in 1986 to officers in military service.
The granite American Prisoners of War Monument was installed in 1986 by the American Ex-Prisoners of War of El Paso, Chapter 1.
The Military Order of the Purple Heart dedicated a granite-and-bronze monument to all armed forces personnel on October 22, 2002. The bronze plaque is inscribed with the words to Taps.
The El Paso Del Norte Chapter, Gold Star Wives of America, dedicated a granite-and-bronze monument on August 28, 2010. It is inscribed, "To Honor, In Loving Memory, Our Husbands and Their Service to Our Great Nation."
The Korean War Veterans Association, Col. Joseph C. Rodriguez (MOH), Chapter 249, donated a granite monument that was dedicated by Ko Chang Sun on June 25, 2016.
Medal of Honor Recipients
The Medal of Honor is the highest award for valor in action against an enemy force that can be bestowed upon an individual serving in the Armed Services of the United States. Recipients receive the Medal of Honor from the president on behalf of Congress. It was first awarded during the Civil War and eligibility criteria for the Medal of Honor have changed over time.
Recipients buried or memorialized here:
Corporal Frank Bratling (Indian Wars). Frank Bratling received the Medal of Honor posthumously for service in the U.S. Army, Company C, 8th U.S. Cavalry, in recognition of his actions near Fort Selden, New Mexico Territory, July 8–11, 1873. Bratling is memorialized in Section MA, Site 29.
Master Sergeant Victor Hugo Espinoza Jr. (Korea). Texan Victor Hugo Espinoza Jr., enlisted in the U.S. Army in 1950 and was a member of the Acting Rifleman Company A, 23rd Infantry Regiment, 2nd Infantry Division, until September 23, 1952. On March 14, 2014, Espinoza received the Medal of Honor for singly assaulting enemy forces on August 1, 1952, in Chorwon. Espinoza died April 17, 1986, and is buried in Section F, Site 1115.
Staff Sergeant Ambrosio Guillen (Korea). Ambrosio Guillen, native of Colorado, enlisted in the U.S. Marine Corps in 1947. Staff Sergeant Guillen served with Company F, 2nd Battalion, 7th Marines, 1st Marine Division. On July 25, 1953, Guillen's unit was attacked by two enemy battalions. Already wounded, Guillen refused treatment until the enemy retreated. Guillen died of his wounds on July 25, 1953. He received the Medal of Honor August 18, 1954, posthumously, for personal valor near Songuch-on, Korea, and is buried in Section E, Site 9171.
Private George Hooker (Indian Wars). George Hooker received the Medal of Honor posthumously for service in the U.S. Army, Company K, 5th U.S. Cavalry, in recognition of his actions at Tonto Creek, Arizona Territory, January 22, 1873. Hooker is memorialized in Section MA, Site 30.
Corporal Benito Martinez (Korea). Texan Benito Martinez enlisted in the U.S. Army in 1951 and served as a machine-gunner with Company A, 1st Battalion, 27th Infantry Regiment, 25th Infantry Division. During action near Satae-ri, Korea, Corporal Martinez volunteered to hold the position, and allow comrades to reorganize, attack, and regain key terrain. Martinez was killed in action on September 6, 1952. He received the Medal of Honor posthumously, on December 29, 1953, and is buried in Section B, Site 366A.
Other Burials
Fort Bliss Military Reservation and the national cemetery were named after William Wallace Smith Bliss. Bliss was born in Whitehall, New York, on August 17, 1815. He entered the U.S. Military Academy at West Point in September 1829 and graduated July 1, 1833. Ranked ninth in a class of forty-three graduates, the 17-year-old was considered a prodigy whose classmates dubbed him "Perfect Bliss." Later, Zachary Taylor's family gave him the same nickname. The scholarly Bliss spoke six languages and could read in thirteen languages. His expansive proficiency ranged from philosophy to poetry to military tactics. His first post, as a second lieutenant in the infantry, was in engagements against the Cherokee Indians (1833–1835) related to their forced removal from the southern United States. From 1834–1840 he taught mathematics at West Point. His service in the field against the Florida Indians (1840–1841) was followed by accompanying General Zachary Taylor to the Grand Council of Indian tribes in Oklahoma. He was then appointed adjutant general of the 16th Military Department until 1845. That August he became chief of staff to General Taylor, and served with him throughout the military occupation of Texas and the Mexican War. He was promoted the rank of brevet major in May 1846 for gallant and meritorious conduct during the battles of Palo Alto and Resaca de la Palma; similar recognition and the rank of brevet lieutenant colonel occurred in February 1847 for actions at the battle of Buena Vista. From 1842 onwards he was a key staffer to "Old Rough and Ready"; it was said that with Bliss at his elbow, General Taylor could count on trustworthy and honest, competent advice. Bliss married Taylor's youngest daughter, Mary Elizabeth, in December 1848, following Taylor's election to the presidency. Mary Taylor Bliss took on the duties of official hostess at the White House. In July 1850, Colonel Bliss was assigned as adjutant general of the Western Division of the Army in New Orleans. On August 5, 1853, he died at Pascagoula, Mississippi, a victim of yellow fever; he was buried in the Protestant Cemetery on Girod Street in New Orleans. On November 22, 1955, Bliss's remains were interred in this national cemetery with full military honors.
Charlie Bates (1878–1917) was born in Summerville, in northwest Georgia, and enlisted in the U.S. Army by 1901. Private Bates served in the 25th Infantry and transferred to Company M, 10th Cavalry in 1907, as a cook. Both regiments were segregated. Bates was one of many black enlisted men posted to the western frontier and to border fortifications who became known as Buffalo Soldiers in the late nineteenth century. Bates was in Kansas, Missouri, Nebraska, New York, Texas, and Vermont—the last home to the 10th Cavalry in the early 1900s. Bates died of pneumonia at Fort Bliss, Texas, in February 1917 (Section PA, Site 3E).
Donnie Wah Brown (1910–1995) was born in Texas and he enlisted in the U.S. Army in 1927. Underage at the time, Private Brown served just over six months with Company A, 10th Cavalry, before an honorable discharge as a minority. Undeterred, Brown reenlisted in the army in 1929 and accompanied his cavalry regiment to Fort Huachuca, Arizona. Brown retired in 1953 with the rank of master sergeant and made his home in El Paso. Brown's military service spanned World War II, Korea, and early racial desegregation of the armed forces. He was the last resident Buffalo Soldier living in the city when he died on June 1. Brown was buried in Fort Bliss National Cemetery (Section O, Site 1878)—the tenth Buffalo Soldier interred there. His widow established a chapter of the Buffalo Soldiers in his honor in El Paso.
Virginian Sheldon Colbert (1882–1916) grew up in Wythe County and worked as a day laborer as a young man. He married and was widowed between 1900 and 1910, and was an iron worker. In 1909, at age 26, Colbert enlisted in the U.S. Army, joining Company M, 10th Cavalry, in Ohio. The next year he was living in the Columbus Barracks with his regiment, followed by Fort Ethan Allen, Vermont, where he served in the early 1910s. The 10th Cavalry was one of the segregated regiments established for black soldiers in the nineteenth century, men who became known as Buffalo Soldiers. By 1916 Sergeant Colbert was in El Paso, Texas, where he died January 24. He is buried in Fort Bliss National Cemetery (Section PA, Site 15F).
Frank Coleman (1889–1929) was born in Kentucky and moved to Indianapolis as a child. By 1909, he was working in the city as a porter. In 1913 Coleman enlisted in the U.S. Army. For more than 16 years, Private First-Class Coleman served with three of four segregated regiments established for black enlisted men in 1866. As a Buffalo Soldier he was posted throughout the western United States, including Arizona, California, Kansas, and Texas. Records show he joined a detachment of the 25th Infantry in 1919, the 9th Cavalry in 1921, and the 10th Cavalry in 1927. For the 10th Cavalry, he was a member of the band. In 1929, Coleman accompanied his regiment from Fort Huachuca, Arizona, to El Paso. He died there of pneumonia on November 10 and was buried in the post cemetery, now part of Fort Bliss National Cemetery (Section PB, 15D).
Henry Demand (unknown–1899) served in the U.S. Army and Company F, 10th U.S. Cavalry. The 10th Cavalry was one of the segregated regiments established for black soldiers after the Civil War. The men in these regiments were known as Buffalo Soldiers. Demand died on October 20, 1899, and is buried in Fort Bliss National Cemetery (Section PC, Site 18E). Nothing more of his military career and civilian life is known at this time.
Richard Holt (1865–1946) was born in Danville, Virginia. Holt moved west, found work as a laborer in Chicago, and enlisted in the U.S. Army in 1884. Private Holt served in Troop E, 10th Cavalry for five years. The 10th Cavalry was one of the segregated regiments established for black soldiers when the army reorganized at the close of the Civil War; these men were known as Buffalo Soldiers. Holt was honorably discharged at Fort Grant, Arizona, and remained in the Southwest for the rest of his life. He married and moved to Sonora, Mexico, where his son was born in 1900. However, by the mid-1910s Holt returned to Arizona, seemingly on his own, and settled in Tucson where he worked as a carpenter. He died there on May 8, in the VA hospital. He was buried in Fort Bliss National Cemetery (Section FF, Site 12554).
Grover Mapp (ca. 1885–1947) was born in Georgia, and he enlisted in the U.S. Army at Fort Oglethorpe in 1914. Mapp joined the 10th U.S. Cavalry, one of the segregated regiments established for black soldiers after the Civil War. These men, including Private Mapp, became known as Buffalo Soldiers. Records indicate Mapp was a wagoner beginning in 1917. He was honorably discharged in 1919 and married soon thereafter. Although he did not serve overseas during World War I, Mapp re-enlisted in the army and was stationed in the Philippines. He returned in 1922 and rejoined his young family in San Antonio, where his wife's family resided, and they briefly lived in Arizona. After his wife's death in 1925, Mapp served another tour in the cavalry (1925–1926). He remained in Texas until his death and is buried in Fort Bliss National Cemetery (Section FF, Site 12549).
Roy McCain (1904–1944) was born in Louisiana and spent his childhood there. Little is known of his life, except for his military service in one of the segregated units formed for black soldiers after the Civil War. McCain enlisted in the U.S. Army in 1930, and was assigned to Company F, 9th Cavalry. Private McCain's tour of duty ended in 1933. His family, meanwhile, lived in New Mexico and he was married. McCain moved to El Paso in the early 1940s and worked as a porter. His marriage had ended by the time of his death on December 3, and he is buried in Fort Bliss National Cemetery (Section FF, Site 12574).
James Motjoy (1854–1931) was born in Kentucky and worked as a laborer. He enlisted in the U.S. Army in Louisville in 1875. Motjoy joined one of the segregated regiments established for black soldiers after the Civil War. These men were known as Buffalo Soldiers and many were posted to the Southwest. From 1875 to 1880, Private Motjoy served in Company H, 9th U.S. Cavalry, primarily in New Mexico. He settled in El Paso, Texas, by the end of the nineteenth century and, as a civilian, found work as a porter and janitor. In 1915 Motjoy married. He died on August 1, and he is buried in Fort Bliss National Cemetery (Section PB, Site 11E).
John Paul Stapp (1910–1999) joined the U.S. Army Air Corps in 1944, after earning a Ph.D. in biophysics (1942) and M.D. (1944). Col. Stapp's work in aviation medicine and the physiological effects of speed and height took him to Edwards Air Force Base, where he experimented with rocket propulsion. On December 10, 1954, Stapp rode the Sonic Wind I rocket-propelled sled to a record speed of 632 mph in five seconds. Col. Stapp retired from the U.S. Air Force in 1970 and "the fastest man alive" went on to serve in medical advisory and staff positions with the National Highway Traffic Safety Administration and the National Advisory Committee on Aeronautics. He was inducted into the National Aviation Hall of Fame in 1985 and received the Medal of Technology in 1991, among other honors. He died on November 13, 1999 (Section 1, Site 260).
Edward Walker (ca. 1878–1926) was born in Kentucky and enlisted in the U.S. Army in Lexington when he was about 20 years old. Prior to joining the army, he worked as a teamster. Walker was assigned to one of the segregated regiments established in 1866 for black enlisted men, the 25th Infantry, from 1898 to 1905. There he attained the rank of sergeant. Walker chose a career in the military and reenlisted in Company G, 9th U.S. Cavalry, as a cook. Regiment returns indicate Walker accompanied his regiment to various western posts including Arizona, Kansas, Nebraska, and Wyoming. He accompanied the 10th Cavalry to El Paso, Texas, where he died on May 27. Walker is buried in Fort Bliss National Cemetery (Section PB, Site 16B).
William Wooldridge (1922–2012) was born in 1922 in Texas. He enlisted in the army in 1940. A career combat infantryman, Wooldridge served during World War II, Korea, and Vietnam, rising to the rank of sergeant major. Highly decorated for bravery, his honors include the Silver Star and Purple Heart for actions in World War II, the Legion of Merit for service in Vietnam, and the Belgian Croix de Guerre. In 1966 Wooldridge became the first individual designated with the rank of Sergeant Major of the U.S. Army, a position he held until 1968. His advocacy of the non-commissioned officer corps had a profound influence on the army, including the Sergeants Major Academy, and a standardized promotion system. Wooldridge died March 5, 2012, and is buried in Fort Bliss National Cemetery (Section A, Site 56).
Foreign Nationals
China was an ally to the United States in World War II and beginning in 1941 the U.S. Army Air Forces provided training to the developing Chinese air force. By the end of the war, 2,238 Chinese airmen graduated from the program, second only to the numbers of British and French trainees. Between 1942 and 1946, fifty-two Chinese airmen died during the training exercises. The Army policy regarding foreign nationals who died on American soil during instructional programs, as teachers or students, directed they be buried at the closest post cemetery. For the Chinese, it was Fort Bliss National Cemetery, Section D. Their graves are marked with General-style headstones inscribed with men's name in English, nationality, rank, and date of death.
There is one WWII Royal Air Force pilot buried here.
Hans Lindenberg (1904–1946) is a German scientist who surrendered to the U.S. military along with aerospace engineer Wernher von Braun, who conducted rocket research at Fort Bliss as a civilian at the end of World War II. He is interred near the German POWs (Section PG, Row 11, Site 10K).
Enemy Prisoners of War
World War II prisoners who died in captivity were buried in the post section of the cemetery in 1946. These individuals were originally buried at prisoner-of-war and internment camps in Florence, Arizona (POW Camp Lordsburg), and Roswell, New Mexico. Treatment of POWs is determined by the laws of war (today set out in the various Hague Conventions from 1899 and 1907, Geneva Conventions of 1949, Additional Protocols of 1977, and customary international law). The graves of 48 enemy World War II POWs are located here—25 German, 19 Italian, and 4 Japanese—are marked with an upright General-style headstone. NCA manages 23 cemeteries that collectively contain the graves of more than a thousand World War I and World War II enemy POWs; Fort Bliss is one of them.
We are developing educational content for this national cemetery, and will post new materials as they become available. Visit the Veterans Legacy Program and NCA History Program for additional information. Thank you for your interest.
return to top