Attention A T users. To access the menus on this page please perform the following steps. 1. Please switch auto forms mode to off. 2. Hit enter to expand a main menu option (Health, Benefits, etc). 3. To enter and activate the submenu links, hit the down arrow. You will now be able to tab or arrow up or down through the submenu options to access/activate the submenu links.

National Cemetery Administration
Long Island National Cemetery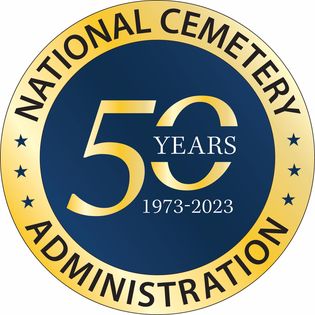 NCA marks 50 years (1973-2023) of serving America's Veterans, Service Members, and Families.

View events, daily photos of national cemeteries and more.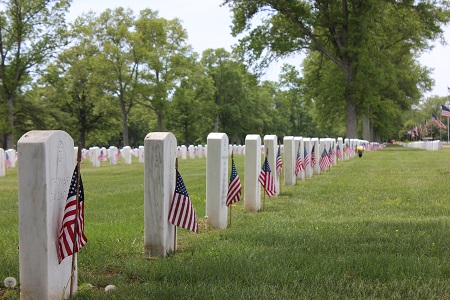 Visitation Hours: Open daily from 8:00 a.m. to 5:00 p.m.
Office Hours: Monday through Friday 8:00 a.m. to 4:30 p.m. Closed federal holidays except Memorial Day and Veterans Day. Open Memorial Day 8:00 a.m. to 7:00 p.m.
This cemetery has space available for cremated remains in a columbarium. We can accommodate casketed remains of subsequent eligible family members in the same gravesite of previously interred family members.
Burial in a national cemetery is open to all members of the armed forces who have met a minimum active duty service requirement and were discharged under conditions other than dishonorable.
A Veteran's spouse, widow or widower, minor dependent children, and under certain conditions, unmarried adult children with disabilities may also be eligible for burial. Eligible spouses and children may be buried even if they predecease the Veteran.
Members of the reserve components of the armed forces who die while on active duty or who die while on training duty, or were eligible for retired pay, may also be eligible for burial.
LaGuardia International Airport to Long Island National Cemetery. Total distance is approximately 27 miles.
Take the Grand Central Parkway eastbound to Exit 10E - Long Island Expressway 495. Travel the Long Island Expressway to Exit 49 South. After exiting, stay on the South Service Road to the 3rd set of traffic lights. This will be Pinelawn Road. Turn right onto Pinelawn Road, but be aware that Pinelawn Road changes its name to Wellwood Avenue on your way to the cemetery. Long Island National Cemetery is located on the left side of the roadway at 2040 Wellwood Avenue.
Fax all discharge documentation to the National Cemetery Scheduling Office at 1-866-900-6417 and follow-up with a phone call to 1-800-535-1117.
For information on scheduled burials in our national cemeteries, please go to the Daily Burial Schedule.
Remembrance Wreaths (Laying/Pick up):
The December 14, 2019 wreath-laying, an annual holiday tradition, involved some 4,500 volunteers. The cemeteries are hoping to get another good volunteer turnout from 11:00 a.m. to 4:30 p.m. (Saturday) December 14th, 2019.
On Saturday, January 25, 2020, we are seeking volunteers to help pick up Remembrance Wreaths that were placed on approximately 45,000 gravesites at both Long Island National Cemetery and Cypress Hills National Cemetery.
Flag Placement for Memorial Day:
Saturday, May 25, 2019 from 6:00am to completion.
Please contact cemetery for more information.
Memorial Day Ceremony at the Memorial Garden:
Sunday, May 26, 2019 at 2:00pm.
All organizations interested in having a Color Guard at this ceremony, please contact Morris Miller at 516-798-3710. For further information, contact Andrew Booth at 516-731-6421.
Flag Removal:
Saturday, June 1, 2019 from 8:00am to completion.
Please contact cemetery for more information.
Military Funeral Honors:
Military funeral honors as organized under the Department of Defense military funeral honors program "Honoring Those Who Served," should be arranged through the funeral home.
Local numbers for Military Funeral Honors:
U.S. Air Force: 609-754-1100 ext. 4117; Fax: 609-754-3711
U.S. Army: 718-329-3926 ext. 13; Fax: 718-329-4599
U.S. Marine Corps: 866-826-3628
U.S. Navy and U.S. Coast Guard: 631-842-4850 ext. 34; Fax: 631-789-9168
For educational materials and additional information on this cemetery, please visit the Education section, located below.
Our cemetery floral regulations exist only to reflect the honor and respect we hold for our Nation's Veterans, by preserving the dignity and solemnity of their final resting place.
We welcome and encourage fresh-cut flowers throughout the year for your loved one's gravesite. No permanent plantings are permitted.
Items left at grave side must be floral in nature and may not stand taller than the headstone. Unauthorized items include hazardous materials, glass, metal, toys, candles, balloons and non-US flags. No item may be attached to a headstone. Unauthorized items will be removed immediately. Removed items will be held for 30 days.
Floral pick up will be conducted per week, per section as follows:
1st Wednesday of Each Month: Sections: A through O, 2L, 2M, 2K, 3E, MA and DSS.

2nd Wednesday of Each Month: Sections: Columbarium, S, 2G, 2J, 2N, 2T, 2U, 2X, 2Y, 3A, and 3C.

3rd Wednesday of Each Month: Sections: 2D, 2E, 2H, 2P, 2Q, 2R, 2S, 2W, 3B, 3D and 3F.

4th Wednesday of Each Month: Sections: Q, P, R, S, T, U, V, W, X, Y, Z, 2A, 2B, 2C, 2V and MB.

Interment florals will be picked up by cemetery staff every other Wednesday on a bi-weekly pick date.
During the winter holiday season, (Thanksgiving through January 10th) potted plants, artificial flowers, wreaths (less than 18 inches in diameter) and grave blankets (less than 2 x 3 feet) are permitted. It may be placed on graves the weekend after Thanksgiving and remain on the grave until January 20th. A general clean-up will begin on or about January 20th each year, weather permitting and will continue until all seasons decorations have been removed from the graves. Please note Christmas trees and decorations taller than 26 inches or the height of the headstone are not permitted.
During Memorial Day and other mowing season holidays; articles may be placed on gravesites on the Friday before the holiday. Items will be removed by cemetery staff one week later on the following Thursday.
Fresh cut flowers: May be placed on graves at any time through the year.
Artificial and potted floral items: May be placed on graves during the period of October 10th through April 15th only. All floral items will be removed by cemetery labor on a regular basis as noted on all posted floral collections signs. You may contact the office at 631-454-4949 for further details
In order to preserve the dignity and honor of our Veteran's final resting place, please observe the following rules of behavior while visiting the cemetery grounds:
Pets are not allowed on the cemetery grounds at any time.
No soliciting.
Sports or recreational activities of any kind are prohibited. No picnicking.
Public gatherings of a partisan nature are prohibited, no unauthorized gatherings are permitted.
Committal shelters are for services only, no loitering.
Do not litter, please use one of the many receptacles provided.
Smoking is not allowed on the grounds, in any building or the committal shelter. Please smoke only at the designated receptacles.
No cutting, digging or otherwise damaging the landscape.
Boisterous activity, including the playing of loud music, is prohibited.
Altering a headstone in any manner is prohibited. (i.e., marking, sitting on, placing objects upon, attaching photographs or keepsakes to, etc.)
VA regulations 38 CFR 1.218 prohibit the carrying of firearms (either openly or concealed), explosives or other dangerous or deadly weapons while on VA property, except for official purposes, such as military funeral honors.
Possession of firearms on any property under the charge and control of VA is prohibited. Offenders may be subject to a fine, removal from the premises, or arrest.
Long Island National Cemetery is located in the community of Farmingdale in central Long Island, NY. It was one of seven national cemeteries created between world wars, 1934–1939. It was the Army's first major expansion since the Civil War directed at serving a growing Veteran population and the rapidly depleting burial space at existing national cemeteries. Unlike previous new cemeteries, locations were based on veterans' places of residence, especially in or near large cities. The other interwar national cemeteries are Baltimore, Maryland; Fort Bliss and Fort Sam Houston, Texas; Fort Snelling, Minnesota; Fort Rosecrans and Golden Gate, California.
Long Island National Cemetery occupies land that once belonged to the adjacent Pinelawn Cemetery, a large private lawn-park style cemetery. It was created to supplant the Civil War-era Cypress Hills National Cemetery in Brooklyn, two sections of which are embedded in the private Cypress Hills Cemetery. Cypress Hills National Cemetery grew from 3 acres to 18 acres. Twentieth-century wars and the expansion of veterans' burial benefits in 1920 created a dramatic increase in the civilian population eligible for burial were among the factors that led the government to estimate the cemetery would be full by 1938. Congress authorized the War Department to purchase land for a new cemetery in the vicinity of New York City in 1936. Two locations were considered — the Camp Upton National Military Reservation, 60 miles east of Manhattan on Long Island, and Pinelawn. The federal government purchased 175 acres of Pinelawn in January 1937 for $200,000.
The first burials in Long Island National Cemetery took place in March 1937 and the volume of interments quickly increased to an average of fifty-three per month. Beautification of the grounds and construction of permanent roads and buildings took place at the same time. Major construction projects completed in the first year included a superintendent's lodge, administration office, receiving vault and chapel, garage and comfort station all near the main entrance gate and iron fence, and a U.S. flagpole and circle, and temporary rostrum. The Office of the Quartermaster General and Quartermaster Corps designed the Colonial Revival red brick buildings with slate-shingle roofs. The cemetery was designed in formal geometric pattern with roads organizing burial sections; with a flagpole in a prominent location. A "mall" area near the flagpole serves as a Distinguished Service Section, which primarily consists of Medal of Honor recipients. The standard plaques installed here are the General Orders No. 80, National Cemetery Act, Memorial Day Order, and Gettysburg Address.
Development of burial space steadily expanded in the first years of the cemetery along with the increase in interment rates. The New Deal Works Progress Administration (WPA) supplied some of the labor for early road and building construction. A little more than three years after the first burials at Long Island National Cemetery it hosted a formal dedication on May 26, 1940, a ceremony that included a parade of 3,000 veterans and auxiliaries.
By December 31, 1947, there were more than 10,000 interments in the Long Island National Cemetery. The repatriation program for World War II (1941–45) dead that ran from 1947–1951 brought a large increase of burials at Long Island. To meet the increasing demand for burial space, the federal government purchased 72 additional acres to the north in 1951, bringing the cemetery to its current size of approximately 365 acres. In the 1950s, the cemetery cleared the newly acquired lands. The War Department considered the need for a second chapel to allow storage for up to 100 caskets, but it was not realized; meanwhile, the existing chapel was repurposed as enlarged administration building.
Improvements at the cemetery and the addition of more acreage attempted to keep up with demand, which rose with the Korean and Vietnam conflicts, rapidly increased the rate of interments at mid-century. By November 1963, the cemetery noted its 100,000th interment; the 200,000th interment occurred less than ten years later in February 1973. Land-locked Long Island National Cemetery closed to new interments in 1978. To ensure veterans have interment options, the first large columbaria were erected ca. 2002 where original roads had existed. In 2020 it ranked as one of the five busiest national cemeteries for cremated remains.
Long Island is one of more than eighty VA national cemeteries that use upright headstones and flat grave markers in separate burial sections. The cemetery was listed on the National Register of Historic Places in 2016.
Monuments and Memorials
A granite monument affixed with bronze emblems representing Nassau and Suffolk county veteran organizations, "in memory of their departed comrades," was erected in May 1940 as part of the cemetery's official dedication.
AMVETS, All Veterans Monument, 1996.
Chosin Few Monument (Korea), 2001.
Vietnam War Monument, May 2015.
Medal of Honor Recipients
The Medal of Honor is the highest award for valor in action against an enemy force that can be bestowed upon an individual serving in the Armed Services of the United States. Recipients receive the Medal of Honor from the president on behalf of Congress. It was first awarded during the Civil War and eligibility criteria for the Medal of Honor have changed over time.
Recipients buried or memorialized here:
Chief Water Tender Heinrich Behnke. He received the Medal of Honor while serving in the U.S. Navy for actions on board the USS Iowa after the blowing out of a manhole cover on the vessel, January 25, 1905. Behnke died in 1952 and is buried in Section DSS, Site 20A.
Corporal Anthony Casamento (World War II). He received the Medal of Honor while serving in the U.S. Marine Corps, Company D, 1st Battalion, 5th Marines, 1st Marine Division, for actions at Guadalcanal, Solomon Islands, November 1, 1942. Casamento died in 1987 and is buried in Section DSS, Site 79A.
Chief Gunner's Mate John Everetts. He received the Medal of Honor while serving in the U.S. Navy on board the USS Cushing, for the attempted rescue of a shipmate from drowning, February 11, 1898. Everetts died in 1956 and is buried in Section DSS, Site 36A.
Gunner's Mate Third Class Robert Galbraith (Philippine Insurrection). He received the Medal of Honor while serving in the U.S. Navy for actions at El Pardo, Cebu, Philippine Islands, September 12–13, 1899. Galbraith died in 1949 and is buried in Section DSS, Site 17.
Boatswain's Mate William Henry Gowan. He received the Medal of Honor while serving in the U.S. Navy for actions at Coquimbo, Chile, January 20, 1909. Gowan died in 1957 and is buried in Section DSS, Site 7A.
First Sergeant Sydney G. Gumpertz (World War I). He received the Medal of Honor while serving in the U.S. Army, Company E, 132nd Infantry, 33rd Division, for actions in the Bois-de-Forges, France, September 29, 1918. Gumpertz died in 1971 and is buried in Section DSS, Site 65.
Chief Water Tender August Holtz. He received the Medal of Honor while serving in the U.S. Navy for actions during a fire on board the USS North Dakota, September 8, 1910. Holtz died in 1938 and is buried in Section F, Site 916.
First Lieutenant Stephen Edward Karopczyc (Vietnam). He received the Medal of Honor posthumously for service in the U.S. Army, Company A, 35th Infantry, 25th Infantry Division, in recognition of perseverance and selfless devotion to his men during a battle in Kontrm Province, Republic of Vietnam, March 12, 1967. Karopczyc was killed in action and is buried in Section DSS, Site 5A.
Specialist Fifth Class John James Kedenburg (Vietnam). He received the Medal of Honor posthumously for service in the U.S. Army, 1st Special Forces, 5th Special Forces Group (Airborne), in recognition of inspiring leadership and self-sacrifice as an advisor to a reconnaissance team of South Vietnamese troops in the Republic of Vietnam, June 13, 1968. Kedenburg is buried in Section 2H, Site 3684.
Private First Class Carlos James Lozada (Vietnam). Carlos James Lozada, native of Puerto Rico, enlisted in the U.S. Army on August 15, 1966, and served with Company A, 2nd Battalion, 503rd Infantry, 173rd Airborne Brigade. On November 20, 1967, in Dak TO, Lozada alerted comrades of an oncoming attack by the North Vietnamese and provided defensive fire. When the company received orders to withdraw, Lozada remained in position and he was killed in action. Lozada received the Medal of Honor, posthumously, in November 1969. Lozada is buried in Section T, Site 2295.
Landsman Thomas Mitchell. He received the Medal of Honor while serving in the U.S. Navy for the rescue of a drowning shipmate while on board the USS Richmond, in Shanghai, China, November 17, 1879. Mitchell died in 1942 and is buried in Section M, Site 27661.
Chief Boatswain's Mate Lauritz Nelson (Spanish-American War). He received the Medal of Honor while serving in the U.S. Navy for his actions on board the USS Nashville in Cuba, May 11, 1898. Nelson died in 1941 and is buried in Section DSS, Site 2.
Sergeant Alfred B. Nietzel (World War II). He received the Medal of Honor posthumously for service in the U.S. Army, Company H, 16th Infantry, 1st Infantry Division, in recognition of heroism and selflessness at the cost of his own life near Heistern, Germany, November 18, 1944. Nietzel is buried in Section J, Site 14185.
First Lieutenant Bernard James Ray (World War II). He received the Medal of Honor posthumously for service in the U.S. Army, Company F, 8th Infantry, 4th Infantry Division, in recognition of implacable determination and self-sacrifice so that his company could advance in the Hurtgen Forest near Schevenhutte, Germany, November 17, 1944. Ray is buried in Section DSS, Site 6.
Staff Sergeant Joseph Edward Schaefer (World War II). He received the Medal of Honor while serving in the U.S. Army, Company I, 18th Infantry, 1st Infantry Division, for actions near Stolberg, Germany, September 24, 1944. Schaefer died in 1987 and is buried in Section DSS, Site 80.
Colonel Charles William Shea (World War II). He received the Medal of Honor while serving in the U.S. Army, Company F, 350th Infantry, 88th Infantry Division, for actions near Mount Damiano, Italy, May 12, 1944. Shea died in 1994 and is buried in Section DSS, Site 71A.
Private First Class William Thompson (Korea). William Thompson was born in August 1927 in New York City. He enlisted in the U.S. Army in 1945 and completed one tour of duty. Thompson reenlisted in January 1948 and served with the 24th Infantry in 1949–1950. On August 6, 1950, near Haman in South Korea, Thompson provided cover for comrades as they withdrew from a surprise enemy attack. His courage was recognized posthumously with the Medal of Honor, which his mother received in June 1951. Thompson is one of two black soldiers to receive the Medal of Honor for service in the Korean Conflict. He is interred in Section DSS, Site 19.
Private First Class Michael Valente (World War I). He received the Medal of Honor while serving in the U.S. Army, Company D, 107th Infantry, 27th Division, for actions east of Ronssoy, France, September 29, 1918. Valente died in 1976 and is buried in Section DSS, Site 60A.
Lieutenant James Aloysius Walsh (Mexican Campaign). He received the Medal of Honor while serving in the U.S. Navy on board the USS Florida for actions during the seizure of Vera Cruz, April 21–22, 1914. Walsh died in 1960 and is buried in Section DSS, Site 47A.
First Lieutenant John Earl Warren, Jr. (Vietnam). John Earl Warren, Jr., was born November 16, 1946, in Brooklyn, New York. He joined the U.S. Army in 1967 and First Lieutenant Warren's first tour started September 7, 1968. He was a platoon leader for Company C, 2nd Battalion, 22nd Infantry, 25th Infantry Division. On January 14, 1969, the platoon was ambushed as it moved forward to reinforce another unit. When a grenade landed in their group, Warren fell on it to shield other soldiers. He was posthumously awarded the Medal of Honor, which was presented to his family in April 1970. He is buried in Section O, Site 33144.
Other Burials
James "Tim" Brymn was born in North Carolina by about 1880. He attended Shaw University, trained at the National Conservatory of Music in New York, and became a noted composer and bandleader. When the United States entered World War I, Brymn enlisted. Second Lieutenant Brymn led the 350th Artillery Band when it was stationed at Camp Dix, NJ, and in France. In Brymn's "Black Devils" orchestra performed for President Woodrow Wilson and General John Pershing at the opening of the 1919 Peace Conference. Brymn released a dozen albums and led nightclub orchestras after the war. He and fellow veteran, James Reese Europe, are considered the fathers of jazz. Brymn died October 3, 1946, and is buried in Long Island National Cemetery (Section A, Site 45 N/S).
Samuel Albert Countee (1909–1959) was born in Texas. He grew up in Houston, graduated from Booker T. Washington High School in 1928, and earned a reputation as a talented artist. He came of age during the Harlem Renaissance and majored in art at Bishop College. In 1933 his painting Little Brown Boy attracted national attention and in 1936 his murals were included in the Texas Centennial Hall of Negro Life. During these years, he studied in Boston, established himself in New York, and received accolades for portrayals of African Americans. In World War II, Countee joined the U.S. Army and served 1942–1945. Staff Sergeant Countee was stationed in Iran and stateside when, in 1945, he painted a mural in the black officers' club at Fort Leonard Wood, Missouri. Countee returned to New York after the war, married in 1953, and died six years later on September 11 (Section 2B, 2134).
Beatrice MacDonald (1881–1969) was born on Prince Edward Island, Canada. As a young woman she moved to New York City to attend New York City Hospital Nursing School, and following the U.S. entry into World War I, she volunteered to serve as an Army Nurse. While working on a patient in August 1917, a bomb dropped from an overhead German aircraft exploded and wounded her in the right eye. Although this grievous wound caused her to have her eye surgically removed, MacDonald bounced right back from her wound, vowing "I've only started doing my bit." She served with the Army Nurse Corps unit war's end, then returned to New York. After the creation of the Purple Heart, MacDonald applied for and received the first Purple Heart awarded to a female servicemember on January 4, 1936. She was also awarded the Distinguished Service Cross, Distinguished Service Medal, French Croix de Guerre, British Military Medal, and British Royal Red Cross. She is buried in Section DSS, Site 69A.
Group Burials
Among the interments in Long Island National Cemetery are thirty-nine World War II group burials containing the remains of 112 veterans. For these individuals, the circumstances of death were such that their remains could not be identified for separate burials. These honored dead, who fought and died together, are united in group burials. Specially designed government headstones inscribed with names, ranks, and dates of death mark their shared graves. The largest group burial in the cemetery is composed of unknown remains of ten U.S. Army Air Corps servicemen who died together on May 4, 1945 when their plane was lost on a bombardment mission to Koror, Palau: three officers, one technical sergeant, two sergeants, and four corporals. (Section J, Site 13630)
In 1948 the remains of sixteen Civil War soldiers of the 14th Rhode Island Heavy Artillery were removed from the cemetery at Fort Greble, RI, and reinterred in Long Island National Cemetery. (Section O, Site 37525)
In 1952, 104 remains from the abandoned post cemetery on Fort McKinley, ME, were reinterred in Long Island National Cemetery. (Section O, Site 39)
Foreign Nationals
A group gravesite contains the remains of four American servicemen and two members of the British Armed Forces. Their plane crashed in the Burmese jungle in April 1945, and attempts to locate the wreckage were fruitless. It was not until 1957 that the Army, acting upon information supplied by Burmese tribesmen who had found a wreck in the jungle, finally discovered the place and its ill-fated passengers. Pursuant to an agreement with the families of the deceased, the remains of the six men were interred on Feb. 5, 1958. (Section M, Site 27188)
Of the thirty-six foreign nationals interred in Long Island National Cemetery, most are Royal Navy, Naval Volunteer Reserve and Marines (United Kingdom), and Royal Army and Artillery.
Enemy Prisoners of War
NCA manages 23 cemeteries that collectively contain the graves of more than a thousand World War I and World War II enemy prisoners of war (POWs); Long Island is one of them. The World War II POW burial section, 2C, contains the remains of thirty-seven German and fifty-four Italian foreign nationals. Thirty-six of the Italian POWs are interred in one group grave as unknowns; the men were among 1,800 POWs onboard a British-operated ship, SS Benjamin Contee, struck in an aerial torpedo strike on August 16, 1943. Many men confined in the ship holds died, and the initial search of the ship upon its return to Bone, Algeria, failed to recover every casualty. The remains of thirty-six Italians were found in the ship when it arrived in the United States, and the men are buried in one grave.
We are developing educational content for this national cemetery, and will post new materials as they become available. Visit the Veterans Legacy Program and NCA History Program for additional information. Thank you for your interest.
return to top