Attention A T users. To access the menus on this page please perform the following steps. 1. Please switch auto forms mode to off. 2. Hit enter to expand a main menu option (Health, Benefits, etc). 3. To enter and activate the submenu links, hit the down arrow. You will now be able to tab or arrow up or down through the submenu options to access/activate the submenu links.

National Cemetery Administration
Riverside National Cemetery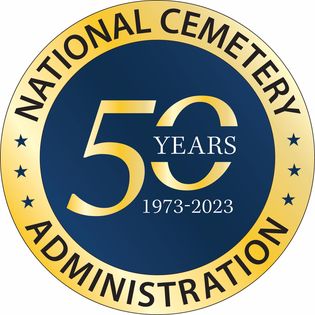 NCA marks 50 years (1973-2023) of serving America's Veterans, Service Members, and Families.

Learn more and watch NCA's 50th Anniversary Ceremony.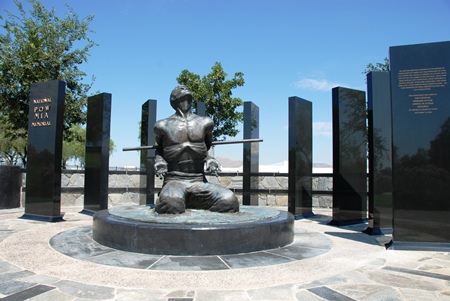 Visitation Hours: Open daily from sunrise to sunset.
Office Hours: Monday thru Friday 8:00 a.m. to 4:30 p.m. Office is closed Federal Holidays except Memorial Day and Veterans Day. Open Memorial Day 8:00 a.m. to 7:00 p.m.
VA will continue its practice of honoring special requests for weekend burials for religious purposes, in cases of service members killed in action and on at least one day of any three-day Federal holiday weekend at all open VA national cemeteries. NCA will assess adding other options and national cemeteries in the future.
This cemetery has space available to accommodate casketed and cremated remains.
Burial in a national cemetery is open to all members of the armed forces who have met a minimum active duty service requirement and were discharged under conditions other than dishonorable.
A Veteran's spouse, widow or widower, minor dependent children, and under certain conditions, unmarried adult children with disabilities may also be eligible for burial. Eligible spouses and children may be buried even if they predecease the Veteran.
Members of the reserve components of the armed forces who die while on active duty or who die while on training duty, or were eligible for retired pay, may also be eligible for burial.
Cemetery is located 70 miles east of Los Angeles, adjacent to March Air Reserve Base. From Ontario Airport, take Interstate 10 East to Interstate 15 South to Highway 60 East to Interstate 215 South. Exit at Van Buren Boulevard and turn right. Proceed on Van Buren to first traffic light. Cemetery entrance is on the left. From Los Angeles International Airport take Interstate 405 North to Interstate 10 East; merge on Highway 60 East. Proceed on Highway 60 to Riverside. Merge onto Interstate 215. Exit at Van Buren Boulevard and turn right. Proceed on Van Buren to first traffic light. Cemetery entrance is on the left.
Fax all discharge documentation to the National Cemetery Scheduling Office at 1-866-900-6417 and follow-up with a phone call to 1-800-535-1117.
For information on scheduled burials in our national cemeteries, please go to the Daily Burial Schedule.
Military Funeral Honors
In addition to the Department of Defense military funeral honors program, "Honoring Those Who Served," the Riverside National Cemetery Memorial Honor Detail (MHD) is generally available Monday through Friday to provide military funeral honors for veterans. MHD teams are strictly volunteers and vary in size and scope, from folding and presenting the flag only, to full honors with a rifle salute and bugler. All military funeral honors performed by the MHD are provided at NO COST to the family.
Once a committal service has been scheduled, families and funeral directors can arrange military honors by calling the following telephone numbers by branch:
Air Force: 951-655-6105
Army: 800-248-0759
Coast Guard: 310-521-6087
Marine Corps: 866-826-3628
Navy: 800-326-9631
For educational materials and additional information on this cemetery, please visit the Education section, located below.
The intent of our floral guidelines is to ensure that we maintain the cemetery with the dignity befitting a National Shrine. We ask for your understanding and cooperation with our efforts.
We welcome fresh-cut flowers throughout the year and provide flower containers for gravesite display. Cemetery visitors are free to use the containers located in receptacles placed throughout the grounds. Once the blooms are spent or damaged, they are removed.
When placing floral items, please do not use glass containers, rocks, wire or other objects that could cause injury to cemetery staff or visitors. Mowers and trimmers can cause unseen items to become dangerous projectiles. For example, items incorporating beads or wires may become entangled in mowers or other equipment and cause injury. Permanent plantings, statues, vigil lights, breakable objects and similar items are not permitted on the graves.
To maintain the dignity of the cemetery, commemorative items, balloons, pinwheels, glass or breakable items, votive lights, statues, shepherd's hooks are not allowed. If you have question, please ask us.
Cemetery staff will immediately remove items deemed inappropriate or unsafe. Items appearing to be of sentimental or keepsake value will be retained for one month. These items remain the property of the donor but are under the custodianship of the cemetery. If not retrieved by the donor, they are then governed by the rules for disposal of federal property.
No item or object may be attached to the headstone or niche cover. Headstones and niche covers are federal property, altering or marking by paint, marker, lipstick or any other means is prohibited.
Modifications to the weekly flower pickup schedule are made for the following holidays: Easter, Mother's Day, Father's Day, Veterans Day, Thanksgiving and the Christmas season.
Seasonal Holiday Adornments for Christmas and Hanukkah, such as wreaths, potted poinsettias and other seasonal items may be placed on graves from the third Saturday in December (National Wreaths Across America Day) through the third Monday in January (Martin Luther King Jr. Day). During the holiday season: The cemetery's decorating policy allows, for the following floral arrangements, floral grave blankets about 2 feet by 3 feet, wreaths up to 20 inches in diameter and potted plants and trees no more than 24 inches tall. The potted plants and trees are allowed only if they are not permanent and are decorated with unbreakable ornaments.
On Easter and Memorial Day artificial flowers and potted plants will be allowed on graves for a period extending five days before through five days after Easter Sunday and Memorial Day.
Riverside National Cemetery assumes no responsibility for items left at graves. Due to the open nature of the grounds, we cannot guarantee against theft, vandalism or the effects of nature, including damage by wildlife.
We thank you in advance for observing the above listed regulations. Our nation's heroes, some of whom gave their lives for this country, deserve no less than an honorable and pristine landscape for their final resting place.
VA regulations 38 CFR 1.218 prohibit the carrying of firearms (either openly or concealed), explosives or other dangerous or deadly weapons while on VA property, except for official purposes, such as military funeral honors.
Possession of firearms on any property under the charge and control of VA is prohibited. Offenders may be subject to a fine, removal from the premises, or arrest.
Riverside National Cemetery is the largest and busiest cemetery managed by the National Cemetery Administration. It was established in 1976 through the transfer of 740 acres from March Air Force Base, which during World War II was called the U.S. Army's Camp William G. Haan. The cemetery was dedicated and opened for burials November 11, 1978. An additional 181 acres was transferred by the Air Force in 2003.
The dramatic, meandering landscape features a central boulevard with memorial circles, lakes, indigenous-styled committal shelters, and a memorial amphitheater.
Monuments and Memorials
Riverside National cemetery is home of the Medal of Honor Memorial and one of four sites recognized as a National Medal of Honor Memorial Site. The Medal of Honor Memorial, whose walls feature the names of all medal recipients, is located at the third traffic circle in the cemetery. It was dedicated in 1999.
The Fallen Soldier/Veterans' Memorial, erected in 2000, is dedicated to all service members who gave the ultimate sacrifice for their country. The dramatic bronze structure topped by a lifeless soldier is located near the lake at the entrance to the cemetery.
A carillon was donated by the American Veterans (AMVETS) in 2000.
The Prisoner of War/Missing in Action National Memorial was designated as a national memorial by the U.S. Congress in 2004 through Public Law 108-454. The memorial was dedicated on September 16, 2005. Vietnam veteran Lewis Lee Millett, Jr., sculpted the bronze statue which depicts an American serviceman on his knees with hands bound by his captors. The statue is surrounded by black marble pillars that evoke imprisonment.
Medal of Honor Recipients
The Medal of Honor is the highest award for valor in action against an enemy force that can be bestowed upon an individual serving in the Armed Services of the United States. Recipients receive the Medal of Honor from the president on behalf of Congress. It was first awarded during the Civil War and eligibility criteria for the Medal of Honor have changed over time.
Recipients buried or memorialized here:
Commander John H. Balch (World War I). He received the Medal of Honor while serving in the U.S. Navy, 6th Regiment, U.S. Marines, for actions at Vierzy, France, on July 19, 1918, and at Somme-Py, France, on October 5, 1918. Balch died in 1980 and is buried in Section 2, Site 1925.
Second Lieutenant Walter D. Ehlers (World War II). He received the Medal of Honor while serving in the U.S. Army, 18th Infantry, 1st Infantry Division, for actions near Goville, France, June 9–10, 1944. Ehlers died in 2014 and is buried in Section 20A, Site 644.
Colonel Lewis L. Millett (Korea). He received the Medal of Honor while serving in the U.S. Army, Company E, 27th Infantry Regiment, for actions in the vicinity of Soam-Ni, Korea, February 7, 1951. Millett died in 2009 and is buried in Section 2, Site 1910.
Colonel Mitchell Paige (World War II). He received the Medal of Honor while serving in the U.S. Marine Corps, 1st Marine Division, for actions in the Solomon Islands, October 26, 1942. Paige died in 2003 and is buried in Section 20A, Site 533.
Staff Sergeant Ysmael Roger Villegas (World War II). Ysmael Roger Villegas, native of California, enlisted in the U.S. Army on July 11, 1944, and served in Company F, 127th Infantry, 32nd Infantry Division. On March 20, 1945, in Luzon, Philippine Islands, Staff Sergeant Villegas charged the entrenched enemy, eliminated five fox holes, and was killed in action. Posthumously, he received the Medal of Honor on October 19, 1945. He is buried in Section 5, Site 1178.
Other Burials
Robert Edward Badham, Lt. j.g., U.S. Navy. U.S. Congressman from California. Served in California assembly, 1963–1976; U.S. House of Representatives 1977–1989 (Section 16, Site 914A).
George Baker, Tech Sgt., U.S. Army, World War II. Cartoonist. Baker was a former Disney cartoonist who created the comic strip and comic book character "The Sad Sack" during World War II (Section 8, Site 3254).
Colonel Aaron Bank, U.S. Army. Founder of the Army's elite Green Berets. During World War II Bank was assigned to the Office of Strategic Services within the Army's Special Operations branch. After the war he stayed with the Army, and convinced them to create a permanent Special Forces unit. In 2002, President George W. Bush bestowed Bank with a commendation for creating the techniques used to defeat the Taliban in Afghanistan. He died in 2004 at the age of 101 (Section 17, Site 421).
Melissa Rose Barnes was born in 1973 in Los Angeles, and enlisted in the Navy in 1992. Yeoman Barnes was posted to the Naval Command Center in 2001 where she was working on September 11. Barnes was killed in the terrorist attack on the Pentagon, and was buried in Riverside National Cemetery October 1, 2001 (Section 56B, Site 123).
Lillian Kinkela Keil, Captain, U.S. Air Force. Air Force Flight Nurse Pioneer. She flew on 425 medical evacuation missions and took part in 11 major campaigns that included the D-Day invasion and Battle of the Bulge in World War II and the Battle of Chosin Reservoir during the Korea War. One of the most decorated women in American military history, she was awarded 19 medals, including a European Theater medal with four battle stars, a Korean service medal with seven battle stars, four air medals and a Presidential Citation from the Republic of Korea (Section 20A, Site 1235).
John D. McKeel, Jr., Staff Sgt., U.S. Marine Corps. One of the 52 Americans held hostage by Iran from 1979 to 1981. Shot to death while trying to help a woman who was being robbed (Section 43, Site 1528).
Patrick Henry McMahon, Motor Machinist Mate First Class (MOMM1), U.S. Navy. During World War II, McMahon was rescued near the Solomon Islands from the wreckage of patrol boat PT-109 by Lt. John F. Kennedy. The boat had been rammed by a Japanese destroyer on August 2, 1943. Badly injured and burned, McMahon was towed for several miles to safety by the future U.S. president (Section 43, Site 1411).
Joe Morris, Sr., a native of Arizona, enlisted in the U.S. Marine Corps in 1943. Cpl. Morris was a Navajo Code Talker in the Pacific Theater during World War II and served into 1946. In 2001, the Navajo Code Talkers were presented with the Congressional Silver Medal. Morris died July 17, 2011 (Section 52A, Site 2818). Navajo code talkers took part in every assault the U.S. Marines conducted in the Pacific from 1942 to 1945. They served in all six Marine divisions, Marine Raider battalions and Marine parachute units, transmitting messages by telephone and radio in their native language, a code that the Japanese never broke. The role that code talkers played in World War II was declassified in 1968; however, it was not until the last 20 years that code talkers such as Mr. Morris were recognized for their role in ending the war with Japan.
Ten Tuskegee Airmen are buried at Riverside National Cemetery: 1) Dr. Hackley E. Woodford, M.D., a Tuskegee Airmen flight surgeon who served during World War II, is buried in Section 49A, Site 1149. 2) Pilot Perry Willis Lindsey, who served during World War II and the Korean War, is buried in Section 52B, Site 274. 3) John Allen Pulliams Jr., served during World War II and went on to serve 30 years in the U.S. Air Force. He retired as a Chief Warrant Officer and is buried in Section 47, Site 1603. 4) Pilot Charles F. Jamerson is buried in Section 56A, Site 668. Major Jamerson retired from the U.S. Air Force in 1977 after more than 32 years of service. 5) Pilot Kenneth R. Hawkins is buried in Section 57A, Site 2204. 6) Pilot John L. Hamilton is buried in Section 6, Site 270. 7) Charles W. Ledbetter, who served during World II and Korea, retiring after 30 years as an Air Forces Master Sergeant, is buried in Section 26, Site 1426. 8) Pilot Alfonso Harris, who served during World II, is buried in Section 61A, Site 3207. 9) Pilot Thurston L. Gaines, Jr., a World War II pilot who was assigned to 99th Pursuit Squadron and later joined the "Red Tails" of the 332nd Fighter Group, is buried in Section 55A, Site 94. 10) Buford A. Johnson, mechanic and crew chief for the 99th Fighter Squadron, also served during the Korean War. Master Sergeant Johnson retired from the U.S. Air Force in 1966 and is buried in Section 53B, Site 2808. The Tuskegee Airmen collectively received the Congressional Gold Medal, considered Congress' most distinguished civilian award, in 2006.
Will "Dub" J. Jones was born in Louisiana in 1928. Private First Class Jones served in the air force from 1946 until May 1949. As a civilian he moved to Los Angeles, CA, and sang gospel before his music group switched to the rhythm-and-blues sound. In the late 1950s he joined the Coasters. Jones' bass vocals are best remembered for lines in the popular hits "Yakety Yak" ("Don't Talk Back") and "Charlie Brown" ("Why's Everybody Always Picking on me?"). Jones and other Coasters were inducted into the Rock and Roll Hall of Fame in 1987. He died January 16, 2000, and is buried at Riverside National Cemetery (Section 50, Site 4458).
Born in New Orleans' Treme district to a club singer, Earl C. Palmer Sr. began drumming at an early age. After serving as an army technician in World War II, Palmer returned to New Orleans where he became a sought-after jazz drummer. Palmer moved to Los Angeles in 1957 and became a session drummer for major artists including the Beach Boys, Elvis Costello, Fats Domino, Bonnie Raitt, the Righteous Brothers ("You've Lost that Lovin' Feeling"), and Tina Turner ("River Deep, Mountain High"). Little Richard called him, "probably the greatest session drummer of all time." Palmer was inducted into the Rock and Roll Hall of Fame in 2000. He died September 19, 2008, and is buried at Riverside National Cemetery (Section 61, Site 2256).
Woodrow "Woody" Strode starred as 1st Sergeant Braxton Rutledge, a Buffalo soldier, in the 1960 John Ford movie "Sergeant Rutledge." He starred in over 80 domestic and foreign films in a career that spanned nearly 55 years. Strode was also one of the first four blacks to integrate Major League football in 1946 when he played for the Cleveland Rams (Section 46, Site 283).
Esteban Edward Torres (1930–2022) was born in Miami, Arizona, and was raised by his mother and grandmother in East Los Angeles, California. A self-described "barrio kid," Torres served in the U.S. Army, 1949–1953, during the Korean War and was discharged with the rank of sergeant first class. Torres used GI Bill benefits to study art and later economics and international relations. He ascended the United Auto Workers where he held international positions, 1964–1976. In 1968 he founded the antipoverty East Los Angeles Community Union. Under President Jimmy Carter, he served on UNESCO and as a White House aide. Torres (Cal.-D) served eight terms in the U.S. House starting in 1982. The seat was in the newly created 34th Congressional District, which included East Los Angeles and was 48 percent Hispanic. Representative Torres' career—which encompassed interests in labor, environmental justice, education, and business—ended with retirement in 1999. He died January 25 and is buried in Section 16, Site 1570.
Edward Benjamin Townsend was born in 1929 and as a child sang in his father's African Methodist Episcopal church. He graduated from Arkansas State College before enlisting in the Marines in 1951. Corporal Townsend served for two years in Korea; there he was discovered by bandleader Horace Heidt. With Heidt, Townsend toured Asia before he settled in Los Angeles where he would write more than 200 songs; most notably was "Let's Get It On" with Marvin Gaye. Townsend died August 13, 2003, and is buried at Riverside National Cemetery (Section BA, Site C-213).
Inspired to act as a child after watching a film about the 369th Colored Regiment in World War I, Lorenzo Tucker began his career on Vaudeville and Broadway stages alongside performers Bessie Smith and Mae West. Known as the "black Valentino," he starred in eleven films from 1927–1936 directed by African-American filmmaker Oscar Micheaux. Sergeant Tucker served as a tail gunner in the Army Air Corps during World War II, then returned to Hollywood. In the 1950s, Tucker established the Negro Drama Players, a troupe that toured the Jim Crow South performing Broadway shows with an all-black cast. He received an Audelco Recognition Award for stimulating the arts in black communities in 1981. He died August 19, 1986, and is buried at Riverside National Cemetery (Section 19, Site 2661).
Born in Indiana in 1896, William F. Walker graduated from Pendleton High School in 1915 and enlisted in 1918. During the First World War, Private First Class Walker performed as an Army singer and bandleader in France. Following military service, Walker became an actor and he appeared in a number of films during Hollywood's golden era, most notably as Reverend Sykes in To Kill a Mockingbird. Walker was elected to the Screen Actors Guild (SAG) board of directors in 1952. Frustrated with discrimination African Americans faced in the film industry, he presented a report about the limited and stereotypical roles offered to black performers to the union with then-SAG President Ronald Reagan. Involved with SAG for two decades, Walker continued to push for greater integration in the movie industry. He died January 27, 1992, and is buried at Riverside National Cemetery (Section 32, Site 631).
return to top