Attention A T users. To access the menus on this page please perform the following steps. 1. Please switch auto forms mode to off. 2. Hit enter to expand a main menu option (Health, Benefits, etc). 3. To enter and activate the submenu links, hit the down arrow. You will now be able to tab or arrow up or down through the submenu options to access/activate the submenu links.

National Cemetery Administration
Culpeper National Cemetery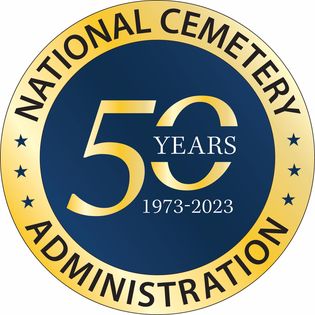 NCA marks 50 years (1973-2023) of serving America's Veterans, Service Members, and Families.

Learn more and watch NCA's 50th Anniversary Ceremony.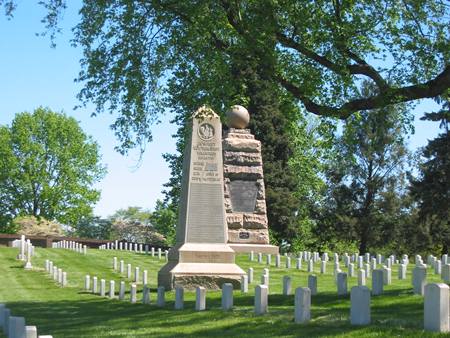 Office Hours: Monday thru Friday 8:00 a.m. to 4:30 p.m.
Closed federal holidays except Memorial Day and Veterans Day.
Visitation Hours: Open daily from dawn to dusk.
This cemetery has space available to accommodate casketed and cremated remains.
Burial in a national cemetery is open to all members of the armed forces who have met a minimum active duty service requirement and were discharged under conditions other than dishonorable.
A Veteran's spouse, widow or widower, minor dependent children, and under certain conditions, unmarried adult children with disabilities may also be eligible for burial. Eligible spouses and children may be buried even if they predecease the Veteran.
Members of the reserve components of the armed forces who die while on active duty or who die while on training duty, or were eligible for retired pay, may also be eligible for burial.
Your service will take place in one of two locations, 305 U.S. Avenue or 501 East Chandler Street. Contact your funeral home or the Culpeper National Cemetery for the location of your service. The cemetery office is located at 305 U.S. Avenue.
From Interstate 95, take Route 3 west towards Culpeper. Once in Culpeper, turn right at third stop light onto Main Street. After first stoplight on Main Street, go to the second right and turn onto Stevens Street. Follow Stevens Street into the cemetery.
From Washington, D.C., take Route 66 west to Route 29 South.
From 29 south, exit at Routes 3 and 522. Then follow Interstate 95 directions.
Fax all discharge documentation to the National Cemetery Scheduling Office at 1-866-900-6417 and follow-up with a phone call to 1-800-535-1117.
For information on scheduled burials in our national cemeteries, please go to the Daily Burial Schedule.
At Culpeper National Cemetery there are several receptacles located throughout the cemetery in which visitors may dispose of trash or obtain flower containers. Located at most of these receptacles are water pumps in which the visitors may water any flowers they have. A kiosk is available at the administrative building where visitors can locate gravesites of loved ones.
In addition to this cemetery, Culpeper National Cemetery also oversees the operations of three satellite cemeteries. They are Balls Bluff National Cemetery, located in Leesburg, Staunton National Cemetery and Winchester National Cemetery.
Military Funeral Honors
Military Funeral Honors as organized under the Department of Defense should be arranged by the funeral director. In the event there is not a funeral director involved in making arrangements for burial, the cemetery staff at Culpeper National Cemetery can assist with the scheduling.
US Army - (703) 805-4020
US Air Force - (202) 767-4369
US Navy - (757) 322-2817
DC Navy Honor Guard - (202) 433-2707
US Marine Corps - (703) 784-2814
US Coast Guard - (202) 267-0340
Local Veterans of Foreign Wars post 2524 Honor Guard – (540) 547-2870
For educational materials and additional information on this cemetery, please visit the Education section, located below.
Cemetery policies are conspicuously posted and readily visible to the public.
Floral arrangements accompanying the casket or urn at the time of burial will be placed on the completed grave. Natural cut flowers may be placed on graves at any time of the year. They will be removed when they become unsightly or when it becomes necessary to facilitate cemetery operations such as mowing.
Artificial flowers and potted plants will be permitted on graves during periods when their presence will not interfere with grounds maintenance. As a general rule, artificial flowers and potted plants will be allowed on graves for a period extending 10 days before through 10 days after Easter Sunday and Memorial Day.
Christmas wreaths, grave blankets and other seasonal adornments may be placed on graves from Dec. 1 through Jan. 20. They may not be secured to headstones or markers.
Permanent plantings, statues, vigil lights, breakable objects and similar items are not permitted on the graves. The Department of Veterans Affairs does not permit adornments that are considered offensive, inconsistent with the dignity of the cemetery or considered hazardous to cemetery personnel. For example, items incorporating beads or wires may become entangled in mowers or other equipment and cause injury.
Permanent items removed from graves will be placed in an inconspicuous holding area for one month prior to disposal. Decorative items removed from graves remain the property of the donor but are under the custodianship of the cemetery. If not retrieved by the donor, they are then governed by the rules for disposal of federal property.
VA regulations 38 CFR 1.218 prohibit the carrying of firearms (either openly or concealed), explosives or other dangerous or deadly weapons while on VA property, except for official purposes, such as military funeral honors.
Possession of firearms on any property under the charge and control of VA is prohibited. Offenders may be subject to a fine, removal from the premises, or arrest.
During the Civil War, the capital of the Confederacy and the federal government lay barely 100 miles apart—and Culpeper was located roughly midway between them. As a result of its strategic geographical location, both Union and Confederate armies occupied the region around Culpeper, Va., during the conflict. Confederates encamped and patrolled the region to thwart Union efforts to attack the Confederate capital of Richmond. The Union Army was ever-present to defend Washington, D.C., and federal supply lines, as well as to attack Richmond.
From 1862–65, numerous battles waged throughout the region, including the Battle of Cedar Mountain on Aug. 9, 1862, and the Battle of Chancellorsville, April 30 through May 6, 1863. So great was the loss of life on both sides during these encounters that many scholars consider these battles to be the fiercest fighting of the war. Afterward, many soldiers died of wounds in field or military hospitals. Most were buried where they fell or were interred in make-shift graves around encampments, hospitals or the battlefield.
After the war, a reburial program was initiated by the federal government and carried out by the office of the quartermaster general. The objective was to locate the remains of all Union soldiers and reinter them in national cemeteries. As a result of the National Cemetery Act of 1862 and the number of scattered Union dead in the vicinity, Culpeper National Cemetery was established in 1867.
Land for the original six-acre cemetery was purchased from Edward B. Hill of Culpeper for $1,400. In 1872, a Second Empire Victorian-style caretaker's lodge designed by Quartermaster Gen. Montgomery C. Meigs, was constructed on the property. A tool house, brick perimeter walls, and a flagstaff were most likely constructed during the 1870s as well. H.W. McCray of Washington, D.C., constructed a decorative brick rostrum with iron posts and a tin roof in December 1905.
During the 1930s, the cemetery was improved through several Depression-era federal make-work programs. In 1934, the original tool house was demolished and replaced by a new brick garage-tool-comfort station erected by the Civil Works Administration (CWA) at a cost of $8,000. Another CWA project in May 1934 included repairs to the lodge, raising and realigning 912 headstones, and constructing a concrete driveway and walk. In 1936, a Works Project Administration project accomplished the realignment and re-setting of 402 headstones. The old flagstaff was removed and replaced with a new one in 1938 and in December 1939 a brick and slate-roof oil house was constructed.
The cemetery operated without major improvements until Nov. 17, 1972, when it closed to new interments. On Sept. 1, 1973, in execution of the National Cemetery Act of 1973, the cemetery was transferred from the U.S. Army to the Veterans Administration's new National Cemetery System. In 1975, the Veterans of Foreign Wars, Burton-Hammond Post 2524, donated an additional 10.5 acres for cemetery use. Another small tract was purchased in 1978 and a brick administration building was constructed on the property. The cemetery re-opened Jan. 16, 1978.
Culpeper National Cemetery was listed in the National Register of Historic Places in 1996.
Monuments and Memorials
The granite Maine Monument is a memorial to the 10th Maine Volunteer Infantry in honor of 22 of their fallen comrades who perished in the Battle of Cedar Mountain on August 9, 1862. It was erected in the late 19th or early 20th centuries.
The Massachusetts Monument was erected in 1893 by surviving members of the 2nd Massachusetts Infantry. The granite monument was erected in honor of fellow comrades who died in the Battle of Cedar Mountain.
In 1902, the State of New York erected a large granite monument in memory of the 28th New York Volunteer Infantry, 1st Brigade, 1st Division, 12th Corps, Army Corps of the Potomac. Many in the regiment were killed at the Battle of Cedar Mountain.
The Ohio Monument is a granite and bronze structure erected by the 7th Ohio Regimental Association. It pays tribute to officers and soldiers of the 7th Ohio Regiment who died in the Battle of Cedar Mountain.
The Commonwealth of Pennsylvania erected the Pennsylvania Monument in 1910, dedicated to its officers and soldiers buried at the cemetery. The monument is one of at least four under NCA management that were commissioned by the State of Pennsylvania during the post-Civil War period. The other Pennsylvania monuments are located at Winchester and Cold Harbor national cemeteries in Virginia, and Salisbury National Cemetery, N.C.
A memorial dedicated to the Civil War Unknowns buried in the cemetery was erected in 1988.
The granite Armed Forces Monument was erected in November 1992 and officially dedicated on May 28, 2001. It was sponsored by American Legion Post 330 and Veterans of Foreign Wars Post 2524 in honor of all men and women who served in the armed services.
Peer de Silva was born in San Francisco on July 26, 1917. He graduated from the U.S. Military Academy in 1941 and followed with intelligence training. He was a security officer for the Manhattan Project, responsible for the transfer of atomic weapons abroad. After World War II, he was assigned to the Army's Strategic Services Unit, precursor to the CIA, and began a long career in Cold War intelligence. He was honorably discharged as a lieutenant colonel in 1953. He served as a station chief at numerous locations throughout his career, including Saigon in 1963. Injuries sustained from a 1965 car bomb forced a reassignment to Washington, DC. He retired from the CIA in 1972 and authored a book about his career, posthumously published in 1978. He died August 13, 1978. (Section G, Site 751).
Rear Admiral John Marocchi was born in Bologna, Italy, on June 6, 1920. He was two when his family immigrated to the United States and settled in Clarksville, TN. He graduated from Austin Peay State prior to appointment to the U.S. Naval Academy class of 1942 (which graduated in December 1941). He was severely wounded on USS Birmingham (CL-62) during the Battle of Leyte Gulf during World War II. Marocchi served in the Korean and Vietnam wars as an intelligence officer and played a role in the resolution of the Cuban Missile Crisis and Pueblo Incident. He completed Army Airborne training at age 42 and was one of the few Navy officers to earn parachute wings. He retired in 1975 as deputy director, National Security Agency. Marocchi died July 12, 2014. (Section M, Site 83).
return to top