Attention A T users. To access the menus on this page please perform the following steps. 1. Please switch auto forms mode to off. 2. Hit enter to expand a main menu option (Health, Benefits, etc). 3. To enter and activate the submenu links, hit the down arrow. You will now be able to tab or arrow up or down through the submenu options to access/activate the submenu links.

National Cemetery Administration
Dallas-Fort Worth National Cemetery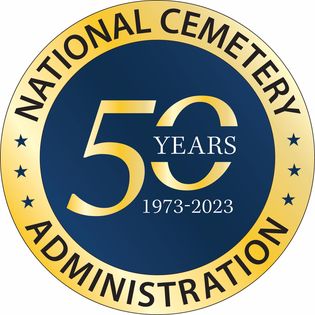 NCA marks 50 years (1973-2023) of serving America's Veterans, Service Members, and Families.

View events, daily photos of national cemeteries and more.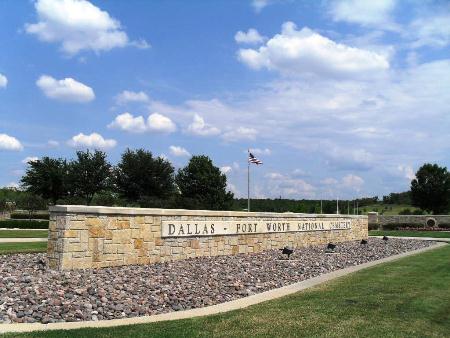 Visitation Hours: Open daily from sunrise to sunset.
Office Hours: Monday thru Friday 8:00 a.m. to 4:30 p.m. Please contact the office for holiday closings.
This cemetery has space available to accommodate casketed and cremated remains.
Burial in a national cemetery is open to all members of the armed forces who have met a minimum active duty service requirement and were discharged under conditions other than dishonorable.
A Veteran's spouse, widow or widower, minor dependent children, and under certain conditions, unmarried adult children with disabilities may also be eligible for burial. Eligible spouses and children may be buried even if they predecease the Veteran.
Members of the reserve components of the armed forces who die while on active duty or who die while on training duty, or were eligible for retired pay, may also be eligible for burial.
Cemetery is located in the southwest corner of Dallas, Texas, midway between Interstate 20 and Interstate 30 just off Spur 408. From Dallas-Fort Worth International Airport take the airport road to Highway 183 (west) to Highway 360 (south) until and proceed (south) to Interstate 20. Travel (east) on Interstate 20 to Mountain Creek Parkway exit. Proceed (north) on Mountain Creek Parkway approximately four miles to the cemetery. If Mountain Creek Parkway is closed at the Interstate 20 exit, please continue taking Interstate-20 (east) to Spur 408. Take 408 (north) to Kiest exit (west). Take Kiest (west) to stop light at Mountain Creek Parkway and turn right (north); cemetery is one mile to your right.
Fax all discharge documentation to the National Cemetery Scheduling Office at 1-866-900-6417 and follow-up with a phone call to 1-800-535-1117.
For information on scheduled burials in our national cemeteries, please go to the Daily Burial Schedule.
The Dallas-Fort Worth National Cemetery was dedicated and opened for burials on May 12, 2000. The cemetery is situated on a 638.5-acre parcel of land that overlooks picturesque Mountain Creek Lake. The gently rolling hills provide a pastoral setting for visitors as they proceed along the central boulevard to the small lake adjacent to the assembly area and committal shelters.
There are instances when you should contact the National Cemetery directly such as:
Scheduling an Active Duty interment
Cancelling or rescheduling an interment
Changing information originally supplied to the scheduling center
Request for disinterment and/or relocation to another national cemetery
Special events: Memorial Day Ceremony (May), Veterans Day Ceremony (November) and Wreaths Across America (December). Please contact the office for dates.
Burial space: Cremated remains may be placed in ground with a flat marker or in the above ground columbarium wall. The Dallas-Fort Worth National Cemetery recently completed the Phase II expansion project of an additional 53 developed acres; providing an additional 20,500 casketed burial sites and 4,000 columbarium niches.
General Information Kiosk: There are two locations. The Public Information Center Kiosk is available during visitation hours and the Administration Office Kiosk is available during business hours only. The Kiosk contains the names of veterans and their eligible dependents buried at the cemetery. The Kiosk will generate a printed map with the name of the decedent and their grave location.
Public Information Center: The Dallas-Fort Worth National Cemetery has a Public Information Center (PIC) where visitors can obtain information from an automated Kiosk or from volunteers who staff the PIC Monday - Saturday 8:00 a.m. to 4:00 p.m., and Sunday noon to 4:00 p.m.
Funeral processions: All funeral processions meet with their family, clergy, and cemetery representative at the PIC and then proceed to the designated shelter.
Military Funeral Honors
To schedule military honors, please contact the following branches directly:
Army: Fax your request to the Fort Hood Military Funeral Honors at 254-288-5620. Follow-up with a phone call to: 254-287-7200 / 6968
Operation Hours: Monday - Friday 7:30 AM - 4:30 PM (Closed weekends & Federal Holidays)
(1) All Funeral Honors request must be received by this office 48 operation hours prior to the date of scheduled service.
(2) Fax this form and the Member 4 copy of the DD Form 214 or Statement of Honorable Discharge to 254-288-5620.
Fort Hood Funeral Honors Area Representatives: Mr. Jones and Mrs. Benjamin
Air Force: Dyess Honor Guard - Phone: 325-696-5532, Fax: 325-696-5707
Navy: NAS JRB Fort Worth Honor Guard - Phone: 904-542-1536 or 904-542-9807, Fax: 904-542-3851
Marines: Quantico National MFH Request Center - Phone: 703-432-9524
Coast Guard: Phone: 504-625-5177, Fax: 504-253-4826
Please note that the Navy, Marines, and Coast Guard WILL NOT provide honors if they are not confirmed directly with the above offices. While our office works with the military honor details, we cannot tell them what to do and when to do it. Some of the branches are no longer offering "full" military honors for retirees. The military requirement is a two-man team, with folding of the flag and rendering of Taps. If you have a concern with this, please contact the military honor branch office directly. If you choose to use a private organization to support your family's service, please contact them directly.
For educational materials and additional information on this cemetery, please visit the Education section, located below.
Cemetery policies are conspicuously posted and readily visible to the public.
Floral arrangements accompanying the casket or urn at the time of burial will be placed on the completed grave. Please limit your gravesite arrangements to one arrangement for cremation sites and two arrangements for casketed sites.
January - December
Fresh cut flowers may be placed on gravesites throughout the year. They will be removed as soon as they become unsightly. Faded and unsightly floral items are removed daily from gravesites. Temporary floral containers are available for use.
October 1st - April 1st
Artificial flowers are acceptable only during this time and will be removed when they become unsightly.
December 1st - January 20th
Christmas wreaths and grave blankets are permitted only during this time and may not be larger than two (2) ft. by three (3) ft.
Potted plants will only be permitted on gravesites 10 days before and 10 days after Easter, Memorial Day, and Christmas.
Plantings are not permitted at any time.
Floral items and other types of decorations may not be secured or adhered to headstones, markers or niche covers at any time or they will be removed.
Statues, vigil lights, shepherd's hooks, breakable objects of any nature, and similar commemorative items are not permitted on gravesites at any time.
During the growing seasons, all floral items will be removed from gravesites every two weeks; however, fresh flowers are removed as soon as they become unsightly.
Flowers may be placed directly on the ground or in a temporary floral container in front of the Columbarium or gravesite.
All items become U.S. Government property and will be disposed of accordingly. Please be aware that the National Cemetery is not responsible for maintaining, replacing and/or safeguarding items placed on gravesites.
VA regulations 38 CFR 1.218 prohibit the carrying of firearms (either openly or concealed), explosives or other dangerous or deadly weapons while on VA property, except for official purposes, such as military funeral honors.
Possession of firearms on any property under the charge and control of VA is prohibited. Offenders may be subject to a fine, removal from the premises, or arrest.
Dallas-Fort Worth National Cemetery is the sixth national cemetery in Texas and the 118th in the national cemetery system.
Currently, more than 1.5 million veterans live in the state of Texas and approximately 460,000 reside in the cemetery's service area. The Dallas-Fort Worth National Cemetery has developed 152 acres of the 638-acre cemetery providing 85,778 casketed sites and 31,918 columbaria/garden niches for cremated remains. Fully developed, Dallas-Fort Worth National Cemetery will provide burial space for 280,000 eligible veterans and dependents.
Monuments and Memorials
Dallas-Ft. Worth National Cemetery features a memorial walkway lined with a variety of memorials that honor America's veterans, donated by various organizations. As of 2011, there were 54 memorials at Dallas-Ft. Worth National Cemetery — most commemorating events and troops of the 20th century wars.
Medal of Honor Recipients
The Medal of Honor is the highest award for valor in action against an enemy force that can be bestowed upon an individual serving in the Armed Services of the United States. Recipients receive the Medal of Honor from the president on behalf of Congress. It was first awarded during the Civil War and eligibility criteria for the Medal of Honor have changed over time.
Recipients buried or memorialized here:
Sergeant Candelario Garcia (Vietnam). Candelario Garcia, a native of Texas, enlisted in the U.S. Army in 1963, and was assigned to Company B, 1st Battalion, 2nd Infantry, 1st Brigade, 1st Infantry Division, also referred to as the Big Red One during the Vietnam War. On March 14, 2014, Sergeant Garcia received the Medal of Honor, posthumously, for conspicuous gallantry and intrepidity at the risk of his life above the call of duty. While acting as team leader, Garcia initiated an attempt to aid wounded comrades and opened himself to enemy fire. He eliminated two enemy machine-gun positions on December 8, 1968 near Lai Khe, Republic of Vietnam. Garcia died January 10, 2013, and is buried in Section 107, Site 209.
Colonel James L. Stone (Korea). He received the Medal of Honor while serving in the U.S. Army, Company E, 8th Cavalry Regiment, 1st Cavalry Division, for actions near Sokkogae, Korea, on November 21–22, 1951. Stone died in 2012 and is buried in Section 76, Site 1658L.
Other Burials
Cloyde Pinson, Sr., Founder of the Texas National Cemetery Foundation (Section 76, Site 1702B).
Private First Class William Blair Jr. was born in 1921 in Dallas. He served in the army, and it is said he was the youngest African American to serve as first sergeant in World War II. In 1946 he pitched on Negro League baseball teams the Indianapolis Clowns and Detroit Stars. In 1949, he founded Southwest Sports News, which published college athletics nationwide. Later it was reformatted to become Elite News, with a focus on political, social and economic topics important to the North Texas black community. For his athletic, journalistic, and civil rights accomplishments, the City of Dallas renamed Rochester Park "William 'Bill' Blair Jr. Park" in 2011. Blair donated his business papers and Negro League memorabilia to the University of Texas at Arlington. He died April 20, 2014, and is buried at Dallas-Fort Worth National Cemetery (Section 91, Site 585).
Bobbie Joe Cavnar was the 22-year-old pilot of the big four-engine Douglas C-54 that rescued a stranded crew of the wrecked B-29 "Kee Bird" from the far northwest tip of Greenland in February 1947. Cavnar landed his transport plane on a small frozen glacial lake near the wreck. He was awarded the Distinguished Flying Cross for his actions and personally congratulated by President Harry S. Truman. He retired from the Air Force as a Colonel in 1964. (Section 11, Site 99).
Gunner's Mate Third Class Glenn Edward McDuffie served in the Navy during World War II and he claimed to be the American sailor kissing a nurse in the famous Life magazine image "V-J Day in Times Square" by photographer Alfred Eisenstaedt. After the war McDuffie became a mail carrier and semi-professional baseball player. Several years before McDuffie died, Houston Police Department forensic artist Lois Gibson confirmed that McDuffie was the famous kissing sailor. He died March 9, 2014, and is buried at Dallas-Fort Worth National Cemetery (Section 178, Site 281).
Born in Lake City, FL, George Allen Summerall, Jr., (1930–2013) was a gifted athlete. He played football, basketball, baseball, and tennis, and found success in all four sports during high school. Summerall played collegiate sports for the University of Arkansas and professional football for teams in Detroit, Chicago, and New York from 1952 to 1961. Summerall's athletic career was interrupted by military service after he enlisted in the U.S. Army in 1955. When he retired from the field, Summerall became a radio and television sports announcer and covered football as well as golf and tennis. For more than a decade, Summerall worked beside colorful former football coach John Madden as they defined the sport-broadcasting medium. When he died in Dallas, the army private and sports veteran was buried in Columbarium D, Court 1, Site D79.
We are developing educational content for this national cemetery, and will post new materials as they become available. Visit the Veterans Legacy Program and NCA History Program for additional information. Thank you for your interest.
return to top