Attention A T users. To access the menus on this page please perform the following steps. 1. Please switch auto forms mode to off. 2. Hit enter to expand a main menu option (Health, Benefits, etc). 3. To enter and activate the submenu links, hit the down arrow. You will now be able to tab or arrow up or down through the submenu options to access/activate the submenu links.

National Cemetery Administration
Dayton National Cemetery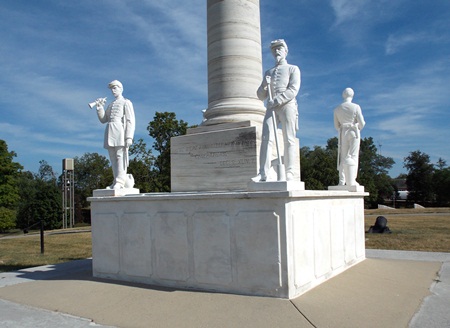 Office Hours: Monday thru Friday 7:30 a.m. to 4:00 p.m.
Closed federal holidays except Memorial Day.
Visitation Hours: Open daily from dawn to dusk. Gates open every day.
This cemetery has space available to accommodate casketed and cremated remains.
Burial in a national cemetery is open to all members of the armed forces who have met a minimum active duty service requirement and were discharged under conditions other than dishonorable. A Veteran's spouse, widow or widower, minor dependent children, and under certain conditions, unmarried adult children with disabilities may also be eligible for burial. Eligible spouses and children may be buried even if they predecease the Veteran. Members of the reserve components of the armed forces who die while on active duty or who die while on training duty, or were eligible for retired pay, may also be eligible for burial. For more information visit our eligibility web page.
Dayton National Cemetery is located in the far western edge of the city of Dayton.
From Dayton International Airport and West: Take Interstate 70 East to Interstate 75 South to U.S. Route 35 West. Exit US 35 at Gettysburg Avenue. Turn right on Gettysburg and travel to the first stop light. Turn left on Third Street. Go to the 2nd traffic light and turn left into the cemetery.
From the North: Take Interstate 75 South to U.S. Route 35 West. Exit US 35 at Gettysburg Avenue. Turn right on Gettysburg and travel to the first stop light. Turn left on Third Street. Go to the 2nd traffic light and turn left into the cemetery.
From the South: Take Interstate 75 North to U.S. Route 35 West. Turn right on Gettysburg and travel to the first stop light. Turn left on Third Street. Go to the 2nd traffic light and turn left into the cemetery.
From the East (I-70): Take Interstate 70 West to Interstate 75 South to U.S. Route 35 West. Turn right on Gettysburg and travel to the first stop light. Turn left on Third Street. Go to the 2nd traffic light and turn left into the cemetery.
From the East (U.S. Route 35): Continue west on U.S. Route 35 through Dayton to the Gettysburg Avenue exit. Turn right from exit to Third Street. Turn left on Third Street. Go to the 2nd traffic light and turn left into the cemetery.
Fax all discharge documentation to the National Cemetery Scheduling Office at 1-866-900-6417 and follow-up with a phone call to 1-800-535-1117.
For information on scheduled burials in our national cemeteries, please go to the Daily Burial Schedule.
Military Funeral Honors
Military funeral honors, as organized under the Department of Defense military funeral honors program, "Honoring Those Who Served," will be arranged through the funeral home. If you are not utilizing the services of a funeral home, cemetery staff will be glad to arrange honors on your behalf. Each Veteran is entitled, at a minimum, to a two-person honors team, which will perform the military funeral honors. Military funeral honors consists of the playing of TAPS by a ceremonial bugle, folding of the American Flag, and the presentation of the flag to the next of kin. Dayton National Cemetery is proud to have their very own Honor Squad available to augment the Department of Defense personnel performing military funeral honors, by firing a 3-round rifle volley. The Dayton National Cemetery Honor Squad is scheduled automatically for each veteran service. Families who do not wish to have the rifle salute performed or families who would prefer to have their own Veteran Service Organization (VSO) perform the rifle salute needs only to notify their funeral director or cemetery personnel at the time of arrangements. Please contact the cemetery for any questions regarding the honor squad detail.
Avenue of Flags program: A deceased Veteran's flag may be donated to the cemetery at any time to be flown along the "Avenue of Honor." The full complement of flags is flown on Memorial Day throughout the entire cemetery. On Veterans Day and the Fourth of July holidays, the flags will line the main entrance of the cemetery along Wisconsin Avenue. Flag donors will receive a letter and Certificate of Appreciation for their donation.
Grave Location
Committal services are not performed at the actual graveside. Instead they are performed at one of two committal shelters located inside the cemetery. The location of your loved-one's grave is furnished on the map included in the burial document folder given to the next of kin by the cemetery representative after the service. There is an automated gravesite locator attached to the administration building for those who may not know the location of a particular gravesite. This touch-screen computer will aid you in locating your loved-one's grave and will print out a map of the cemetery along with gravesite information in order to help you accurately locate your loved-one. The cemetery office personnel are also available to assist visitors during our normal office hours of 7:30 AM - 4:00 PM Monday thru Friday.
Grave Marker
A temporary grave marker is used to mark the grave following the interment. A permanent grave marker will be furnished free of charge by the Government without application from the family. Headstones, markers, and/or niche covers are ordered within five days following the committal service. Once it has been ordered, you can expect to see the marker set within 45-60 days. To check the status of the headstone, marker and/or niche cover, please call the administrative office.
Yearly Events
Yearly events include a Memorial Day Ceremony and a Veterans Day Ceremony. Please contact the cemetery for specific times of events held on these holidays. The Wreaths Across America Ceremony is held each year in December. For more information about the Wreaths Across America program, date/time of the ceremony you may go to their web site located at www.wreathsacrossamerica.org. Please note that the cemetery does not coordinate donations for the wreaths.
For educational materials and additional information on this cemetery, please visit the Education section, located below.
Cemetery policies are conspicuously posted throughout the cemetery and can also be accessed at the automated kiosk located near the entrance to the administration building.
Up to four floral arrangements accompanying the casket or urn at the time of burial will be placed on the completed grave and removed when they become unsightly. Natural, fresh-cut flowers may be placed on graves at any time of the year and will be removed when they become unsightly or when it becomes necessary to facilitate cemetery operations, such as mowing. Plastic floral cones are available for use within the cemetery only and are located in containers throughout the cemetery. One small American flag may be placed on the grave and will be removed and properly disposed of when it is damaged, faded or tattered. At no time shall any object be attached to a grave marker or niche cover, protrude above the top of an upright headstone or encroach on an adjacent grave.
Artificial flowers will be permitted on graves only during the non-mowing period of October 10 through April 15 so as not to present a hazard to our personnel or the public. Potted plants will only be allowed on graves 10 days before through 10 days after Easter Sunday and Memorial Day. Christmas wreaths, grave blankets and other seasonal adornments may be placed on graves from Dec. 1 through Jan. 20.
Permanent plantings, statues, battery or solar-powered items, balloons, breakable objects and similar items are not permitted on the graves at any time. The Department of Veterans Affairs does not permit adornments that are considered offensive, inconsistent with the dignity of the cemetery or considered hazardous to cemetery personnel, such as items incorporating beads or wires which may become entangled in mowers or other equipment and cause injury.
Cemetery personnel will inspect each grave for unsightly or unauthorized items on the first and third Wednesday of each month. Durable Items removed from graves will be placed in an inconspicuous holding area for one month prior to disposal. Decorative items removed from graves remain the property of the donor but are under the custodianship of the cemetery. If not retrieved by the donor within 30 days of removal from the grave, they are then governed by the rules for disposal of federal property.
VA regulations 38 CFR 1.218 prohibit the carrying of firearms (either openly or concealed), explosives or other dangerous or deadly weapons while on VA property, except for official purposes, such as military funeral honors. Possession of firearms on any property under the charge and control of VA is prohibited. Offenders may be subject to a fine, removal from the premises, or arrest.
Dayton National Cemetery, located in Montgomery County, Ohio, was established as the permanent burial site for residents of the Central Branch of the National Asylum for Disabled Volunteer Soldiers in 1867. It is one of 11 federal cemeteries affiliated with the system of National Homes for Disabled Volunteer Soldiers. Management of these facilities was transferred from the U.S. Army/National Home system to the newly created Veterans Administration in 1930.
The design of the cemetery is attributed to Chaplain (and Capt.) William B. Earnshaw, who was considered to have "judgment and taste" in these matters. Earnshaw served in the Army of the Potomac and the Army of the Cumberland, from which he was named superintendent at Stones River and Nashville National Cemeteries. In September 1867, Earnshaw arrived at the Dayton Soldiers Home, as it became known, having been encouraged to seek the position by Gen. George Thomas.
The Soldiers Home cemeteries were to be "laid out and cared for, as far as practicable, in the manner prescribed for National Cemeteries." The single-most visual cemetery construction is the lofty Soldiers' Monument around which faceted, concentric rows of graves are arranged. Two features found here are common to many older national cemeteries. There are two ornamental 19th-century cannons located at the base of Soldiers' Monument, and seven "Bivouac of the Dead" verse tablets.
When a death occurred here or a deceased veteran was delivered to the facility, the hospital's Council of Administration was notified and steps taken to protect the man's person and belongings prior to his removal to the morgue. A tunnel connecting the hospital and cemetery was built in 1870. Among the permanent improvements to the home in 1887 was the completion of a "new receiving vault" connected with the hospital, which was a "very great convenience to the institution." Furthermore, every resident was to be buried in a "clean suit of the Home uniform."
Standardized products were used in burials. "Class I" items used at the homes included standard-manufacture "coffin-lowering devices." Burial caskets were "to be made of good quality, well seasoned, soft lumber; to be covered with crapine, craponette or other suitable casket cloth of similar, inexpensive grade; to be lined inside with a good quality of bleached muslin, and to be provided with the usual trimmings of white metal; dimensions to be specified." In addition, according to National Home regulations, funerals were "conducted in accordance with military usage, the honors prescribed by the U.S. Army," including an officiating chaplain. It was also mandatory for "a band of the branch [to] attend all funerals, unless the weather is too inclement."
Between 1867 and the late 1880s, annual deaths in the Central Branch crept from six up to 847, a number that, according to Harper's magazine, was "remarkably low, considering the age and debility of the subjects." Annual deaths at Dayton by the end of the 19th century topped out at nearly 1,400. Between 1900 and 1930 (the year the Veterans Administration took over management), veteran deaths peaked between 1907 and 1918 (ranging from 2,331 to 2,352), with the highest single-year mortality in 1916 with 2,583 deaths. By this time, the small number of War of 1812 and Mexican War veterans had long since passed away. The youngest Civil War veterans were approaching their late sixties, and younger Spanish-American and World War I veterans would have taken up residency.
Monuments and Memorials
The Dayton Soldiers' Monument dominates the national cemetery from atop a mound at the center of the landscape. The cornerstone was laid in 1873, and it was completed in 1877. This dramatic structure is composed of a 30-foot marble column on a granite base with an ornamental cap and soldier posed at parade rest. The column was one of six that were salvaged from the Benjamin Henry Latrobe-designed Bank of Philadelphia when it was demolished in 1867-68. Latrobe worked on the White House and U.S. Capitol, and is credited with introducing Greek Revival architecture to America. The monument was designed by veterans at the soldiers' home and the Philadelphia-firm of William Struthers and Sons, expert stonemasons, carved the base, capital and statue. President Rutherford B. Hayes, Ohioan and former Union general, delivered the dedication address for the monument on Sept. 12, 1877, to a crowd of about 22,000. Some years after the dedication, four figures representing the Infantry, Cavalry, Artillery and Navy were added at the corners of the base. Two ornamental artillery cannons now flank the Soldiers' Monument.​
The "Memorial to 33 soldiers of the War of 1812 Buried in this Cemetery..." is a bronze plaque affixed to a tall boulder. The text continues: "Honoring Josephine C. Diefenbach state president 1915-1932. Erected by the Ohio Society United States Daughters of 1812 on the anniversary of Perry's Victory – September 10, 1936."
Medal of Honor Recipients
The Medal of Honor is the highest award for valor in action against an enemy force that can be bestowed upon an individual serving in the Armed Services of the United States. Recipients receive the Medal of Honor from the president on behalf of Congress. It was first awarded during the Civil War and eligibility criteria for the Medal of Honor have changed over time.
Recipients buried or memorialized here:
Lieutenant Henry W. Downs (Civil War). He received the Medal of Honor while serving in the U.S. Army, Company I, 8th Vermont Infantry, for actions at Winchester, Virginia, September 19, 1864. Downs died in 1911 and is buried in Section Q, Row 7, Site 24.
Private Oscar Wadsworth Field (Spanish-American War). He received the Medal of Honor while serving in the U.S. Marine Corps for actions on board the U.S.S. Nashville in Cuba, May 11, 1898. Field died in 1912 and is buried in Section O-Q, Row A, Site 9.
Sergeant George Geiger (Indian Wars). He received the Medal of Honor while serving in the U.S. Army, Company H, 7th U.S. Cavalry, for actions at the Little Big Horn River, Montana Territory, on June 25, 1876. Geiger died in 1904 and is buried in Section N, Row 20, Site 47.
Seaman John H. James (Civil War). He received the Medal of Honor while serving in the U.S. Navy for actions on board the U.S.S. Richmond during the Battle of Mobile Bay, Alabama, August 5, 1864. James died in 1914 and is buried in Section 1, Row 19, Site 58.
Private Charles A. Taggart (Civil War). He received the Medal of Honor while serving in the U.S. Army, Company B, 37th Massachusetts Volunteer Infantry, for actions at Sailor's Creek, Virginia, on April 6, 1865. Taggart died in 1938 and is buried in Section R, Row 9, Site 14.
Other Burials

Emma Lloyd was born in 1828 and married Joseph Miller by the early 1850s. They lived in Pennsylvania and Illinois before settling in Ohio with their three young children. When the Civil War began, Miller enlisted in the Army and served in Regiment 93, Company B of the Pennsylvania Volunteers. He died ca. 1862. Emma Miller became active in Ohio's chapters of the United States Sanitary Commission, the relief agency established for the sick and wounded. She cared for disabled soldiers at Camp Chase, and oversaw the Ohio Soldiers Home in 1865. Two years later, Miller became the first matron of the hospital at the Central Branch of the National Homes for Disabled Volunteer Soldiers. In 1895 she was appointed Superintendent of the Central Branch Depot. She died January 18, 1914, and was buried with full military honors (CIV, Row 3, Site 2).
Governors of the National Home
Marsena Rudoph Patrick, Civilian Section, Row 3, Site 1, Major General, U.S. Army, served during the Florida War, Mexican War, and Civil War. Fourth Governor of the National Home, Central Branch, from Sept. 23, 1880 to July 27, 1888.
Jerome Beers Thomas, Civilian Section, Row 2, Site 2, Colonel, U.S. Army, served during the Civil War. Fifth Governor of the National Home, Central Branch, from Nov. 17, 1888 to March 5, 1907.
Irwin M. Anderson, Section 2, Row 2, Site 15, Private, U.S. Army, served during the Civil War. Father of author Sherwood Anderson.
Born in Kentucky around 1820, Joshua Dunbar enlisted in the army in 1863 in Boston. Pvt Dunbar joined the all-black 55th Massachusetts Volunteer Infantry, was medically discharged later that year, and re-enlisted with the 5th Massachusetts cavalry for the duration of the Civil War. Dunbar married and divorced in the 1870s and entered the Central Branch of the National Homes for Disabled Volunteer Soldiers at Dayton in 1882. His young son, Paul Laurence Dunbar (1872-1906), became "one of the first influential black poets in American literature." His father's experiences as a former slave and a soldier influenced his writing about black life at the turn of the century. Joshua Dunbar died August 16, 1885, and is buried in Dayton National Cemetery (Section E, Row 14, Site 8).
James Hobbs, Section B, Row 13, Site 8. He is also known as Comanche Jim. Captain and Scout, Texas Ranger Regiment, Mexican War; and Co. E, 1st Mo., Mounted Volunteers, Civil War. Hobbs was the Great-grandson of renowned Indian Chief, Tecumseh. He spent 15 years with the Comanches and 7 years wandering over the West and South with Kit Carson. Hobbs' Pass, Hobbs' Peak, Hobbs' Lake, and Hobbs' Trail in Arizona are named for him. For a complete obituary on James Hobbs see the Dayton Journal dated Nov. 20, 1880.
Rue Pugh Hutchins, Section 2, Row 15, Site 5, Lt. Col., U.S. Army, served during the Civil War. Commander of the 94th Ohio Volunteer Infantry. Monument to Lt. Col., Hutchins and 94th Ohio Volunteer Infantry is in Chickamauga National Military Park, Rossville, Ga. Organized the 105th U.S. Colored Troops.
Edmund Burke Magner (1888-1956) was born in Michigan but the family moved to Buffalo, New York, when he was a child. A student-athlete, "Stubby" Magner excelled on the baseball diamond, playing short stop and drawing attention from professional teams. He led the Cornell University team, and after graduation in 1911, he was called up to the New York Highlanders. His professional career was brief. In the 1910s, he coached collegiate ball and practiced law in Buffalo until World War I. Lieutenant Magner served in the U.S. Navy, 1917-1919, reporting for duty to the naval station in Charleston, South Carolina. After the war, Magner married and moved to Cleveland. Census records note he resided in the veterans' hospital in Union, Ohio, in 1940 but little of his life is known after this. Magner is buried in Section 10, Row 12, Site 48.
New Yorker Louis Margolis (1897-1972) grew up in Brooklyn and took to street fighting at an early age. At 16, Margolis headed west and hopped off a train in Cincinnati. He quickly made a name for himself as a pugilist (bare fist boxer) and challenged the featherweight champion in 1913. Although he lost that event, "Kayo (K.O.) Mars" made his reputation. World War I interrupted his boxing career in 1918. Private Margolis served in the U.S. Army and was training at Camp Taylor, Kentucky, when the armistice came. In World War II, Margolis again joined the army, 1942-1943. He remained a colorful figure in Cincinnati after his retirement from boxing in the 1930s until his death. Margolis died on November 21 at the Chillicothe Veterans Hospital and he is buried in Dayton National Cemetery, Section 15, Row 17, Site 15.
Kentuckian Henry Parker (1835-1918) enlisted in the Union Army during the Civil War and was assigned to Company I, 101st United States Colored Infantry. Private Parker was discharged at the end of the war, but two years later he joined one of the newly created regiments for black troops. He served in Company D, 10th U.S. Cavalry, until 1877 and attained the rank of sergeant; regimental returns indicate he accompanied the 10th Cavalry to the Western frontier. In the mid-1880s, Parker lived in Lawrence, Kansas, where he was active in the local GAR post and married in 1893. In 1902-1904, Parker resided at the Western Branch, National Home for Disabled Volunteer Soldiers in Leavenworth, and in 1911 he transferred to the Central Branch in Dayton, Ohio. Parker died there April 18, and is buried in Section 2, Row 14, Site 37.
Pennsylvanian Joshua Williams was born ca. 1840 and he enlisted in the Army in 1864. Pvt. Williams served in Company G of the 22nd U.S. Colored Troops Infantry. He mustered out in October 1865 and entered the Central Branch of the National Homes for Disabled Volunteer Soldiers in March 1867. Williams was the first black veteran to be admitted to the Dayton, Ohio, facility. He died on August 31, 1872. Williams is buried in Dayton National Cemetery (Section A, Row 10, Site 56).
return to top