Attention A T users. To access the menus on this page please perform the following steps. 1. Please switch auto forms mode to off. 2. Hit enter to expand a main menu option (Health, Benefits, etc). 3. To enter and activate the submenu links, hit the down arrow. You will now be able to tab or arrow up or down through the submenu options to access/activate the submenu links.

National Cemetery Administration
Fort Jackson National Cemetery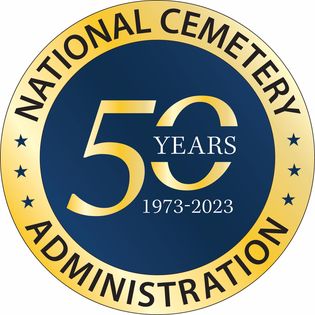 NCA marks 50 years (1973-2023) of serving America's Veterans, Service Members, and Families.

View events, daily photos of national cemeteries and more.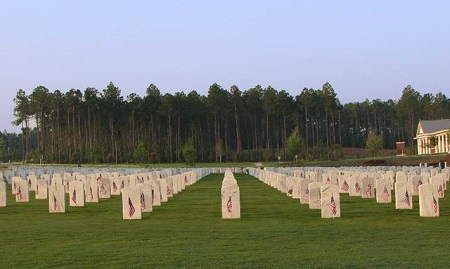 Office Hours: Monday thru Friday 8:00 a.m. to 4:30 p.m.
Closed federal holidays.
Visitation Hours: Open daily from sunrise to sunset.
This cemetery has space available to accommodate casketed and cremated remains.
Burial in a national cemetery is open to all members of the armed forces who have met a minimum active duty service requirement and were discharged under conditions other than dishonorable.
A Veteran's spouse, widow or widower, minor dependent children, and under certain conditions, unmarried adult children with disabilities may also be eligible for burial. Eligible spouses and children may be buried even if they predecease the Veteran.
Members of the reserve components of the armed forces who die while on active duty or who die while on training duty, or were eligible for retired pay, may also be eligible for burial.
From Columbia Metropolitan Airport. Head north toward Aviation Way. Turn right at Aviation Way. Slight left at Lexington Drive. Turn right at John N. Hardee Expressway. Turn left at Airport Boulevard/Edmund Road/SC-215/SC-302. Continue to follow Airport Boulevard/SC-215/SC-302. Turn left at Frontage Road. Take the ramp onto Interstate 26 West. Take exit 107B to merge onto Interstate 20 East toward Florence. Take exit 80 for Clemson Road. Turn right at Clemson Road Exit. Proceed south approximately ½ mile to the cemetery entrance. Arrive at Fort Jackson National Cemetery, 4170 Percival Rd. Columbia, SC 29229.
Fax all discharge documentation to the National Cemetery Scheduling Office at 1-866-900-6417 and follow-up with a phone call to 1-800-535-1117.
For information on scheduled burials in our national cemeteries, please go to the Daily Burial Schedule.
The 585-acre national cemetery in Richland County, South Carolina, will serve veterans' needs well into the next century. The cemetery is located about a quarter of a mile off Interstate 20 on property formerly held by Fort Jackson.

In July 2007, VA awarded the cemetery design contract to Davis Floyd, Inc. In May 2008, VA began to develop a 15-acre early burial area with temporary facilities. The cemetery construction project was completed in June of 2015. The completed 50-acre interment area will provide 5,704 full-casket gravesites, including 4,224 pre-placed crypts, 1,085 in-ground cremation sites and 2,000 columbarium niches. Also included in this project will be an administration and public information center, public restrooms, a maintenance facility, a cemetery entrance area, committal shelters for funeral services, a flag assembly area, and supporting infrastructure including roads, utilities, landscaping and irrigation.
For educational materials and additional information on this cemetery, please visit the Education section, located below.
Our cemetery floral regulations exist only to reflect the honor and respect we hold for our Nation's Veterans, by preserving the dignity and solemnity of their final resting place.
We welcome and encourage fresh-cut flowers throughout the year and provide flower containers for gravesite display. Items left at grave side must be floral in nature and may not stand taller than the headstone. Other items, to include hazardous materials, glass, metal, toys, candles, balloons and flags are not permitted. Unauthorized items will be removed immediately. Flowers will be removed when spent, for mowing and maintenance, or if damaged by weather or wildlife. Due to the open nature of the grounds, we cannot guarantee against theft, vandalism or the effects of nature.
During the Holiday season, (Thanksgiving through January 10) potted plants, artificial flowers, wreaths (less than 18 inches in diameter) and grave blankets (less than 2 X 3 feet) are permitted. During Easter and Memorial Day articles may be placed on gravesites on the Friday before the holiday. Items will be removed by cemetery staff one week after the holiday.
In order to preserve the dignity and honor of our Veteran's final resting place, please observe the following rules of behavior while visiting the cemetery grounds:
Pets are not allowed on the cemetery grounds at any time.
No soliciting.
Sports or recreational activities of any kind are prohibited.
No picnicking.
Public gatherings of a partisan nature are prohibited, no unauthorized gatherings are permitted. Committal shelters are for services only, no loitering.
Littering is not allowed, please use one of the many receptacles provided.
Smoking is not allowed on the grounds, in any building or the committal shelter. Please smoke only at the designated receptacles.
No cutting, digging or otherwise damaging the landscape.
Boisterous activity, including the playing of loud music, is prohibited.
Altering a headstone in any manner is prohibited. (i.e., marking, sitting on, placing objects upon, attaching photographs or keepsakes to, etc.)
These rules are covered by the U.S. Code of Federal Regulations (38--1.218) and are subject to fines.
Please note that Fort Jackson National Cemetery is a fully operational cemetery. If there are services in progress, please keep a respectful distance from the funeral. No photography of funeral services is permitted without the consent of the family. If cemetery workers are engaged in burial operations, please keep to the road, or outside the marked perimeter of operations.
We thank you in advance for providing the respect our Veterans are due, by observing the above listed rules. Our Nation's Heroes, some of whom gave their lives for this country, deserve no less than an honorable and pristine landscape to make their final rest.
VA regulations 38 CFR 1.218 prohibit the carrying of firearms (either openly or concealed), explosives or other dangerous or deadly weapons while on VA property, except for official purposes, such as military funeral honors.
Possession of firearms on any property under the charge and control of VA is prohibited. Offenders may be subject to a fine, removal from the premises, or arrest.
Columbia, South Carolina, is located at the confluence of the Saluda and Broad rivers, which merge to form the Congaree. Due to its central location, the South Carolina General Assembly chose this site in 1786 for the new capitol. The state legislature first met in Columbia in 1790.
As a regional transportation hub, Columbia grew rapidly during the antebellum period. Area farmers brought cotton, tobacco, and other agricultural products destined for other U.S. cities and Europe to the city, to be transported by rail to the port of Charleston.
South Carolina in the late 1850s was a hotbed of secessionist sentiment, which escalated into full-throated calls to leave the Union after Abraham Lincoln was elected president in November 1860. On December 17, the First Baptist Church in Columbia hosted the South Carolina Secession Convention. By unanimous vote, South Carolina became the first state to secede from the Union.
Columbia was a Confederate stronghold until the final months of the Civil War. After the famous "March to the Sea" in late 1864, Union General William Tecumseh Sherman moved his troops north from Savannah, Georgia, toward Columbia. The city was defended by a small Confederate force under the command of Lieutenant General Wade Hampton III, a Columbia native. As the Union Army approached on February 17, 1865, retreating Confederates set stockpiles of cotton ablaze. Small groups of Union soldiers began to loot, vandalize, and start other fires, and soon much of Columbia was consumed in the conflagration.
After the war, Hampton was a leading opponent of federal Reconstruction-era policies, including the military occupation of South Carolina. He went on to serve as governor, 1876-1879, and as a U.S. senator, 1879-1891.
In 1916, as World War I engulfed Europe in turmoil, the Columbia Chamber of Commerce contacted U.S. Army leadership to suggest that a portion of the Hampton family's vast land holdings east of Columbia be used as a new training camp. The Army agreed and the Chamber of Commerce quickly raised local funds to purchase the nearly 1,200-acre parcel from the Hampton estate before donating it to the federal government.
In 1917, Major Douglas MacArthur announced the establishment of Camp Jackson, named in honor of President Andrew Jackson. Per General Orders No. 33, the post was demobilized in 1921, but the site continued to be used part of the year as a South Carolina National Guard training camp. After Germany invaded Poland in September 1939, the station was reactivated as a federal installation; it was renamed Fort Jackson a year later. During World War II, nine Army divisions trained there.
In 1950 Fort Jackson was slated to be demobilized a second time but it was deferred when the Korean War broke out. In 1956, Fort Jackson officially became a U.S. Army Training Center and it continues in this role. Today, 50 percent of all incoming soldiers are trained there.
With the passage of the National Cemetery Expansion Act of 2003, Congress directed the U.S. Department of Veterans Affairs to establish six new national cemeteries. A demographic study of the nationwide veteran population identified the Columbia-Greenville area as lacking burial options. Four sites were considered and in 2008 the U.S. Department of Defense transferred land used for field training exercises to NCA for the purpose of developing Fort Jackson National Cemetery. The cemetery was formally dedicated the same year and opened for burials in 2009. Fort Jackson National Cemetery is the third national cemetery established in South Carolina and the 126th in the national cemetery system.
We are developing educational content for this national cemetery, and will post new materials as they become available. Visit the Veterans Legacy Program and NCA History Program for additional information. Thank you for your interest.
return to top