Attention A T users. To access the menus on this page please perform the following steps. 1. Please switch auto forms mode to off. 2. Hit enter to expand a main menu option (Health, Benefits, etc). 3. To enter and activate the submenu links, hit the down arrow. You will now be able to tab or arrow up or down through the submenu options to access/activate the submenu links.

National Cemetery Administration
Fort Richardson National Cemetery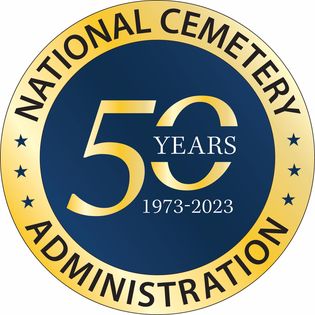 NCA marks 50 years (1973-2023) of serving America's Veterans, Service Members, and Families.

View events, daily photos of national cemeteries and more.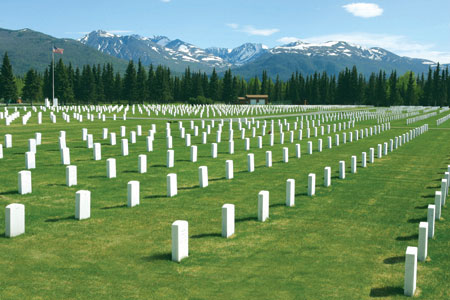 Visitation Hours:
Winter: Open daily from dawn to dusk.
Summer: Open daily from 8:00 a.m. to 5:00 p.m.
Holidays: Open from 7:00 a.m. to 7:00 p.m.
Office Hours: Monday thru Friday 8:00 a.m. to 4:30 p.m. Closed federal holidays.
---
The Joint Base Elmendorf Richardson (JBER)-Richardson gate is open; the JBER-Richardson Visitor Control Center is only open Monday through Friday from 0900 to 1700. All visitors who do not currently have access to the Military Installation can visit the JBER-Elmendorf Richardson Visitor Control Center to get a Day Pass to access the gate during the above hours. Outside these hours, visitors must visit the JBER-Boniface Visitor Control Center to get a Day Pass. Also the Boniface VCC is the only one with the capability to make sponsored annual passes (BDIDS cards).
This cemetery has space available to accommodate casketed and cremated remains.
Burial in a national cemetery is open to all members of the armed forces who have met a minimum active duty service requirement and were discharged under conditions other than dishonorable.
A Veteran's spouse, widow or widower, minor dependent children, and under certain conditions, unmarried adult children with disabilities may also be eligible for burial. Eligible spouses and children may be buried even if they predecease the Veteran.
Members of the reserve components of the armed forces who die while on active duty or who die while on training duty, or were eligible for retired pay, may also be eligible for burial.
From the Ted Stevens Anchorage International Airport, travel West on International Airport Road approximately 2.9 miles to Minnesota Drive exit north. Proceed on Minnesota Drive for 6.1 miles to 6th Avenue, turn right. Proceed through town for 4.8 miles. Continue on to AK-1/Glenn Highway north to Milepost 7 at the JBER-Richardson exit. Turn left at the top of the exit ramp, proceed to the JBER (Joint Base Elmendorf-Richardson) military gate. If you do not have the proper credentials to enter a military installation, pull over into the Visitor's Center parking lot and get a Day Pass to visit the cemetery. A picture ID and proof of a legal vehicle will be needed inside the Visitor's Center for the DOD personnel to issue an access pass. If you have credentials, show them to the Military at the security control gate. Follow D Street 1 1/2 miles to 6th Street and turn right on 6th Street. Follow 6th Street 1/4 mile to the T intersection and turn right on Davis Highway. Travel one mile; the cemetery will be on your left.
NOTE: This cemetery is located within an active military reservation. No weapons are allowed and all vehicles are subject to search. Please obey all signage concerning speeds and troop movement.
Fax all discharge documentation to the National Cemetery Scheduling Office at 1-866-900-6417 and follow-up with a phone call to 1-800-535-1117.
For information on scheduled burials in our national cemeteries, please go to the Daily Burial Schedule.
Fort Richardson National Cemetery is surrounded by an active Military Installation. Access to the cemetery through the post is sometimes restricted, depending upon the Army's security status. All individuals who do not possess a current active duty, military retiree or family identification card must be able to show proper civilian identification along with vehicle registration and proof of insurance before access to the post is permitted. After periods of heavy snowfall, access to individual gravesites is quite difficult.
Military Funeral Honors
Both Army and Air Force veterans are provided with the minimum military funeral honors designated by law. This includes two persons to fold and present the flag and a bugler to play or a quality taped rendering of "Taps." Retirees and active duty persons are provided with additional honors to include pallbearers and a rifle team at the family's request. Chaplain service will only be provided to retirees and active duty upon request.
Navy, Coast Guard and Marine Corps veterans are provided with military funeral honors in the form of a flag presenter from the branch of service in which the deceased veteran served. The contingent of active duty Navy, Coast Guard and Marine Corps in the area is small and requires military honors assistance from the Army and Air Force when Navy, Coast Guard or Marine Corps families make the request. The Army and Air Force assist with military honors based upon a rotation schedule and not upon request. Navy, Coast Guard and Marine Corps veterans are provided honors based upon the Army or Air Force policies stated above. Retirees will be provided full military funeral honors.
Fort Richardson National Cemetery is fortunate to have a listing of volunteer clergy upon request.
For educational materials and additional information on this cemetery, please visit the Education section, located below.
Cemetery policies are conspicuously posted and readily visible to the public.
Floral arrangements accompanying the casket or urn at the time of burial will be placed on the completed grave. Fresh cut flowers may be placed on graves at any time of the year. They will be removed when they become unsightly or when it becomes necessary to facilitate cemetery operations such as mowing. Please leave only two arrangements at gravesite.
Artificial flowers will be permitted on graves during the period of October 10 to April 15. During this time, their presence will not interfere with grounds maintenance. As a general rule, artificial flowers and potted plants will be allowed on graves for a period extending 10 days before through 10 days after Easter Sunday and Memorial Day.
Please label your items with the section, plot and veteran's name as the wind often moves them.
Staples or wires on arrangements, permanent in-ground flower containers or flower plantings, and glass containers are not allowed. Plastic temporary vases are available for your use.
Commemorative Items - May not be placed on graves or secured to the headstones. This includes items such as permanent plantings, statues, vigil lights, balloons, candles, breakable objects of any nature, and other similar items. The cemetery is not responsible for the security or return of items left on the graves or headstones such as medals, plaques, rosary beads, pictures, letters, etc.
Christmas - Wreaths and other seasonal adornments may be placed on graves from December 2 through January 10.
Easter - Potted plants may be placed on graves only during the period 10 days before and 10 days after Easter Sunday.
Memorial Day / Veterans Day / Canadian Remembrance Day - Decorations will be removed from graves one week following the holiday. Flags may be placed on graves only during these holidays.
VA regulations 38 CFR 1.218 prohibit the carrying of firearms (either openly or concealed), explosives or other dangerous or deadly weapons while on VA property, except for official purposes, such as military funeral honors.
Possession of firearms on any property under the charge and control of VA is prohibited. Offenders may be subject to a fine, removal from the premises, or arrest.
Fort Richardson National Cemetery is located on the Fort Richardson Military Reservation in Anchorage, Alaska. During World War II, 39 acres of Fort Richardson were set aside for use as a temporary burial site where deceased soldiers—regardless of nationality—could be laid to rest. Under the international program for the return of war dead, most of the soldiers interred at Fort Richardson were returned to their families. There were, however, some soldiers who remained buried at Fort Richardson either because the next of kin could not be found or their families requested that they remain interred in Alaska.
In December 1946, the temporary cemetery at Fort Richardson was made a permanent site. Initially there were two sections in the cemetery. The remains of Allied soldiers were buried within a fenced area referred to as the "Allied Plot." Japanese soldiers who died in battles for the Aleutian Islands were buried outside the fence in an area designated as the "Enemy Plot." In July 1953, the 235 Japanese war dead buried at Fort Richardson were disinterred for proper cremation with appropriate Shinto and Buddhist ceremonies, under the supervision of the Japanese Embassy. In May 1981, a group of Japanese citizens in Anchorage had a new marker made to remember the soldiers who, in death, remain far from home.
Perhaps the most famous resident of Fort Richardson National Cemetery was Kermit Roosevelt, son of the 26th U.S. President, Theodore Roosevelt. Kermit, who had held previous commissions in both the British and U.S. armies, was assigned to the Alaska Defense Command during World War II. He often accompanied pilots on their missions over the Aleutian Islands and played an active role in recruiting the native Alaskan tribes to join a territorial militia. Troubled by alcoholism and depression through much of his life, Major Roosevelt committed suicide at Fort Richardson June 3, 1943. His wife, Belle Roosevelt, advised then Chief of Staff General Dwight D. Eisenhower, that she wished for Kermit to be buried at the site. His father, she conveyed, had always said: "Where a tree falls, there let it lay."
On May 28, 1984, Fort Richardson Post Cemetery became Fort Richardson National Cemetery under the administration of the National Cemetery System. At the time of the transfer, all but 700 of the 2,000 gravesites had been used or reserved.
The cemetery was listed on the National Register of Historic Places on May 5, 2012.
Monuments and Memorials
A memorial stone gateway for Major Kermit Roosevelt, son of President Theodore Roosevelt, was erected around 1949. Major Roosevelt was interred at the cemetery on June 8, 1943.
The Japanese cenotaph was erected in memory of 235 Japanese soldiers who died in Alaska during World War II in the battle for the Aleutian Islands. Of the 235 soldiers buried at the cemetery, most died in the Battle of Attu. A new cenotaph was erected in September 2002 to replace the aging cenotaph that had been in place since May 1981.
Medal of Honor Recipients
The Medal of Honor is the highest award for valor in action against an enemy force that can be bestowed upon an individual serving in the Armed Services of the United States. Recipients receive the Medal of Honor from the president on behalf of Congress. It was first awarded during the Civil War and eligibility criteria for the Medal of Honor have changed over time.
Recipients buried or memorialized here:
Master Sergeant James Leroy Bondsteel (Vietnam). He received the Medal of Honor while serving in the U.S. Army, Company A, 2d Battalion, 2d Infantry, 1st Infantry Division, for actions in Loc Province, Republic of Vietnam, May 24, 1969. Bondsteel died in 1987 and is buried in Section H, Site 19.
Other Burials
Major Kermit Roosevelt, son of President Theodore Roosevelt, died June 4, 1943 at age 53. He was born October 10, 1889, at Sagamore Hill in Oyster Bay, New York. Major Roosevelt served during two wars and under two flags. He first fought with the British in the Middle East, and subsequently served with the American Expeditionary Forces in France. His memoirs of this war are titled War in the Garden of Eden. During World War II, he was again commissioned in the British Army before the United States entered the war, after which he was commissioned as a major in the Army and assigned to Fort Richardson. While in Alaska he flew with Army pilots as an observer when they made bomb runs over Japanese positions in the Aleutians. He also established a territorial militia of Eskimos and Aleuts to form the backbone of an insurgent underground should the Japanese overrun the region. Upon his death, his widow requested his remains be interred at Fort Richardson. He was interred in Section A, Plot 22, on June 8, 1943.
We are developing educational content for this national cemetery, and will post new materials as they become available. Visit the Veterans Legacy Program and NCA History Program for additional information. Thank you for your interest.
return to top