Attention A T users. To access the menus on this page please perform the following steps. 1. Please switch auto forms mode to off. 2. Hit enter to expand a main menu option (Health, Benefits, etc). 3. To enter and activate the submenu links, hit the down arrow. You will now be able to tab or arrow up or down through the submenu options to access/activate the submenu links.

National Cemetery Administration
Jacksonville National Cemetery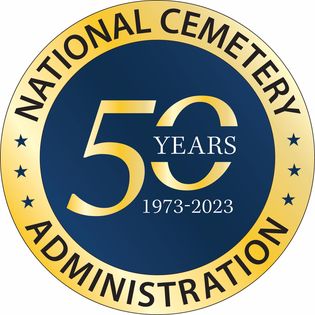 NCA marks 50 years (1973-2023) of serving America's Veterans, Service Members, and Families.

View events, daily photos of national cemeteries and more.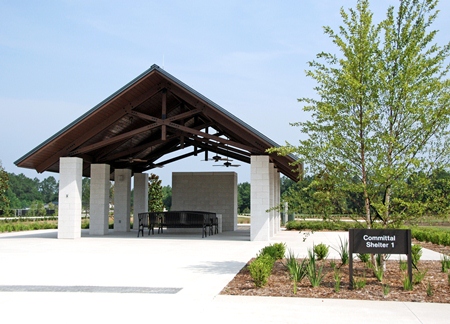 Visitation Hours: Open daily from sunrise to sunset. Open Memorial Day from 8:00 a.m. to 7:00 p.m.
Office Hours: Monday thru Friday 8:00 a.m. to 4:30 p.m. Closed federal holidays.
This cemetery has space available to accommodate casketed and cremated remains.
Burial in a national cemetery is open to all members of the armed forces who have met a minimum active duty service requirement and were discharged under conditions other than dishonorable.
A Veteran's spouse, widow or widower, minor dependent children, and under certain conditions, unmarried adult children with disabilities may also be eligible for burial. Eligible spouses and children may be buried even if they predecease the Veteran.
Members of the reserve components of the armed forces who die while on active duty or who die while on training duty, or were eligible for retired pay, may also be eligible for burial.
From Downtown Jacksonville: Take Interstate 95 North. Merge onto Interstate 295 South via Exit 362B. Merge onto Lem Turner Road/FL-115 North via Exit 32. Turn right onto Lannie Road. End at 4083 Lannie Road.
From Jacksonville Airport and South Georgia: Take Interstate 95 South. Merge onto Interstate 295 South via Exit 362B. Merge onto Lem Turner Road/FL-115 North via Exit 32. Turn right onto Lannie Road. End at 4083 Lannie Road.
From St. Augustine: Take Interstate 95 North. Merge onto Interstate 295 North toward Savannah. Merge onto Lem Turner Road/FL-115 North via Exit 32. Turn right onto Lannie Road. End at 4083 Lannie Road.
From the beaches: Take FL-9A North toward International Airport. FL-9A becomes Interstate 295 South. Merge onto Lem Turner Road/FL-115 North via Exit 32. Turn right onto Lannie Road. End at 4083 Lannie Road.
From Lake City: Take Interstate 10 East. Merge onto Interstate 295 North toward Savannah. Merge onto Lem Turner Road/FL-115 North via Exit 32. Turn right onto Lannie Road. End at 4083 Lannie Road.
Fax all discharge documentation to the National Cemetery Scheduling Office at 1-866-900-6417 and follow-up with a phone call to 1-800-535-1117.
For information on scheduled burials in our national cemeteries, please go to the Daily Burial Schedule.
The 526-acre national cemetery in Jacksonville, FL will serve veterans' needs for more than 100 years. The cemetery is located north of the Jacksonville International Airport and approximately five miles from Interstate 295.
For educational materials and additional information on this cemetery, please visit the Education section, located below.
Cemetery policies are conspicuously posted and readily visible to the public. The cemetery does not provide flower containers. However, bins are located throughout the grounds with recycled temporary containers for your use.
Three floral arrangements accompanying the casket or urn at the time of burial will be placed on the completed grave. Arrangements are removed from gravesites three days after the burial or when they become withered and unsightly. Natural cut flowers may be placed on graves at any time of the year. They will be removed when they become unsightly or when it becomes necessary to facilitate cemetery operations such as mowing.
Artificial flowers may be placed on graves only during the period of October 10 through April 15. In addition, potted plants will be allowed on graves for a period extending 10 days before and 10 days after Easter Sunday.
Christmas wreaths and grave blankets may be placed on graves from December 1 through January 20. They may not be secured to headstones or markers, and grave floral blankets cannot be larger than two to three feet. Do not attach any items to the headstone, marker or niche cover.
Permanent plantings, statues, balloons, vigil lights, breakable objects and similar items are not permitted on the graves. The Department of Veterans Affairs does not permit adornments which are considered offensive, inconsistent with the dignity of the cemetery or considered hazardous to cemetery personnel. For example, items incorporating beads or wires may become entangled in mowers or other equipment and cause injury.
The cemetery does not keep any unauthorized decorations once they have been removed from the grave.
The cemetery is not responsible for the loss or deterioration of potted plants, vases or flowers.
Permanent floral vases are not permitted.
VA regulations 38 CFR 1.218 prohibit the carrying of firearms (either openly or concealed), explosives or other dangerous or deadly weapons while on VA property, except for official purposes, such as military funeral honors.
Possession of firearms on any property under the charge and control of VA is prohibited. Offenders may be subject to a fine, removal from the premises, or arrest.
In 1997, St. Augustine National Cemetery closed to new interments, except for second burials of dependents. As a result, there was no local burial option for veterans in northern Florida. In response, the National Cemetery Expansion Act of 2003 authorized the Department of Veterans Affairs to establish six new national cemeteries in areas with at least 170,000 residents not currently served by burial locations for veterans. Jacksonville was one of the areas selected.
NCA acquired the site of Jacksonville National Cemetery in 2008. At the time, the property was owned by the city, and leased for ranching. Jacksonville National Cemetery was formally dedicated later that year, and opened for burials in 2009. Jacksonville National Cemetery is the seventh national cemetery in Florida and the 128th in the national cemetery system.
The City of Jacksonville was founded in 1821 on the St. Johns River, in northern Florida. The city was named after General Andrew Jackson, hero of the War of 1812, military governor of the Florida Territory, and future president of the United States (1829–1837).
Agriculture dominated the Florida Territory's early economy. During the Second Seminole War (1835–1842), military operations disrupted trade between Jacksonville and settlements in the interior of the territory, but the city itself was not the scene of fighting. A few years after the end of the war in 1845, Florida became a state.
At the onset of the Civil War Jacksonville served as a key Confederate port. The city was blockaded and occupied by Union forces in 1862; the occupation continued intermittently throughout the conflict. The largest battle in Florida took place 50 miles west of Jacksonville, in February 1864. In an attempt to push the war to an end, the Union Army launched an expedition into the interior of Florida to cut off Confederate supply routes and recruit African Americans. Union troops led by Brig. Gen. Truman Seymour moved west, meeting little resistance until February 20. On that day, Seymour's forces clashed with Brig. Gen. Joseph Finegan's Confederates in the Battle of Olustee. Finegan's troops repulsed the Union attacks, and forced Seymour and his army to retreat back to Jacksonville.
After the war, Jacksonville's economy was in ruins; the city grew slowly during Reconstruction. Bright spots included the timber and tourism industries, as Jacksonville served as the head of navigation for steamboats entering the St. Johns River. In the 1880s and 1890s, the city began to emerge as an important regional railroad hub. Due to its extensive transportation facilities, Jacksonville served as a troop cantonment during the Spanish-American War (1898).
On May 3, 1901, sparks from a kitchen fire ignited drying Spanish moss at a downtown Jacksonville mattress factory. The fire soon spread and a large swath of the city was destroyed. The Great Fire of 1901 was the largest urban fire in the southern United States; the city spent the next decade rebuilding. Many of the new downtown office and commercial buildings were designed by Henry John Klutho, an architect influenced by the Prairie-style popularized by Frank Lloyd Wright in Chicago. Kuthlo's 1912 masterwork, the St. James Building, covered an entire downtown block and may be the largest Prairie-style building in the world. Built as a department store, today it functions as the city hall. Jacksonville's rebuilding effort led to a surge of population in the 1920s.
In 1940, the U.S. Navy established Naval Air Station Jacksonville (NAS JAX), as part of the military buildup prior to World War II. Increased defense spending bolstered the economy during the war. NAS JAX continues to be a large employer in the area as the third largest U.S. Navy installation.
A surge in postwar suburban development led to emigration of affluent families from Jacksonville, leaving the city with a significantly reduced tax base. Concurrently, residents in the unincorporated suburbs had difficulty obtaining municipal services, including sewage and building code enforcement. By the 1960s, this combination of factors led to an effort to consolidate the city and Duval County governments. A 1967 referendum was overwhelmingly passed by voters, and the next year the consolidated City of Jacksonville was formed. Twenty times its former size, the new city became the world's largest as measured by land area. By this metric, today Jacksonville is the largest city in the contiguous United States.
Jack D. Hunter, Sr. was an author and artist, best known for his World War I aviation novel, The Blue Max, which was later turned into a film of the same name. He went on to write 16 more novels, many of them best-sellers. Mr. Hunter served in World War II first as an infantryman, but was later transferred to counter intelligence. After the war, he was sent to Germany where he played an instrumental role in "Operation Nursery," which resulted in the arrest of 2,000 Nazi seditionists. (Section 3 , Site 226)
We are developing educational content for this national cemetery, and will post new materials as they become available. Visit the Veterans Legacy Program and NCA History Program for additional information. Thank you for your interest.
return to top