Attention A T users. To access the menus on this page please perform the following steps. 1. Please switch auto forms mode to off. 2. Hit enter to expand a main menu option (Health, Benefits, etc). 3. To enter and activate the submenu links, hit the down arrow. You will now be able to tab or arrow up or down through the submenu options to access/activate the submenu links.

National Cemetery Administration
National Memorial Cemetery at Quantico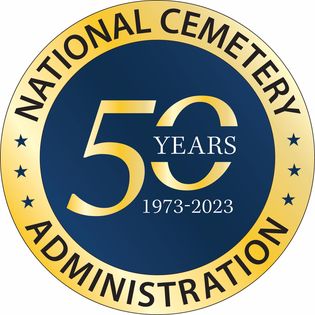 NCA marks 50 years (1973-2023) of serving America's Veterans, Service Members, and Families.

Learn more and watch NCA's 50th Anniversary Ceremony.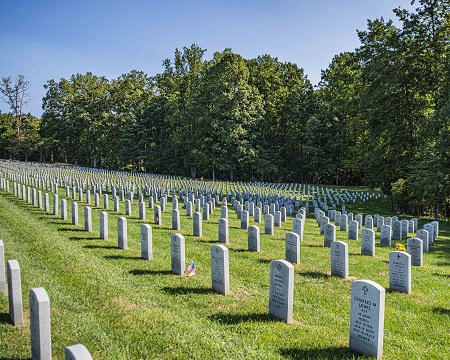 Visitation Hours: Open daily from sunrise to sunset.
Office Hours: Monday thru Friday 7:30 a.m. to 4:00 p.m. Closed federal holidays except Memorial Day and Veterans Day.
This cemetery has space available to accommodate casketed and cremated remains.
Burial in a national cemetery is open to all members of the armed forces who have met a minimum active duty service requirement and were discharged under conditions other than dishonorable.
A Veteran's spouse, widow or widower, minor dependent children, and under certain conditions, unmarried adult children with disabilities may also be eligible for burial. Eligible spouses and children may be buried even if they predecease the Veteran.
Members of the reserve components of the armed forces who die while on active duty or who die while on training duty, or were eligible for retired pay, may also be eligible for burial.
Cemetery is located midway between Washington, DC and Fredericksburg, VA off Interstate 95 at South bound Exit 150B and North bound Exit 150 onto Rt. 619 West. Proceed ¾ mile on Rt. 619 West to the cemetery entrance on the left. Directional signs are posted on I-95 and Rt. 619.
Fax all discharge documentation to the National Cemetery Scheduling Office at 1-866-900-6417 and follow-up with a phone call to 1-800-535-1117.
For information on scheduled burials in our national cemeteries, please go to the Daily Burial Schedule.
The mailing address for the cemetery is:

National Memorial Cemetery at Quantico
P.O. Box 10
Triangle, VA 22172
A Kiosk, which is an electronic gravesite locator, is in the breezeway of the administration building. The grave locator is available to the public daily from sunrise to sunset.
Avenue of Flags program: A deceased veteran's flag may be donated to the cemetery at any time to be flown in the "Avenue of Honor." The full complement of flags is flown on Veterans Day and Memorial Day. On other holidays the flags are only raised from the main entrance gate to the second flagpole circle adjacent to the Administration Building. The donor will receive a letter and Certificate of Appreciation for their donation.
For educational materials and additional information on this cemetery, please visit the Education section, located below.
Cemetery policies are conspicuously posted and readily visible to the public.
The cemetery will provide temporary flower containers. Three floral arrangements accompanying the casket or urn at the time of burial will be placed on the completed grave. Arrangements are removed from gravesites three days after the burial or when they become withered and unsightly.
Natural cut flowers may be placed on graves at any time of the year. They will be removed when they become unsightly or when it becomes necessary to facilitate cemetery operations such as mowing.
Artificial flowers may be placed on graves only during the period of November 1 through March 31. In addition, potted plants will be allowed on graves for a period extending 10 days before and 10 days after Easter Sunday.
Christmas wreaths and grave blankets may be placed on graves from December 1 through January 31. They may not be secured to headstones or markers, and grave floral blankets cannot be larger than two by three feet.
Items should not be attached to or affixed on any headstone or marker.
Permanent plantings, statues, pinwheels, spinners, balloons, vigil lights, breakable objects and other non-floral related items are not permitted on the graves.
The Department of Veterans Affairs does not permit adornments which are considered offensive, inconsistent with the dignity of the cemetery or considered hazardous to cemetery personnel. For example, items incorporating beads or wires may become entangled in mowers or other equipment and cause injury.
Unauthorized decorations will be removed from the grave and held by the cemetery for not less than 10 days, except following Holidays when the volume of unauthorized decorations exceeds cemetery storage capacity.
The cemetery is not responsible for the loss or deterioration of floral arrangements, potted plants, vases, or any item left at a gravesite.
Permanent or glass floral vases are not permitted.
In order to preserve the dignity, beauty and serenity of National Memorial Cemetery at Quantico, we ask you to please observe the following restrictions. Thank you for your cooperation:
Pets are not allowed on the cemetery grounds at any time.
No soliciting.
Sports or recreational activities of any kind are prohibited.
No picnicking.
Public gatherings of a partisan nature are prohibited, no unauthorized gatherings are permitted. Committal shelters should be used for services only.
Do not litter. Please use one of the many receptacles provided.
Smoking is not allowed in any building or the committal shelter. Please dispose of cigarette filters in the designated receptacles.
No cutting, digging or otherwise damaging the landscape.
Boisterous activity, including the playing of loud music, is prohibited.
Altering a headstone or marker in any manner is prohibited. (i.e., marking, sitting on, placing objects upon, or attaching photographs or keepsakes to, etc.)
Please do not park on the grass.
VA regulations 38 CFR 1.218 prohibit the carrying of firearms (either openly or concealed), explosives or other dangerous or deadly weapons while on VA property, except for official purposes, such as military funeral honors.
Possession of firearms on any property under the charge and control of VA is prohibited. Offenders may be subject to a fine, removal from the premises, or arrest.
National Memorial Cemetery at Quantico is located on land that was part of the U.S. Marine Corps training base adjacent to Quantico in Prince William County, VA. The land has been used by the military for over 200 years. First, around 1775 by the Commonwealth of Virginia for Navy operations, and later, as a blockade point for the Confederate army during the Civil War.
In 1918 a permanent Marine base was established at Quantico. The Marine Corps Schools, a forerunner of the Marine Corps Development and Education Command, was created there in 1921. Since 1941, the focus of the base has been individual education rather than unit training. In 1977, the Marine Corps donated 725 acres of this land to the VA' National Cemetery Administration, to establish a facility at Quantico. The cemetery was formally dedicated on May 15, 1983.
Monuments and Memorials
There are nine memorials in all. A monument to Edson's Raiders was the first memorial dedicated at Quantico National Cemetery, unveiled on the memorial pathway on August 6, 1989. It is dedicated to the 800 members of the First Marine Raider Battalion, which from August 1942 to October 1943, played a key role in helping the greatly outnumbered American forces push back Japanese troops in the Brigit Solomon Islands.
The Purple Heart Memorial was dedicated August 7, 1990, in honor of Purple Heart medal recipients interred at the cemetery. The Purple Heart was created by George Washington in 1782 and was originally awarded for heroism. It eventually fell into disuse until 1931 when Gen. Douglas MacArthur revived it for soldiers who were wounded or killed in defense of their nation.
Additional memorials honor: Colonel William "Rich" Higgins, Marine Corps, who was captured and held hostage in Lebanon by pro-Iranian Hezbollah terrorists; the Fourth Marine or "Fighting Fourth" Division; the Commonwealth of Virginia Memorial dedicated to honor all of the nation's Veterans; the First Marine Division Memorial, in memory of those who lost their lives while serving with the 1st Marine Division; and the 6th Marine Division or "Striking Sixth" Memorial to honor the division that won the Presidential Unit Citation for its actions in Okinawa during World War II. The memorial design is based on a Japanese tomb. The 6th Marine Division Presidential Unit Citation, unveiled on April 14, 2000, for its distinguished "Service Second to None" on Okinawa during World War II. The Order of the Purple Heart memorial was donated by Veterans of Foreign Wars Post 1503. Dedicated on Memorial Day, May 25, 2009.
Medal of Honor Recipients
The Medal of Honor is the highest award for valor in action against an enemy force that can be bestowed upon an individual serving in the Armed Services of the United States. Recipients receive the Medal of Honor from the president on behalf of Congress. It was first awarded during the Civil War and eligibility criteria for the Medal of Honor have changed over time.
Recipients buried or memorialized here:
Private First Class Hector A. Cafferata, Jr. (Korea). Cafferata received the Medal of Honor while serving in the U.S. Marine Corps, 7th Marines, 1st Marine Division, for extraordinary heroism as a rifleman with Company F, in Korea, November 28, 1950. Cafferata died in 2016 and is buried in Section 24, Site 30.
Other Burials
In 1945, Second Lieutenant Frederick Branch became the first African-American officer in the U.S. Marine Corps. Born in North Carolina, in 1922, he graduated from Temple University in 1947 with a degree in physics. Branch developed the science program for Philadelphia's Murrell Dobbins High School and taught for 35 years, but World War II interrupted his education. Branch fought in the South Pacific in 1943, followed by officer training. He served in Korea but resigned in 1955 due to limited opportunities for advancement. Captain Branch was recognized for his role in desegregation of the armed forces. The U.S. Senate passed a resolution honoring his landmark commission in 1995, he received an NAACP award, and a building at Quantico's Officer Candidate School is named for him. Branch died April 10, 2005, and is buried in National Memorial Cemetery at Quantico (Section 17, Site 472).
Creadell J. Haley (1916–2000) was born in Oklahoma, where she and a brother were raised by an aunt and uncle. Haley graduated from Quincy High School in 1936 and enlisted in the Women's Army Air Corps (WAAC) in 1942. Her mechanical aptitude led to an opportunity to train as an aviation cadet. At the end of World War II, Haley was discharged at the rank of sergeant and continued her training as a pilot. She took her first solo flight in 1946. Sergeant Haley was the first woman, and only African-American, from Adams County, OK, to serve in the WAAC. This pioneer aviatrix became a Baha'i missionary to South America and composed hymns for her faith. She died November 2 in Washington, DC, and is buried in National Memorial Cemetery at Quantico (Section 5, Site 258).
Jack Hawkins was born in Texas on October 25, 1916, and graduated from the Naval Academy in 1939. He was with the Fourth Marines in the Philippines in the opening phase of WWII and was taken prisoner by the Japanese during the Battle of Corregidor in May 1942. After eleven months of captivity he escaped and joined a guerrilla force, earning the Distinguished Service Cross. In the Korean War he led a Marine battalion during the Inchon Landing and at the Chosin Reservoir and earned a Silver Star. He was promoted to full colonel in 1955 and instructed amphibious landings at Quantico. His background led to his selection to train and plan the failed April 1961 Bay of Pigs Invasion for the CIA. He retired from active duty in 1965. He died May 17, 2013 and is interred in Section 22, Site 603.
Colonel William "Rich" Higgins, the chief of a 75-member U.S. Military Observer Group, a United Nations Truce Supervision Organization, was captured by a pro-Iranian Shiite Moslem group on Feb. 17, 1988 in Beirut. He was held hostage and killed by his kidnappers on July 6, 1990. A marker was placed in the memorial section until his body was found and repatriated. Colonel Higgins was interred on Dec. 30, 1991, in Section 23, Site 141.
Louis R. Lowery, a World War II Marine combat photographer, took the picture of the first U.S. flag rising on top of Iwo Jima's Mount Suribachi in 1945. The flag was said to be the first U.S. flag flown over Japanese territory in World War II. He was interred on April 1, 1987 (Section 1, Site 6422).
General Lewis William Walt, assistant commandant of the Marine Corps from 1968–1971, had a career that spanned over 35 years and he served through three major wars. General Walt was awarded two Navy Crosses, one Silver Star, and two Purple Hearts. He was interred on May 11, 2000, in Section 17, Site 51 B.
Our cemetery history handout includes other notable burials and is available at National Memorial Cemetery at Quantico Administration Office.
We are developing educational content for this national cemetery, and will post new materials as they become available. Visit the Veterans Legacy Program and NCA History Program for additional information. Thank you for your interest.
return to top