Attention A T users. To access the menus on this page please perform the following steps. 1. Please switch auto forms mode to off. 2. Hit enter to expand a main menu option (Health, Benefits, etc). 3. To enter and activate the submenu links, hit the down arrow. You will now be able to tab or arrow up or down through the submenu options to access/activate the submenu links.

National Cemetery Administration
Alabama National Cemetery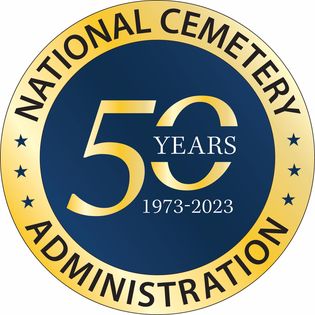 NCA marks 50 years (1973-2023) of serving America's Veterans, Service Members, and Families.

View events, daily photos of national cemeteries and more.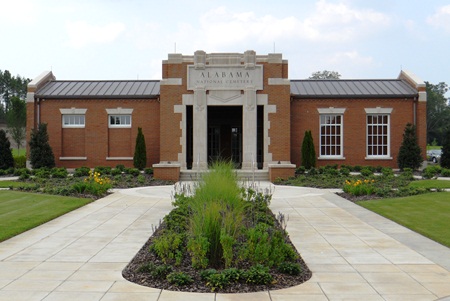 Office Hours: Monday thru Friday 8:00 a.m. to 4:30 p.m.
Closed federal holidays.
Visitation Hours: Open daily from sunrise to sunset.
This cemetery has space available to accommodate casketed and cremated remains.
Burial in a national cemetery is open to all members of the armed forces who have met a minimum active duty service requirement and were discharged under conditions other than dishonorable.
A Veteran's spouse, widow or widower, minor dependent children, and under certain conditions, unmarried adult children with disabilities may also be eligible for burial. Eligible spouses and children may be buried even if they predecease the Veteran.
Members of the reserve components of the armed forces who die while on active duty or who die while on training duty, or were eligible for retired pay, may also be eligible for burial.
From Interstate 65, take Exit 234 (Shelby County Airport). Turn left on Hwy. 87 (this turns into Hwy. 12). Travel on Hwy. 12 (approximately 1.5 miles to stop sign). Turn right on Hwy. 22 travel 2.8 miles to traffic light. Turn left on Hwy. 119 South. Travel 1.3 miles, the cemetery will be on the right.
Fax all discharge documentation to the National Cemetery Scheduling Office at 1-866-900-6417 and follow-up with a phone call to 1-800-535-1117.
For information on scheduled burials in our national cemeteries, please go to the Daily Burial Schedule.
This 479-acre national cemetery is in the Birmingham area and will serve veterans' needs for at least the next 50 years. The cemetery is located at 3133 Highway 119, 15 miles south of Birmingham, just north of the town of Montevallo and west of Interstate Highway 65.
In July 2007, the Department of Veterans Affairs purchased the site for approximately $8 million and awarded a contract in September 2007 to Civil Consultants, Inc. to design the new cemetery.
The cemetery currently has 54 developed acres and includes all facilities necessary to provide dignified and honorable burials. Burial options include in-ground casketed burials, above-ground columbarium niches for cremains and in-ground burial for cremains. Cemetery facilities include a public information center complex with an electronic gravesite locator, water fountains and public restrooms. Alabama National Cemetery also provides a maintenance facility, a cemetery entrance area, a flag assembly area, a memorial walkway and two committal shelters.
There are instances when you should contact the National Cemetery directly such as:
• Scheduling an Active Duty interment
• Cancelling or rescheduling an interment
• Changing information originally supplied to the scheduling center
• Request for disinterment and/or relocation to another national cemetery
Special events: Memorial Day Ceremony (May) and Wreaths Across America (December). Please contact the office for dates.
Burial space: Cremated remains may be placed in ground with the same marble marker as the in ground casketed burials. Cremains may also be placed in the above ground columbarium wall with an engraved niche cover. The Alabama National Cemetery recently completed an expansion project adding 20 developed acres that provide an additional 5,000 casketed burial sites and 1,500 in ground burial sites for cremains.
Funeral processions: All funeral processions meet with their family, clergy, and cemetery representative at the Public Information Center just inside the main entrance to the cemetery. A cemetery representative will meet the procession and lead them to the designated shelter.
Military Funeral Honors:
Military honors must be requested and confirmed by the family or a funeral home representing the next of kin. Owing to the need to assemble a team and travel to the cemetery, all branches request, if possible, a 48-hour notice. Often the military provides a two-man team, with folding of the flag and rendering of Taps. Some branches offer expanded details and a firing team for retirees. All branches provide full honors for killed in action. Please contact the military honor office directly and they will explain the scope of the honors they will provide. Please contact the following branches directly:
Army – Call 334-255-9081. If possible, the Army requests a 48-hour notice. The Army will fax you a request form and request a copy of your discharge paperwork. Operation Hours: (Monday - Friday) 07:30 AM - 4:30 PM (Closed on Weekends & Federal Holidays).
Marines – Call 703-432-9524, Quantico National Military Funeral Honors Request Center.
Navy – Call 904-542-1536, 1539, or 9807. If possible, the Navy requests a 48-hour notice. The Navy will fax you a request form and request a copy of your discharge paperwork.
Air Force – Call 334-953-4545. If possible, the Air Force requests a 48-hour notice. The Air Force will fax you a request form and request a copy of your DD Form 214.
Coast Guard – Call 504-628-5177. If possible, the Coast Guard requests a 48-hour notice. The Coast Guard will fax you a request form and request a copy of your discharge paperwork.
For educational materials and additional information on this cemetery, please visit the Education section, located below.
Our cemetery floral regulations exist only to reflect the honor and respect we hold for our Nation's Veterans, by preserving the dignity and solemnity of their final resting place.
Floral arrangements accompanying the casket or urn at the time of burial will be placed as follows, a maximum of three will be placed on the grave and the remainder will be placed at a central location.
The cemetery welcomes and encourages fresh-cut flowers throughout the year. Floral containers are located throughout the cemetery for public use and free of charge. Items left at grave side must be floral in nature and may not stand taller than the headstone.
Floral items and other decorations may not be secured to the headstone. Flowers will be removed when spent, for mowing and maintenance, or if damaged by weather or wildlife.
No permanent floral vases are permitted. Due to the open nature of the grounds, we cannot guarantee against theft, vandalism or the effects of nature.
Artificial flowers will be permitted during the period from October 1 through April 1.
Plantings will not be permitted on graves at any time. Potted plants will be permitted on graves during the period 10 days before and 10 days after Easter Sunday, Memorial Day, Veterans Day and Christmas.
Holiday wreaths or grave blankets are permitted on graves from December 15 through January 10 and will be removed not later than January 20 of each year. Grave floral blankets may not be larger than two by three feet.
Permanent plantings, statues, vigil lights, breakable objects and similar items are not permitted on the graves. Hazardous materials, glass, metal, toys, candles, balloons and flags are not permitted.
The Department of Veterans Affairs does not permit adornments which are considered offensive, inconsistent with the dignity of the cemetery or considered hazardous to cemetery personnel. For example, items incorporating beads or wires may become entangled in mowers or other equipment and cause injury. Unauthorized items will be removed immediately. The cemetery does not keep any unauthorized decorations once they have been removed from the grave.
In order to preserve the dignity and honor of our Veteran's final resting place, please observe the following rules of behavior while visiting the cemetery grounds:
Pets are not allowed on the cemetery grounds at any time.
No soliciting.
Sports or recreational activities of any kind are prohibited.
No picnicking.
Public gatherings of a partisan nature are prohibited, no unauthorized gatherings are permitted. Committal shelters are for services only, no loitering.
Littering is not allowed, please use one of the many receptacles provided.
Smoking is not allowed on the grounds, in any building or the committal shelter. Please smoke only at the designated receptacles.
No cutting, digging or otherwise damaging the landscape.
Boisterous activity, including the playing of loud music, is prohibited.
Altering a headstone in any manner is prohibited. (i.e., marking, sitting on, placing objects upon, attaching photographs or keepsakes to, etc.)
These rules are covered by 38 CFR 1.218 and are subject to fines.
VA regulations 38 CFR 1.218 prohibit the carrying of firearms (either openly or concealed), explosives or other dangerous or deadly weapons while on VA property, except for official purposes, such as military funeral honors.
Possession of firearms on any property under the charge and control of VA is prohibited. Offenders may be subject to a fine, removal from the premises, or arrest.
With the passage of the National Cemetery Expansion Act of 2003, Congress directed the Department of Veterans Affairs to establish six new national cemeteries in areas with at least 170,000 residents not currently served by burial locations for veterans, including central Alabama.
At the time NCA purchased the site of Alabama National Cemetery, the property was used for agricultural purposes. Alabama National Cemetery was formally dedicated in 2008, and opened for burials the following year. Alabama National Cemetery is the third national cemetery built in the state and the 129th in the national cemetery system. The first burials commenced on June 25, 2009.
In 2011, Alabama National Cemetery completed construction of the cemetery support facilities including the Public Information Center, main entrance with Avenue of Flags, memorial wall with flag circle, offices and maintenance facilities, columbarium, committal shelters, and memorial walkway. The design and layout received an honor award from the Alabama Chapter of the American Society of Landscape Architects.
Prior to development and use as a national cemetery, the land had a long and culturally-varied history. During the Colonial period the Muskogee tribe, also known as the Creeks, lived in central Alabama. By the early 19th century, European-American encroachment led to a division within the Creek society between a partially-assimilated faction, and those that sought to return to their traditional culture and religion. Tensions culminated in the Creek War (1813-1814) which began as a tribal civil war but became intertwined with the War of 1812 when the U.S. government allied with the assimilated Creeks. The Creek War ended with the Treaty of Fort Jackson, which ceded much of the tribal territory in Georgia and Alabama to the United States.
Four years after taking control of the territory the Alabama Territorial General Assembly created Shelby County from some of the former Creek Indian territory on February 7, 1818. Shelby County was named after Isaac Shelby, Revolutionary War hero and first governor of Kentucky. Alabama became a state one year later in 1819.
Abundant iron and coal deposits are found throughout Shelby County. As early as the 1820s, settlers began to establish small-scale forges to smith iron ore. Production gradually increased in the coming decades, and during the Civil War local iron works produced war materiel for the Confederacy. Nevertheless, the county's economy was predominantly agricultural; growing primarily cotton.
By the early 20th century, labor-intensive cotton production gave way to a more diversified set of crops; corn, wheat, peanuts, and soybeans were typical.
The population of Shelby County began to grow steadily in the 1970s, as new housing developments were constructed for workers commuting into Birmingham, the largest city in the state. In the following decades growth accelerated; from 1970 to 2010, the county's population quadrupled. The rapid population growth included veterans, which led to a need for the national cemetery. At the time of the 2006 nationwide study, Alabama had the largest number per capita of active and retired military servicemen and women outside of a "reasonable proximity" to a national cemetery.
We are developing educational content for this national cemetery, and will post new materials as they become available. Visit the Veterans Legacy Program and NCA History Program for additional information. Thank you for your interest.
return to top