Attention A T users. To access the menus on this page please perform the following steps. 1. Please switch auto forms mode to off. 2. Hit enter to expand a main menu option (Health, Benefits, etc). 3. To enter and activate the submenu links, hit the down arrow. You will now be able to tab or arrow up or down through the submenu options to access/activate the submenu links.

National Cemetery Administration
Alexandria National Cemetery, VA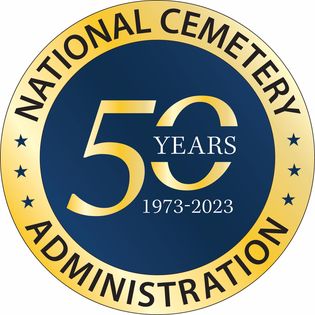 NCA marks 50 years (1973-2023) of serving America's Veterans, Service Members, and Families.

View events, daily photos of national cemeteries and more.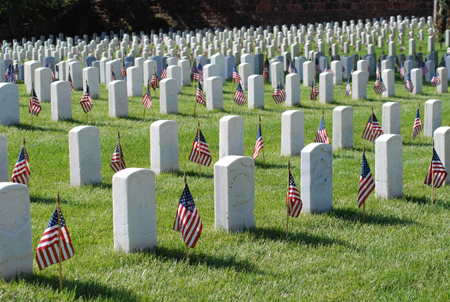 Office Hours: Monday thru Friday 7:30 a.m. to 4:00 p.m.
Closed federal holidays except Memorial Day and Veterans Day.
Visitation Hours: Open daily from sunrise to sunset.
Alexandria National Cemetery is closed to new interments. The only interments that are being accepted are subsequent interments for veterans or eligible family members in an existing gravesite.
Burial in a national cemetery is open to all members of the armed forces who have met a minimum active duty service requirement and were discharged under conditions other than dishonorable.
A Veteran's spouse, widow or widower, minor dependent children, and under certain conditions, unmarried adult children with disabilities may also be eligible for burial. Eligible spouses and children may be buried even if they predecease the Veteran.
Members of the reserve components of the armed forces who die while on active duty or who die while on training duty, or were eligible for retired pay, may also be eligible for burial.
Cemetery is located six blocks West of U.S Hwy 1 at the end of Wilkes Street in the City of Alexandria, VA. Wilkes Street may also be reached via Interstate 95, at the U.S. Hwy 1 North exit. There is a direction sign at the intersection of Washington and Gibbon Streets in Alexandria. Washington Street is part of the George Washington Memorial Parkway.
Fax all discharge documentation to the National Cemetery Scheduling Office at 1-866-900-6417 and follow-up with a phone call to 1-800-535-1117.
For information on scheduled burials in our national cemeteries, please go to the Daily Burial Schedule.
This cemetery is under the supervision of the Director of Quantico National Cemetery. You may contact them at:

Quantico National Cemetery
P.O. Box 10
Triangle, VA 22172
Individual gravesite flags are placed on each gravesite for Memorial Day only.
For educational materials and additional information on this cemetery, please visit the Education section, located below.
Cemetery policies are conspicuously posted and readily visible to the public.
The cemetery will provide temporary flower containers. Three floral arrangements accompanying the casket or urn at the time of burial will be placed on the completed grave. Arrangements are removed from gravesites three days after the burial or when they become withered and unsightly.
Natural cut flowers may be placed on graves at any time of the year. They will be removed when they become unsightly or when it becomes necessary to facilitate cemetery operations such as mowing.
Artificial flowers may be placed on graves only during the period of Nov. 1 through March 31. In addition, potted plants will be allowed on graves for a period extending 10 days before and 10 days after Easter Sunday.
Christmas wreaths and grave blankets may be placed on graves from Dec. 1 through Jan. 20. They may not be secured to headstones or markers, and grave floral blankets cannot be larger than two by three feet.
Items should not be attached to or affixed on any headstone or marker.
Permanent plantings, statues, pinwheels, spinners, balloons, vigil lights, breakable objects and other non-floral related items are not permitted on the graves.
The Department of Veterans Affairs does not permit adornments which are considered offensive, inconsistent with the dignity of the cemetery or considered hazardous to cemetery personnel. For example, items incorporating beads or wires may become entangled in mowers or other equipment and cause injury.
Unauthorized decorations will be removed from the grave and held by the cemetery for not less than 10 days, except following Holidays when the volume of unauthorized decorations exceeds cemetery storage capacity.
The cemetery is not responsible for the loss or deterioration of floral arrangements, potted plants, vases, or any item left at a gravesite.
Permanent or glass floral vases are not permitted.
In order to preserve the dignity, beauty and serenity of Quantico National Cemetery, we ask you to please observe the following restrictions. Thank you for your cooperation:
Pets are not allowed on the cemetery grounds at any time.
No soliciting.
Sports or recreational activities of any kind are prohibited.
No picnicking.
Public gatherings of a partisan nature are prohibited, no unauthorized gatherings are permitted. Committal shelters should be used for services only.
Do not litter. Please use one of the many receptacles provided.
Smoking is not allowed in any building or the committal shelter. Please dispose of cigarette filters in the designated receptacles.
No cutting, digging or otherwise damaging the landscape.
Boisterous activity, including the playing of loud music, is prohibited.
Altering a headstone or marker in any manner is prohibited. (i.e., marking, sitting on, placing objects upon, or attaching photographs or keepsakes to, etc.)
Please do not park on the grass.
VA regulations 38 CFR 1.218 prohibit the carrying of firearms (either openly or concealed), explosives or other dangerous or deadly weapons while on VA property, except for official purposes, such as military funeral honors.
Possession of firearms on any property under the charge and control of VA is prohibited. Offenders may be subject to a fine, removal from the premises, or arrest.
Alexandria National Cemetery is located near the Old Town section of Alexandria, Va., amid several other community cemeteries. The original cemetery consisted of approximately four acres known as Spring Garden Farm. Most of this land was acquired by the United States in the 1860s, and by November 1870 the cemetery had reached its current size of a little over five acres.
Alexandria was one of the principal campsites for Union soldiers sent to defend Washington, D.C., at the outbreak of the Civil War. These troops, composed primarily of "three-month volunteers," were unprepared for the demands of war. When they tried to turn the Southern advance at Bull Run, they were decisively defeated and hastily retreated back to Washington. At one point in the war, General Robert E. Lee and his Southern troops rode the outskirts of Alexandria where they were close enough to view the Capital dome. As the tide of the war turned, especially after Gettysburg, the frontlines of the war moved west and away from Washington, D.C. The fortress area at Alexandria, however, continued to serve as a major supply and replacement center throughout the remainder of the war.
Alexandria National Cemetery is one of the original 14 national cemeteries established in 1862. The first burials made in the cemetery were soldiers who died during training or from disease in the numerous hospitals around Alexandria. By 1864, the cemetery was nearly filled to capacity, which eventually led to the planning, development and construction of Arlington National Cemetery.
As of 1871, Alexandria National Cemetery encompassed a cobblestone avenue, a fountain, an ornate wrought-iron rostrum, graveled walks and paths, a small pond and a greenhouse. Today, the superintendent's lodge is the primary building on the grounds and the oldest surviving structure. It was constructed of reddish Seneca sandstone and brick around 1870. Seneca sandstone was popular during Washington, D.C.'s, "brownstone era" (1840–1880), and can be found in many of the region's prominent buildings, including the Smithsonian Institution "Castle," and the U.S. Capitol floor and rotunda door frames. U.S. Quartermaster General Montgomery C. Meigs designed the lodge in a Second French Empire style; approximately 55 of these lodges were constructed in national cemeteries between 1870 and the end of the century.
The original 1887 "comfort station" at Alexandria was converted into a kitchen/store room and tool shed/toilet when a brick summer dining room was added in 1927. Although significantly altered, the old comfort station is one of few structures like these to survive. The 16-foot ornamental iron rostrum with a capacity to hold 24 chairs and one table was demolished sometime after 1931. An enclosure wall constructed of Seneca sandstone with River Blue Stone coping surrounds the property; visitors pass through 12-foot wide ornamental cast-iron entry gates at the Wilkes Street entrance.
During the 1930s, the Civilian Works Administration (CWA) made general repairs to the lodge and outbuildings and erected a new flagpole. Alexandria National Cemetery was listed in the National Register of Historic Places in 1995.
Monuments and Memorials
One large granite boulder memorial was erected by the U.S. government on July 7, 1922, in honor of the Pursuers of President Lincoln's Assassin. The four men were Quartermaster Corps employees who drowned in the Potomac River on April 24, 1865, while pursuing John Wilkes Booth.
Buffalo Soldiers
Lewis J. Cook (ca. 1857–1885) was born in Shepherdstown, West Virginia, and worked in the coal industry prior to enlisting in the U.S. Army. He was recruited in Baltimore, Maryland, at age 26 and joined Company H, 9th U.S. Cavalry, one of the all-black units known as Buffalo Soldiers. By November 1883, Private Cook was stationed with his regiment in Fort Riley, Kansas. In June 1884, however, Cook was discharged under a surgeon's certificate. The regimental discharge record does not specify his disability, although his mother, Courtney, applied for a pension in May 1885. Cook is buried in Alexandria National Cemetery (Section B, Site 3560).
George Foster (1844–1893) lived on North Patrick Street in the Uptown neighborhood of Alexandria, Virginia, first with his family and after his marriage in 1883. He and his brother Lorenzo are buried in Alexandria National Cemetery. Foster worked as a waiter and laborer before enlisting during the Civil War. He served in Company E, 1st U.S. Colored Troops Infantry, from 1863 to 1865. After the war, the U.S. Army established segregated regiments for blacks that became known as Buffalo Soldiers. Foster reenlisted in 1867, joining Company E, 1st U.S. Cavalry, then Company C, 10th U.S. Cavalry, alongside his brother. He was discharged in 1870 after a stay in the post hospital and returned home (Section B, Site 3565).
Born in Alexandria, Virginia, Lorenzo Foster (ca. 1850–1903) lived on North Patrick Street in the Uptown neighborhood; he and his brother George are buried in Alexandria National Cemetery. He enlisted in the U.S. Army in June 1867 for a five-year term, along with his brother. The men served in Company C of the all-black 10th U.S. Cavalry. Like other Buffalo Soldiers, as these troops became known, Foster was posted to garrisons on the western frontier. After Corporal Foster was discharged in 1872 he returned to Alexandria and his family (Section B, Site 3581).
Born in Alexandria City, Virginia, Conny Gray (1863–1907) lived in a vibrant community of African Americans, many of whom were free blacks prior to the Emancipation Proclamation and Civil War. His wife, Sarah Jane Derrick, taught at the Hallowell School, which was funded initially by the Freedmen Bureau and consolidated in 1920 as the city's Parker-Gray School. Gray enlisted in the U.S. Army in 1883 at age 20 and became a career soldier. Private Gray was with the 25th Infantry, one of the all-black regiments established in 1866 and known as Buffalo Soldiers, for most of his service. Gray also did a tour of duty with the Hospital Corps and 24th Infantry before sailing with Company H, 25th Infantry, to the Philippines where he died. Gray is buried in Alexandria National Cemetery (Section B, Site 3587).
Buffalo Soldier John T. Stevenson (ca.1850–1912) was born in Culpeper County and worked as a laborer before enlisting in 1869. Private Stevenson joined the 10th U.S. Cavalry, initially assigned to Company A and then to Company C. He served multiple enlistments, primarily at Forts Griffin and Concho, Texas, in the 1870s through the mid-1880s. After military service, Stevenson returned to Virginia and settled in the city of Alexandria, where he married and had a family. He worked as a laborer doing odd jobs but suffered from back pain. By 1910 his wife, Rebecca, had died and two of their children lived with him on Princess Street in the black neighborhood known as Uptown. Stevenson died January 31 and is buried in Alexandria National Cemetery (Section B, Site 3592).
Joseph F. Whelen was born at Fort Meade, SD, in December 1883 (his headstone shows 1890). He was a farm laborer in Montana when he enlisted in the U.S. Army in 1904. Whelen served in Companies L and G, 24th Infantry, as a private then as a musician, until 1911. His service in the all-black 24th Infantry makes him a Buffalo Soldier—though by this time the regiment no longer patrolled the American West. Records note his good character, and posts at Fort Missoula, MT, and Fort Ontario, NY. After his third enlistment, he moved to Alexandria, VA, and worked as a laborer. About 1920, Whelen married Annie Lee under his assumed surname of Wheeler, and they lived at 400 N. Patrick St. He died April 4, 1926, of stomach cancer. Annie remained in Alexandria with their children and received a widow's pension. She died in 1965 and was buried with Musician Whelen (Section B, Site 3606).
Yeoman (F)
Lillian Estelle Edwards (1892–1967) was born in Maryland and lived in Richmond, Virginia. During World War I, Edwards enlisted in the U.S. Naval Reserves Corps and held the rank of chief yeoman. She served from 1918 to 1919. This conflict was the first time women were permitted to enlist in the military outside of the Nurses Corps. After the war, Edwards lived in Buckingham Village in Arlington, Virginia, and worked as a typist for a hardware store before clerking for the government. She spent her career at the Department of Veterans Affairs and retired in 1957 after 35 years. Edwards died on March 5 and is buried in Alexandria National Cemetery (Section D, Site 14).
Lulu Mae Hogue (1876–1967) was born in West Virginia and by 1910 was living in Washington, DC, and working as a stenographer for a department store. In 1917, after the United States entered World War I, she joined the U.S. Naval Reserves and served a year. This conflict was the first time women were permitted to enlist in the military outside of the Nurses Corps. Hogue held the rank of yeoman third class. As a civilian she remained in Washington, DC, and was employed as a stenographer or clerk at the Navy Yard in 1919, and then the Internal Revenue Service in the 1920s and 1930s. She died March 10 and is buried in Alexandria National Cemetery (Section B, Site 5076).
Rosalie Myrtle Smith (1897–1967) was born in Maryland and moved to Virginia as a child. After the United States entered World War I, Smith enlisted in the U.S. Naval Reserves as a female yeoman in 1918. This conflict was the first time women were permitted to enlist in the military outside of the Nurses Corps. As a civilian, Smith lived and worked in Washington, DC, clerking for the Treasury Department. She married U.S. Navy veteran, Seaman William Herndon (1896–1959) and they lived in Alexandria, Virginia, with their young family through the 1930s. Herndon returned to the workplace by 1940 and remained in the area after her husband died. She died on November 27 and is buried in Alexandria National Cemetery (Section C, Site 18).
return to top