Attention A T users. To access the menus on this page please perform the following steps. 1. Please switch auto forms mode to off. 2. Hit enter to expand a main menu option (Health, Benefits, etc). 3. To enter and activate the submenu links, hit the down arrow. You will now be able to tab or arrow up or down through the submenu options to access/activate the submenu links.

National Cemetery Administration
Baltimore National Cemetery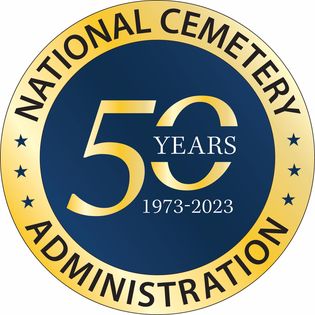 NCA marks 50 years (1973-2023) of serving America's Veterans, Service Members, and Families.

Learn more and watch NCA's 50th Anniversary Ceremony.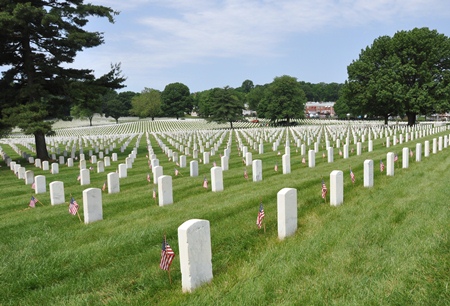 Visitation Hours: Open daily from 8:00 a.m. to 5:00 p.m.
Office Hours: Monday thru Friday 8:00 a.m. to 4:00 p.m. Closed federal holidays except Memorial Day 8:00 a.m. to 4:30 p.m.
This cemetery has space available for cremated remains. We may be able to accommodate casketed remains in the same gravesite of previously interred family members.
Burial in a national cemetery is open to all members of the armed forces who have met a minimum active duty service requirement and were discharged under conditions other than dishonorable.
A Veteran's spouse, widow or widower, minor dependent children, and under certain conditions, unmarried adult children with disabilities may also be eligible for burial. Eligible spouses and children may be buried even if they predecease the Veteran.
Members of the reserve components of the armed forces who die while on active duty or who die while on training duty, or were eligible for retired pay, may also be eligible for burial.
From Baltimore/Washington International Airport, proceed to Interstate 295 North. Exit Interstate 295 to Baltimore Beltway 695 west exit 13 (Frederick Avenue). Travel one mile to cemetery on your right.
Fax all discharge documentation to the National Cemetery Scheduling Office at 1-866-900-6417 and follow-up with a phone call to 1-800-535-1117.
For information on scheduled burials in our national cemeteries, please go to the Daily Burial Schedule.
There is a kiosk located on the side of the administration building to assist you in finding a gravesite. It contains the names of veterans and their eligible dependents buried at Annapolis, Baltimore and Loudon Park National Cemeteries. The kiosk will generate a printed map with the name of the decedent and their grave location.
Baltimore National Cemetery is the oversight cemetery for four satellite cemeteries — Annapolis and Loudon Park National Cemeteries, Point Lookout Confederate Cemetery in St. Mary's County, and 800 government-owned lots at Congressional Cemetery in Washington, D.C.
Annapolis, Loudon Park and Point Lookout cemeteries date back to the Civil War. Our sites at Congressional Cemetery date back to 1807.
Military Funeral Honors
Military Funeral Honors are organized under the Department of Defense military funeral honor program "Honoring Those Who Served" and should be arranged through the funeral home. In the event there is not a funeral home involved in making arrangements please refer to the telephone numbers listed below or contact your local American Legion or VFW.
Local Numbers for Military Funeral Honors:
Maryland National Guard: 301-677-2206 (Fort Meade)
U.S. Air Force / U.S. Army: 410-576-6133
U.S. Coast Guard: 757-617-4971 or 757-686-4032
U.S. Marine Corps: 866-826-3628
U.S. Navy: 301-677-0409 or 202-433-4589
For educational materials and additional information on this cemetery, please visit the Education section, located below.
The placement of floral items on graves other than on the day of interment is subject to the following conditions:
1. Fresh cut flowers may be placed on graves at any time. Temporary flower containers (vases) are available in bins throughout the cemetery.
2. Floral items will be removed from graves as soon as they become faded or unsightly.
3. Artificial flowers may be placed on graves only during the period of October 10 through April 15.
4. Plantings are not permitted on graves at any time. Potted plants will be permitted on graves only during the period 10 days before and 10 days after Easter Sunday and Memorial Day.
5. Christmas wreaths or grave blankets are permitted on graves during the Christmas season and will be removed not later than January 20th of each year. Contact the cemetery staff for the exact date of the post-holiday cleanup. Grave floral blankets may not be larger in size than two by three feet.
6. During the lawn mowing and ground maintenance season (April – November), all floral items will be removed from graves on the 2nd and 4th Friday of the month.
7. Balloons, statues, vigil lights (solar or battery powered), breakable (glass) objects of any nature, spinners, and similar/other commemorative items are not permitted on graves at any time.
8. Floral items and other types of decorations will not be secured to or placed on headstones or markers. Gravesite items cannot be taller than the surrounding headstones and markers.
If there are any questions regarding the floral policy or cleanup schedule please contact the cemetery staff at 410-644-9696.
VA regulations 38 CFR 1.218 prohibit the carrying of firearms (either openly or concealed), explosives or other dangerous or deadly weapons while on VA property, except for official purposes, such as military funeral honors.
Possession of firearms on any property under the charge and control of VA is prohibited. Offenders may be subject to a fine, removal from the premises, or arrest.
Baltimore National Cemetery is located in the Beechfield neighborhood of Baltimore City's southwestern corner. The cemetery straddles the border between the city and Baltimore County. It was one of seven national cemeteries created between the world wars, 1934–1939. It was the Army's first major expansion since the Civil War directed at serving a growing veteran population and the rapidly depleting burial space at existing national cemeteries. Unlike previous new cemeteries, locations were based on veterans' places of residence, especially in or near large cities. The other interwar national cemeteries are Long Island, New York; Fort Bliss and Fort Sam Houston, Texas; Fort Snelling, Minnesota; and Fort Rosecrans and Golden Gate, California.
The site occupied by Baltimore National Cemetery was an historic estate called Cloud Capped (or Cap), which occupied an elevated setting adjacent to Frederick Road as early as 1750. The Frederick Road provided Baltimore with a connection to the National Road, the nation's first major overland route and commercial artery. The property was part of the holdings of the Baltimore Company (Iron Ore) and Charles Carroll of Carrollton, a signer of the Declaration of Independence. Cloud Capped residents apparently observed the attacking British fleet sailing toward Fort McHenry in 1814, and sent a messenger to warn the city of the impending Battle of Baltimore, which inspired Francis Scott Key's "Star-Spangled Banner." In 1890, when socially prominent Blanchard and Susan Randall acquired the estate as a summer home, its 90 acres were studded with mature specimen trees. Cloud Capped was enlarged through multiple additions over the years. A cottage and stable, adapted for use by the cemetery, were also constructed. A railroad stop near the property made it easily accessible to downtown Baltimore in the late 1800s.
By the onset of the Great Depression, Baltimore was the eighth-largest city in the country, with an estimated 30,000 World War I (1917–1918) veterans. The War Department estimated that nearby Loudon Park National Cemetery, the only national cemetery serving area veterans, would close to interments before 1940. Originally, the War Department intended to expand Loudon Park National Cemetery, established in 1862 to avoid the complication of establishing a new cemetery. But by May 1936, the U.S. Congress passed an appropriations bill funding a new one in the Baltimore area. The army considered six sites but determined that Cloud Capped was the most appropriate for several reasons. The property was adjacent to Frederick Road, the city streetcar line had easy access, the acreage ensured it would be active for "a number of years," trees sufficiently surrounded the parcel, the grade was level enough for burials, some Cloud Capped buildings were suitable to be adapted for cemeterial use, and the price was right. At the time, a local reporter envisioned it to be Maryland's "Little Arlington."
The initial and largest construction phase at Baltimore National Cemetery took place between February 10, 1937, and August 15, 1938. This consisted of the demolition of most of the mansion and erection of the "new" superintendent's lodge using materials salvaged from Cloud Capped's oldest wing, renovation of the cottage and stables, and initial landscaping activities such as grading, topsoiling, and removal or transplant of trees. Labor from the New Deal Work Projects Administration (WPA) was used extensively.
The first interment in Baltimore National Cemetery, George Edward Culver, took place on December 22, 1936, in an area that was cleared prior to the War Department's purchase of the property. The cemetery was dedicated on Memorial Day, May 30, 1941, with ceremonies commencing at Baltimore's Lafayette Square, led by World War I African-American veterans affiliated with American Legion Post No. 14.
From 1938–1940, separate WPA projects continued to develop aspects of Baltimore National Cemetery while contractors undertook other projects. In late 1938, the local Edgar Levi Iron Works fabricated the iron entrance gates; architectural sculptors Lombard and Ludwig, Inc., fabricated stone carvings, including the U.S. National Cemetery plaque and the stone capitals for the posts. The next year, A. Dixon Carey furnished the 75-foot-steel flagpole and limestone base. Levering Brothers, Inc. fabricated the bronze General Orders No. 80, National Cemetery Act, Memorial Day Order, and "Gettysburg Address" plaques; the David M. Andrew Co. installed the plaques on granite stands in November 1939.
In 1951, the Department of Defense proposed to purchase nearly 54 acres to expand Baltimore National Cemetery, but it was canceled because the cost exceeded budget estimates. The same year, an open rostrum space was developed around the flagpole that included limestone walkways, benches, a semicircular masonry platform with a lectern, and landscaping. Twenty years later, this was largely removed to create more burial space. Subsequently, the surviving retaining wall serves as the rostrum area.
Baltimore National Cemetery was among the seven busiest national cemeteries in the system following World War II (1941–1945). The demand for interment here grew dramatically in 1967 after Arlington National Cemetery enacted restrictions on burial at that cemetery. As a result, many veterans living in the Mid-Atlantic region who previously requested burial in Arlington National Cemetery, were diverted to Baltimore. This contributed to Baltimore National Cemetery's closure in 1970 except for burials in reserved gravesites or second interments in existing graves.
Today, at approximately 72 acres with 45,996 remains, Baltimore National Cemetery is the smallest of the Inter-World War national cemeteries in both size and graves. Veterans of World War II comprise the largest number of interments, followed by World War I veterans.
Baltimore is one of more than eighty VA national cemeteries that use upright headstones and flat grave markers in separate burial sections. The cemetery was listed on the National Register of Historic Places in 2016.
Monuments and Memorials
Installed between 1994 and 1996 in a semicircle inside the rostrum wall is a memorial group of six standard granite die-and-base monuments and an interpretive plaque that commemorates the 1st through 6th Marine Divisions of World War II.
Medal of Honor Recipients
The Medal of Honor is the highest award for valor in action against an enemy force that can be bestowed upon an individual serving in the Armed Services of the United States. Recipients receive the Medal of Honor from the president on behalf of Congress. It was first awarded during the Civil War and eligibility criteria for the Medal of Honor have changed over time.
Recipients buried or memorialized here:
Water Tender Laddie Stupka. He received the Medal of Honor while serving in the U.S. Navy for actions on board the U.S.S. Leydon when the vessel wrecked, January 21, 1903. Stupka's citation was awarded under the name of Loddie. Stupka died in 1946 and is buried in the Distinguished Service Section, Site 1.
Other Burials
Horace Bivins (1866–1960) was born and raised in Accomack County, VA, on his parents' farm. He attended the Hampton Institute and enlisted in the army in 1887, where he served in the 10th Cavalry. Bivins' career as a Buffalo Soldier took him to the Southwest United States, Cuba, Philippines, and ultimately back to the East Coast. He retired briefly in 1913. As a commissioned officer in 1918, he rejoined the army to fight in World War I. Captain Bivins is remembered as one of the authors of the book Under Fire with the 10th Cavalry (1899) and as the army's first Double Distinguished shooter. The army's top marksman won 32 awards, including gold medals in carbine and revolver competitions. He received the silver star retroactively for "conspicuous gallantry" during the Spanish-American War. "Buffalo Bill" Cody reportedly tried to recruit Bivins for his Wild West show because of his shooting skills. Bivins married in 1904 and lived in Billings, MT, until 1949. Thereafter he moved to Philadelphia where his World War II-veteran son lived. Captain Bivins died December 4 and is buried in Baltimore National Cemetery (Section C, Site 753-W).
Hattie Carroll was born in 1911, and while her death made the national news, details of her life as an African-American woman are less recognized. She married James F. Carroll (1912–1987) in the 1930s. In February 1963 Hattie Carroll died after William Zantzinger, a white farmer, hit her with a toy cane. The mother of 11 and church leader worked part time as barmaid, that night at the Emerson Hotel in Baltimore, MD. Zantzinger, a guest at the hotel ball, swore at her and struck her because he did not think she served him quickly enough. He was sentenced to six months in jail on August 28, the same day Civil Rights advocates marched on Washington, D.C., and Martin Luther King, Jr., gave his "I Have a Dream" speech. Carroll was immortalized by musician Bob Dylan in the folk ballad, "Lonesome Death of Hattie Carroll." Dylan's haunting song captured the racism that King sought to end. Carroll is buried with her World War II navy veteran husband in Baltimore National Cemetery (Section K, Site 40).
Robert Cole was born in Vermont in 1920. He joined the U.S. Army Air Corps and completed flight training in December 1944 during World War II. Flight Officer Cole served with the 99th Fighter Squadron until March 1946, and as the war ended he flew with other Tuskegee Airman in airshows throughout the United States. By the late 1940s Cole returned to Vermont where he worked as a shoemaker and flew planes from the Barre-Montpelier airport. The Tuskegee Airmen received the Congressional Gold Medal for their service in 2006. Cole's honor was posthumous. He died August 19, 1968, and is buried in Baltimore National Cemetery (Section H, Site 238).
Emily Noisette (1921–2011) was born in Maryland and lived in Baltimore with her grandmother as a young woman. She was one of 800 or so "women in technicolor" who overcame racial prejudice serving in the Women's Army Corps during World War II. Noisette enlisted in the U.S. Army in 1943 and joined the new "six triple eight" battalion, the only all-female, all-black unit to serve overseas. Abiding to the motto "no mail, low morale," the 6888th Central Postal Directory Battalion redirected a six-month backlog of mail to troops. The battalion arrived in Scotland in early 1945 and was stationed in Birmingham, England, then Rouen, France. Private First Class Noisette was discharged in December 1945. She married North Carolinian John Milton Cox, Jr., (1924–1957) who lived in Baltimore by 1940; he also served in the army during the war. Noisette Cox is buried alongside her husband in Baltimore National Cemetery (Section N, Site 238).
Deloris L. Ruddock was born September 26, 1923, in Washington, D.C. In 1943 she enlisted in the Women's Army Corps for World War II service. She was eventually assigned to the 6888th Central Postal Directory Battalion (Six Triple Eight), the only female African-American battalion to serve overseas in WWII. They fulfilled their mission to clear a large backlog of mail in the European Theater and raise troop morale. The unit received the Meritorious Unit Commendation in 2019. Ruddock was honorably discharged in 1946 and used her G.I. Bill benefits to attend fashion school in New York City. Unable to find work in that field, she had successful careers in banking and retail sales before retiring in the District of Columbia to be near family and volunteer in her community. Ruddock represented her unit in many ceremonies recognizing them throughout the 2010s. She died March 27, 2021, and was buried in Section E, Site 5333A.
We are developing educational content for this national cemetery, and will post new materials as they become available. Visit the Veterans Legacy Program and NCA History Program for additional information. Thank you for your interest.
return to top