Attention A T users. To access the menus on this page please perform the following steps. 1. Please switch auto forms mode to off. 2. Hit enter to expand a main menu option (Health, Benefits, etc). 3. To enter and activate the submenu links, hit the down arrow. You will now be able to tab or arrow up or down through the submenu options to access/activate the submenu links.

National Cemetery Administration
Fort Logan National Cemetery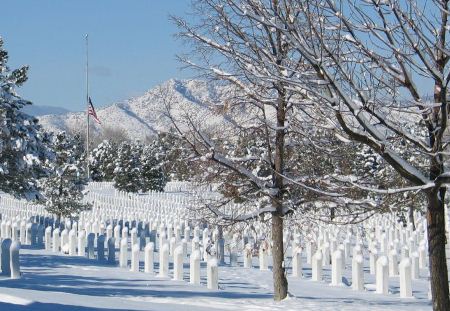 Office Hours: Monday thru Friday 8:00 a.m. to 4:30 p.m.
Closed federal holidays except Memorial Day.
Visitation Hours: Open daily from sunrise to sunset.
This cemetery has space available to accommodate casketed and cremated remains.
Burial in a national cemetery is open to all members of the armed forces who have met a minimum active duty service requirement and were discharged under conditions other than dishonorable. A Veteran's spouse, widow or widower, minor dependent children, and under certain conditions, unmarried adult children with disabilities may also be eligible for burial. Eligible spouses and children may be buried even if they predecease the Veteran. Members of the reserve components of the armed forces who die while on active duty or who die while on training duty, or were eligible for retired pay, may also be eligible for burial. For more information visit our eligibility web page.
The cemetery is located in the southwest section of Denver, Colo. From Denver International Airport, take Interstate 70 west to Interstate 225 south. Follow Interstate 225 south to Interstate 25 north. Follow Interstate 25 to first exit, Hampden Avenue (Highway 285). Turn left (west) heading toward the mountains to Sheridan Boulevard. Turn left (south) on Sheridan Boulevard. Cemetery is located two blocks south of Hampden Avenue on the left (east) side of Sheridan Boulevard.
Fax all discharge documentation to the National Cemetery Scheduling Office at 1-866-900-6417 and follow-up with a phone call to 1-800-535-1117.
For information on scheduled burials in our national cemeteries, please go to the Daily Burial Schedule.
Military Funeral Honors
In addition to active duty stations, which provide military funeral honors, there are local veteran's service organizations that also provide these services. Please contact Fort Logan National Cemetery for more information.
For educational materials and additional information on this cemetery, please visit the Education section, located below.
WE WELCOME YOU TO THESE HALLOWED GROUNDS
To preserve the dignity, serenity and beauty of Fort Logan National Cemetery, we ask you to observe our cemetery regulations. Thank you for your cooperation!
PROHIBITED ACTIVITIES:
1. Any form of sports or recreational activities, to include (but not limited to) jogging, bicycling, skating, picnicking or fishing
2. Public gatherings of a political nature
3. Littering of the grounds
4. Cutting, breaking or injuring trees, shrubs, grass, or other plantings
5. Boisterous activity
6. Pets on the property, with the exception of identified service dogs, which must be on a leash.
7. Entering the cemetery during the hours of darkness
FLORAL REGULATIONS:
1. Fresh cut flowers may be placed on graves at any time. Temporary flower containers are located in baskets distributed throughout the cemetery for your use.
2. Artificial flowers are permitted on graves during the periods of November 1st through March 31st. Potted plants are not allowed on the gravesites.
3. All items will be removed from the gravesites on the 2nd Thursday of each month. Floral items will be removed from graves when they become faded or unsightly
4. Permanent plantings are not permitted on graves at any time.
5. Christmas wreaths or floral grave blankets are permitted on graves during the Christmas season from December 1st through the second Thursday in January. Floral blankets may not be larger in size than 2 x 3 feet. Christmas trees and lights will be removed from the gravesites.
6. Please be aware that the National Cemetery is not responsible for maintaining, replacing or safeguarding floral items placed on grave sites.
7. Statues, vigil lights, balloons, toys, stuffed animals, pin wheel spinners, shepherd's hooks, breakable objects of any nature, disrespectful items, and commemorative items are not permitted on graves at any time. Unauthorized items found on graves will be removed and disposed of by cemetery personnel.
8. Floral items, wreaths or other types of decorations are not to be secured to headstones, markers or niche covers. Flowers may be placed directly on the ground or in a temporary flower container in front of the Columbarium. Floral supports that extend above the headstone are not permitted.
9. Permanent in-ground flower containers are not authorized for placement in sections established after 1973 (Sections T,T1,T2, U, V, W, X, and Sections 1 through 78).
10. All graves will be decorated with small U.S. flags on the Sunday preceding Memorial Day. Those flags will be removed the next Saturday after Memorial Day.
VA regulations 38 CFR 1.218 prohibit the carrying of firearms (either openly or concealed), explosives or other dangerous or deadly weapons while on VA property, except for official purposes, such as military funeral honors. Possession of firearms on any property under the charge and control of VA is prohibited. Offenders may be subject to a fine, removal from the premises, or arrest.
Fort Logan is located in Denver County near the southwest boundary of the City of Denver. By the 1880s, with the removal of much of the Native American population to reservations, the federal government had begun to close many frontier forts. The rapid growth of the railroad had made it easier for the Army to quickly move troops to where they were needed. The frontier posts that had played such an important role in the development of the West became increasingly obsolete and expensive to maintain. Still, the citizenry of Denver, in relative isolation and apprehensive concerning increased immigration from the East and abroad, petitioned the Army to establish a post near the city. In 1886, Colorado Sen. Henry M. Teller introduced a bill in Congress authorizing construction of the post, and it was signed in February 1887. A little over three acres was set aside in 1889 for a post cemetery. The first recorded burial in the post cemetery was Mable Peterkin, daughter of Private Peterkin, who died on June 28, 1889.
The first soldiers to arrive at the fort were members of the 18th Infantry from Fort Hays and Leavenworth, Kan., who immediately set up a temporary barracks and guardhouse while construction began on permanent facilities. The name of the fort, originally known as "the camp near the city of Denver," became Fort Logan in August 1889. General John A. Logan had risen to the rank of Union Army general and commander of volunteer forces during the Civil War. As head of the post-war veteran's organization the Grand Army of the Republic, he issued General Orders No. 11, establishing May 30 as "Decoration Day" to honor the Civil War dead. This later became a national holiday called Memorial Day.
Although 340 acres of land were added to the fort in 1908, by 1909 Fort Logan was reduced to a recruiting depot. This remained its sole function until 1922 when the 38th Infantry was garrisoned at what locals sometimes referred to as "Fort Forgotten." Despite a brief resurgence of activity in the 1930s and early 1940s, Fort Logan closed in May 1946. In 1960, much of the land was deeded to the State of Colorado to establish a state hospital that still operates as the Colorado Mental Health Institute at Fort Logan. On March 10, 1950, Congress authorized the use of military lands at Fort Logan as a national cemetery, but limited the size to no more than 160 acres. Since that time, the cemetery has expanded from the original 160 acres to 214 acres.
Monuments and Memorials
Fort Logan features a memorial pathway lined with a variety of memorials that honor America's veterans from various organizations. There are 17 memorials at Fort Logan National Cemetery—most commemorating soldiers of various 20th-century wars.
Medal of Honor Recipients
The Medal of Honor is the highest award for valor in action against an enemy force that can be bestowed upon an individual serving in the Armed Services of the United States. Recipients receive the Medal of Honor from the president on behalf of Congress. It was first awarded during the Civil War and eligibility criteria for the Medal of Honor have changed over time.
Recipients buried or memorialized here:
Major William E. Adams (Vietnam). He received the Medal of Honor posthumously for service in the U.S. Army, A/227th Assault Helicopter Company, 52nd Aviation Battalion, 1st Aviation Brigade, in recognition of his exceptional skill as a pilot and humanitarian regard for his fellow men. During an attempt to evacuate wounded soldiers, his aircraft was damaged by enemy fire and exploded over Kontum Province, Republic of Vietnam, May 25, 1971. Adams is buried in Section P, Site 3831.
First Sergeant Maximo Yabes (Vietnam). Maximo Yabes, native of California, enlisted in the U.S. Army ca.1953 and served with Company A, 4th Battalion, 9th Infantry Regiment, 25th Infantry Division, during the Vietnam War. On February 26, 1967, First Sergeant Yabes used his body to shield his fellow soldiers from a grenade blast. Although wounded he single-handedly enacted a defensive attack before dying of his wounds. Yabes received the Medal of Honor posthumously on October 31, 1968, and is buried in Section R, Site 369.
Other Burials
Seven Buffalo Soldiers are buried at Fort Logan National Cemetery.
William Bash was born in St. Louis in 1896. Private First Class Bash enlisted in the Army in April 1917 and served with the 10th Cavalry until March 1919. The 10th cavalry was one of the original all-black regiments formed in 1866 that became known as Buffalo Soldiers. In the 1910s, the 10th Cavalry patrolled the U.S.-Mexican border. Despite the military's expansion during World War I, the 10th cavalry remained in Arizona. Buffalo Soldiers were not called to fight in Europe as a regiment. Individuals from the 10th mobilized for war while others garrisoned at the border took part in the Battle of Ambos Nogales in August 1918. The 10th cavalry remained there until 1922. PFC Bash died October 27, 1951, and is buried in Fort Logan National Cemetery (Section H, Site 353).
Indianan Arthur McDonald was born in 1889. He enlisted in the Army in June 1919 and served as a mechanic in Company D, 25th Infantry until July 1920. McDonald's company was among those formed for black soldiers in 1866. These segregated regiments became known as Buffalo Soldiers. By World War I, the 19th-century Buffalo Soldier had come to represent all African-American soldiers. Race influenced where regiments were deployed. Some 25th Infantry troops spent the war months in Hawaii; others in Arizona fought in the Battle of Ambos Nogales, August 1918 during the border conflict with Mexico. After World War I, they remained on the U.S.-Mexican border and by January 1920 McDonald was stationed at Camp Little, AZ. He died October 11, 1951, and is buried in Fort Logan National Cemetery (Section H, Site 197).
John N. Norton was born in Maryland ca. 1856. He joined the U.S. Army in 1879 and served with the segregated 25th Infantry and became the regiment's Principal Musician. This was the highest rank permitted for African Americans at the time; only white soldiers were bandleaders. The Spanish-American War and Philippine Insurrection created opportunities overseas for temporary black bands and bandmasters in the army. Norton was among them. After the race riot in Brownsville, TX, in 1906, opening the rank of Chief Musician to black musicians became a public symbol of civil rights. The army awarded this rank to long-standing bandleaders and men who were planning to retire. Norton received his Chief Musician appointment in 1907, and he retired in January 1908. He died February 19, 1935, and is buried in Fort Logan National Cemetery (Section A, Site 46).
Karl Baatz, a German POW who passed away while being held at Fort Logan, was is interred in 1943 (Section POW, Site 14).
Fitzroy Newsum was born in New York in 1918 and spent his childhood in Trinidad where he was fascinated with flight. When Newsum returned to the United States he was denied entrance to the U.S. Army Air Corps because he was black. As a result, in February 1939, he enlisted in the New York National Guard and was commissioned as a second lieutenant. He chose to attend the Tuskegee pilot-training program rather than pursue officer candidacy. He graduated in 1943 and First Lieutenant Newsum flew with the 477th Bombardment Group. After 1947, with the Air Force, he rose to the rank of colonel and vice commander of the 381st Strategic Missile Wing. Newsum retired in 1970 and was inducted into the Colorado Aviation Hall of Fame in 1991. He died January 5, 2013, and is buried at Fort Logan National Cemetery (Section 35, Site 501).
Edward Denetdale Leuppe, a native of New Mexico, enlisted in the U.S. Marine Corps on March 26, 1943. Cpl. Leuppe was a Navajo Code Talker in the Pacific Theater during World War II and remained in service until January 22, 1946. In 2001, the Navajo Code Talkers were presented with the Congressional Silver Medal. Leuppe's honor was posthumous. He died August 24, 1994 (Section T2, Site 137).
John Werito, a native of New Mexico, enlisted in the U.S. Marine Corps on April 26, 1943. PFC Werito was a Navajo Code Talker in the Pacific Theater during World War II and served until November 28, 1945. He was wounded twice while on tour with the 4th Marine Division, once during the invasion of Iwo Jima. Werito reenlisted in 1947 and until March 1952. In 2001, the Navajo Code Talkers were presented with the Congressional Silver Medal. Werito's honor was posthumous. He died March 29, 1983 (Section S, Site 6665).
We are developing educational content for this national cemetery, and will post new materials as they become available. Visit the Veterans Legacy Program and NCA History Program for additional information. Thank you for your interest.
return to top