Attention A T users. To access the menus on this page please perform the following steps. 1. Please switch auto forms mode to off. 2. Hit enter to expand a main menu option (Health, Benefits, etc). 3. To enter and activate the submenu links, hit the down arrow. You will now be able to tab or arrow up or down through the submenu options to access/activate the submenu links.

National Cemetery Administration
National Memorial Cemetery of the Pacific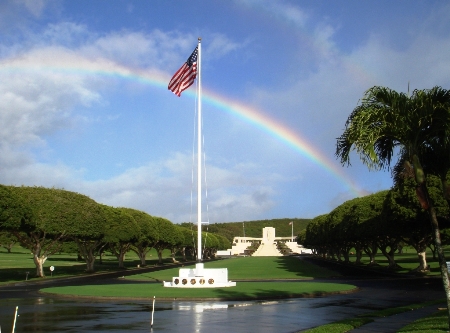 Important Information for Visitors
Office Hours: Monday thru Friday 8:00 a.m. to 4:30 p.m.
Closed federal holidays except Memorial Day.
Visitation Hours: The cemetery is open daily from 8:00 a.m. to 6:00 p.m.
The National Memorial Cemetery of the Pacific has space available for cremated remains in the columbarium. We may be able to accommodate casketed remains in the same gravesite of previously interred family members. Periodically, however, burial space may become available due to disinterment from an existing gravesite or for other reasons. If burial space is available at the time of request, the cemetery will assign a gravesite to an eligible Veteran or family member. Since there is no way to know in advance when a gravesite may become available, please contact the cemetery at the time of need to inquire whether space is available.
Burial in a national cemetery is open to all members of the armed forces who have met a minimum active duty service requirement and were discharged under conditions other than dishonorable. A Veteran's spouse, widow or widower, minor dependent children, and under certain conditions, unmarried adult children with disabilities may also be eligible for burial. Eligible spouses and children may be buried even if they predecease the Veteran. Members of the reserve components of the armed forces who die while on active duty or who die while on training duty, or were eligible for retired pay, may also be eligible for burial. For more information visit our eligibility web page.
The cemetery is located in central Honolulu, approximately midway between the Honolulu International Airport and the Waikiki hotel area. Take the Interstate H-1 East ramp to Honolulu/Waikiki and stay on H-1 East for approximately 4 miles. Get off at exit 21A (Pali Highway). Stay in the middle lane and take a left at the stoplight. Take the first right onto School Street and follow it to a four-way intersection with a stoplight. Turn left onto Lusitana Street, then within .1 miles, take the second road on the right – this is Puowaina Drive. Follow Puowaina Drive for .7 miles, then a slight right to keep you on Puowaina Drive to the cemetery gate.
Fax all discharge documentation to the National Cemetery Scheduling Office at 1-866-900-6417 and follow-up with a phone call to 1-800-535-1117.
For information on scheduled burials in our national cemeteries, please go to the Daily Burial Schedule.
Fresh cut flowers, floral wreaths and sprays in metal (not glass) containers may be placed at any time on graves; in designated areas; or in approved, mounted flower vases in the old columbarium. They will be removed as soon as they become faded or unsightly.
Permanent plantings and commemorative items may not be placed on gravesites. Permanent plantings, statues, vigil lights, glass objects of any kind, pin wheels, balloons, wind chimes, stuffed toys and similar items are not permitted.
Potted plants and artificial flowers will be permitted on gravesites only during the period five days before and five days after the following holidays: Easter Sunday, Christmas Day and "Hana Matsuri" (April 8). They will also be permitted from July 12 to August 15 in observance of "O-Bon." Christmas trees, no matter what size, are not considered potted plants and are not permitted.
Floral items and/or other types of decorations are not allowed to be attached to gravemarkers, niche covers or columbarium walls.
The religious convention of placing fruits and non-alcoholic beverages on graves is allowed. Due to limited space in the columbarium, we request that the placement of these items be minimized in that area.
Permanent flower vases are not allowed in the columbarium area.
A permanent in-ground flower vase must consist of an outer sheath set into the ground and a separate vase that fits into the sheath. It must have a positive locking device to prevent the vase from rising when the sheath is filled with water. Flower-vase owners are advised that cleaning debris from the sheath allows the vase to sit properly in it and prevents vase damage. Families must purchase their own permanent in-ground flower vases from an outside vendor; cemetery staff will install private vases at no cost to the family. Families are solely responsible for the safeguarding, maintenance and repair of their vase. If a family's vase must be replaced, the purchase of a replacement is the family's responsibility; cemetery staff will remove the old vase and install the new one at no cost.
The maintenance of gravesites by visitors (e.g., cutting grass; trenching around graves/markers; painting markers) is not allowed.
VA regulations 38 CFR 1.218 prohibit the carrying of firearms (either openly or concealed), explosives or other dangerous or deadly weapons while on VA property, except for official purposes, such as military funeral honors. Possession of firearms on any property under the charge and control of VA is prohibited. Offenders may be subject to a fine, removal from the premises, or arrest.
Few national cemeteries can compete with the dramatic natural setting of the National Memorial Cemetery of the Pacific. The "Punchbowl" was formed some 75,000 to 100,000 years ago during the Honolulu period of secondary volcanic activity. A crater resulted from the ejection of hot lava through cracks in the old coral reefs which, at the time, extended to the foot of the Koolau Mountain Range.
Although there are various translations of the Punchbowl's Hawaiian name, "Puowaina," the most common is "Hill of Sacrifice." This translation closely relates to the history of the crater. The first known use was as an altar where Hawaiians offered human sacrifices to pagan gods and the killed violators of the many taboos. Later, during the reign of Kamehameha the Great, a battery of two cannons was mounted at the rim of the crater to salute distinguished arrivals and signify important occasions. Early in the 1880s, leasehold land on the slopes of the Punchbowl opened for settlement and in the 1930s, the crater was used as a rifle range for the Hawaii National Guard. Toward the end of World War II, tunnels were dug through the rim of the crater for the placement of shore batteries to guard Honolulu Harbor and the south edge of Pearl Harbor.
During the late 1890s, a committee recommended that the Punchbowl become the site for a new cemetery to accommodate the growing population of Honolulu. The idea was rejected for fear of polluting the water supply and the emotional aversion to creating a city of the dead above a city of the living.
Fifty years later, Congress authorized a small appropriation to establish a national cemetery in Honolulu with two provisions: that the location be acceptable to the War Department, and that the site would be donated rather than purchased. In 1943, the governor of Hawaii offered the Punchbowl for this purpose. The $50,000 appropriation proved insufficient, however, and the project was deferred until after World War II. By 1947, Congress and veteran organizations placed a great deal of pressure on the military to find a permanent burial site in Hawaii for the remains of thousands of World War II servicemen on the island of Guam awaiting permanent burial. Subsequently, the Army again began planning the Punchbowl cemetery; in February 1948 Congress approved funding and construction began.
Prior to the opening of the cemetery for the recently deceased, the remains of soldiers from locations around the Pacific Theater—including Wake Island and Japanese POW camps—were transported to Hawaii for final interment. The first interment was made Jan. 4, 1949. The cemetery opened to the public on July 19, 1949, with services for five war dead: an unknown serviceman, two Marines, an Army lieutenant and one civilian—noted war correspondent Ernie Pyle. Initially, the graves at National Memorial Cemetery of the Pacific were marked with white wooden crosses and Stars of David—like the American cemeteries abroad—in preparation for the dedication ceremony on the fourth anniversary of V-J Day. Eventually, over 13,000 soldiers and sailors who died during World War II would be laid to rest in the Punchbowl.
Despite the Army's extensive efforts to inform the public that the star- and cross-shaped grave markers were only temporary, an outcry arose in 1951 when permanent flat granite markers replaced them. A letter from the Quartermaster General to Senator Paul Douglas in December 1952, explained that while individual markers are inscribed according to the appropriate religious faith:
Crosses do not mark the graves of the dead of our country in other national cemeteries. No cross marks the burial of our revered Unknown Soldier. From Arlington to Golden Gate, from Puerto Rico to Hawaii, the Government's markers in national cemeteries for all our hero—dead are of the traditional designs…[s]ome are upright and some are flat. None is in the form of a religious emblem.
The National Memorial Cemetery of the Pacific was the first such cemetery to install Bicentennial Medal of Honor headstones, the medal insignia being defined in gold leaf. On May 11, 1976, a total of 23 of these were placed on the graves of medal recipients, all but one of whom were killed in action. The Punchbowl has become one of the area's most popular tourist destinations. More than five million visitors come to the cemetery each year to pay their respects to the dead and to enjoy the panoramic view from the Punchbowl. One of the most breathtaking views of the Island of Oahu can be found while standing at the highest point on the crater's rim.
In August 2001, about 70 generic unknown markers for the graves of men known to have died during the attack on Pearl Harbor were replaced with markers that included "USS Arizona" after it was determined they perished on this vessel. In addition, new information that identified grave locations of 175 men whose graves were previously marked as unknown resulted in the installation of new markers in October 2002. The National Memorial Cemetery of the Pacific was placed on the National Register of Historic Places in 1976.
Monuments and Memorials
The National Memorial Cemetery of the Pacific contains a memorial pathway that is lined with a variety of memorials that have been donated by various organizations and foreign governments to honor America's veterans. As of 2012, there were 74 such memorials throughout the National Memorial Cemetery of the Pacific—most commemorating service members of 20th-century wars, including those killed at Pearl Harbor.
Medal of Honor Recipients
First Lieutenant Willibald C. Bianchi, (World War II), U.S. Army. Bagac, Province of Bataan, Philippine Islands, Feb. 3, 1942 (memorialized in Section MA, Site 39).
Private Erwin Jay Boydston, (Boxer Rebellion), U.S. Marine Corps. Peking, China, July 21 – Aug. 17, 1900 (Section G, Grave 703).
Private First Class William Robert Caddy, (World War II), U.S. Marine Corps Reserve, Company I, 3rd Battalion, 26th Marines, 5th Marine Division. Iwo Jima, March 3, 1945 (Section C, Grave 81).
First Lieutenant George Ham Cannon, (World War II) U.S. Marine Corps, Battery H, 6th Defense Battalion, Fleet Marine Force. Sand Island, Midway Islands, Dec. 7, 1941 (Section C, Grave 1644).
Corporal Anthony Peter Damato, (World War II), U.S. Marine Corps. Engebi Island, Eniwetok Atoll, Marshal Islands, Feb. 19, 1944 (Section A, Grave 334).
Sergeant William G. Fournier, (World War II), U.S. Army, Company M, 35th Infantry, 25th Infantry Division. Mount Austen, Guadalcanal, Solomon Islands, Jan. 13, 1943 (Section C, Grave 462).
Private Barney F. Hajiro, (World War II), U.S. Army, Company I, 442nd Infantry Regiment, 34th Infantry Division. Bruyeres and Biffontaine, Eastern France, 19 and 22 and 29 October 1944 (Section G, Grave 75).
Pharmacist's Mate Second Class William David Halyburton, Jr., (World War II), U.S. Naval Reserve, Marine Rifle Company, 2nd Battalion, 5th Marines, 1st Marine Division. Okinawa, Ryukyu Islands, May 10, 1945 (Section O, Grave 274).
Private Mikio Hasemoto, (World War II), U.S. Army, Company B, 100th Infantry Battalion, 34th Infantry Division. Cerasuolo, Italy, Nov. 29, 1943 (Section D, Grave 338).
First Lieutenant William Dean Hawkins, (World War II), U.S. Marine Corps, Scout Sniper Platoon, Assault Regiment. Tarawa, Gilbert Island, Nov. 21, 1943 (Section B, Grave 646).
Private Shizuya Hayashi, (World War II), U.S. Army, Company A, 100th Infantry Battalion, 34th Infantry Division. Cerasuolo, Italy, Nov. 29, 1943 (Section V, Grave 464).
Edwin Joseph Hill was born 1895 in Philadelphia, and he enlisted in the U.S. Navy in 1912. Chief Boatswain Hill was serving on the USS Nevada at Pearl Harbor, Hawaii, on December 7, 1941. The Nevada was the only battleship to escape the harbor that day, and Hill led the effort to release the ship from her moorings. He dove off the ship to cast off the lines and swam back to assume his duties on board, but he was killed when a bomb struck the bow. Hill received the Medal of Honor posthumously for his actions during the attack (Section A, Grave 895).
Second Lieutenant Daniel K. Inouye, (World War II), U.S. Army, Company E, 442nd Infantry Regiment, San Terenzo, Italy, April 21, 1945 (Section D, Grave 391-A).
Technical Sergeant Yeiki Kobashigawa, (World War II), U.S. Army, Company B, 100th Infantry Battalion, 34th Infantry Division. Lanuvio, Italy, June 22, 1944 (Court 8, Wall E, Row 500, Niche 536).

Staff Sergeant Robert T. Kuroda, (World War II), U.S. Army, Company H, 442nd Infantry Regiment, 34th Infantry Division. Bruyeres, France, Oct. 20, 1944 (Section D, Grave 92).
Corporal Larry Leonard Maxam, (Vietnam War), U.S. Marine Corps, Fire Team Leader, Company D, 1st Battalion, 4th Marines, 3rd Marine Division. Cam Lo District, Republic of South Vietnam, Feb. 2, 1968 (Section J, Grave 388).
Private First Class Martin O. May, (World War II), U.S. Army. Iegusuku-Yama, Ie Shima, Ryukyu Islands, April 23, 1945 (Section N, Grave 1242).
Gunnery Sergeant Robert Howard McCard, (World War II), U.S. Marine Corps, Platoon Sergeant, Company A, 4th Tank Battalion, 4th Marine Division. Saipan, Marianas Islands, June 16, 1944 (Section B, Grave 1024).
Sergeant LeRoy A. Mendonca, (Korean War), U.S. Army, Company B., 7th Infantry, 3d Division. Chichi-on, July 4, 1951 (Section Q, Grave 1408).
Kaoru Moto was born April 25, 1917, in the sugar plantation town of Sprecklesville, Hawaii. A second-generation Japanese American, or Nisei, he was a field laborer after completing grade school. Private First Class Moto enlisted in the Army in March 1941 and served in the 100th Infantry, one of four segregated units. After World War II, Moto oversaw Maui Veterans Cemetery. In the 1990s, Congress authorized a re-examination of commendations received by minority servicemen and twenty-one Asian Americans who received the Distinguished Service Cross were belatedly awarded the Medal of Honor in 2000. Moto was among them, but he died August 26, 1992, and was recognized posthumously for his actions on July 7, 1944, near Castellina, Italy. He is buried in National Memorial Cemetery of the Pacific (Court 2, Wall F, Row 400, Niche 422).
Sergeant Joseph E. Muller, (World War II), U.S. Army, Company B, 305th Infantry, 77th Infantry Division. May 16, 1945 (Section N, Grave 1259).
Private Masato Nakae, (World War II), U.S. Army, Company A, 100th Infantry Battalion, 34th Infantry Division. Pisa, Italy, Aug. 19, 1944 (Section U, Grave 1446).
Private Shinyei Nakamine, (World War II), U.S. Army, Company B, 100th Infantry Battalion, 34th Infantry Division. La Torreto, Italy, June 2, 1944 (Section D, Grave 402).
Sergeant Allan M. Ohata, (World War II), U.S. Army, Company B, 100th Infantry Battalion, 34th Infantry Division. Cerasuolo, Italy, Nov. 29 and 30, 1943 (Section III, Grave 474).
Private Joseph William Ozbourn, (World War II), U.S. Marine Corps, 1st Battalion 23rd Marines, 4th Marine Division. Tinian Island, Marianas Islands, July 30, 1944 (Section F, Grave 77).
Private First Class Herbert K. Pililaau, (Korean War), U.S. Army, Company C, 23rd Infantry Regiment, 2nd Infantry Division. Pia-Ri, Sept. 17, 1951 (Section P, Grave 127).
Radio Electrician Thomas James Reeves, (World War II), U.S. Navy. On board U.S.S. California, Pearl Harbor, Hawaii, Dec. 7, 1941 (Section A, Grave 884).
Second Lieutenant Joseph R. Sarnoski, (World War II), US Army Air Corps. Buka, Solomon Islands, June 16, 1943 (Section A, Grave 582).
Elmelindo Rodrigues Smith, native of Hawaii, enlisted in the U.S. Army in 1953. Smith served with the 1st Platoon, Company C, 2nd Battalion, 8th Infantry, 4th Infantry Division, during the Vietnam War. On February 16, 1967, PSG Smith and comrades were attacked but he directed a counter strike until dying of his wounds. Smith received the Medal of Honor on October 3, 1968 (Section W, Grave 131).
Sergeant Grant Frederick Timmerman, (World War II), U.S. Marine Corps Tank Commander, 2nd Battalion, 6th Marine, 2nd Marine Division. Saipan, Marianas Islands, July 8, 1944 (Section A, Grave 844).
Captain Francis B. Wai, (World War II), U.S. Army, 34th Infantry Regiment. Leyte, Philippines Islands, Oct. 20, 1944 (Section Q, Grave 1194).
First Lieutenant Benjamin F. Wilson, (Korean War), U.S. Army, Company I, 31st Infantry Regiment, 7th Infantry Division. Hwach`on-Myon, Korea, June 5, 1951 (Section A, Grave 1060-A).
Sergeant First Class Rodney J. T. Yano, (Vietnam War), U.S. Army, Air Cavalry Troop, 11th Armored Cavalry Regiment. Bien Hoa, Vietnam, Jan. 1, 1969 (Section W, Grave 614).
Others
John A. Burns, U.S. Army, Section N, Grave 828-A, former Governor of the State of Hawaii, interred on April 9, 1975.
Paul Kinlahcheeny, native of New Mexico, was a member of the 5th Division, U.S. Marine Corps. PFC Kinlahcheeny was a Navajo Code Talker in the Pacific Theater during World War II. In 2001, the Navajo Code Talkers were presented with the Congressional Silver Medal. Kinlahcheeny's honor was posthumous. He was killed on Iwo Jima February 19, 1945 (Section E, Grave 311).
Spark Masayuki Matsunaga, Lieutenant Colonel, U.S. Army, Section V, Grave 334-B, former U.S. Senator, interred on April 19, 1990.
Patsy Takemato Mink was born in 1927 in Hawaii to Japanese immigrants. Despite the growing racial prejudice after the Japanese bombed Pearl Harbor and drew the United States into World War II, Mink persevered. She was the first female president of her high school and its valedictorian in 1944. In graduate school, she met and married fellow student John Mink, who served during World War II. Discrimination led her to politics as a champion of social justice, civil rights, education and welfare. Her efforts were integral to the passage of Title IX, the educational amendment stipulating for equal funding for men's and women's athletics and academics. In 1965 Hawaiians elected Mink as the first woman of color to serve in Congress. She served in the House of Representatives in two eras: 1965-1977 and 1990-2002. She died in 2002 and was reelected posthumously. Mink was buried in National Memorial Cemetery of the Pacific with her husband (Section U, Grave 1001-B).
Born in 1901, Clara (Haili) Nelson taught elementary school before embarking on a show-business career as "Hilo Hattie." The singer-actress was known for her hula routine, a comedic turn that entertained her students with before she ascended the stage. Hilo Hattie performed full-time beginning in 1940, on the radio broadcast Hawaii Calls and made the movie, Song of the Islands. During World War II she lived in San Francisco and performed regularly at the St. Francis Hotel. After the war, Los Angeles and Las Vegas venues lured her to the mainland where she married World War II veteran and violinist Carlyle Nelson. Hilo Hattie returned to Hawaii in 1960 and performed through the 1970s. Career highlights include the film Blue Hawaii starring Elvis Presley and the television show Hawaii Five-O. She died December 12, 1979 (Section U, Grave 653-A).
Born in Hawaii, Ellison Shoji Onizuka was a distinguished military graduate of the University of Colorado who received a U.S. Air Force commission. Lt. Col. Onizuka entered active duty in January 1970 as an aerospace engineer at the Sacramento Air Logistics Center. In 1975, Col. Onizuka became a squadron flight test officer and led the engineering support section at Edwards Air Force Base. This work led him to become, in 1978, a NASA Mission Specialist. Col. Onizuka was part of the support team for the first two shuttle missions and joined the Discovery crew in flight in 1985. He was one of seven crew members aboard space shuttle Challenger when it exploded on lift off January 28, 1986. Col. Onizuka posthumously received the Congressional Space Medal of Honor in 2004, bestowed on individuals who perish during flight. (Section D, Grave 1).
Ernest Taylor Pyle, Seaman Third Class, U.S. Navy, Section D, Grave 109, interred on July 19, 1949. Pyle, a World War II correspondent, was killed by a Japanese sniper on Ie Shima, an island off the northern coast of Okinawa on April 18, 1945. He was awarded the Purple Heart by former President Ronald Reagan.
Charles Lacy Veach was born in Chicago but considered Hawaii home. He studied engineering management and received a commission from the U.S. Air Force Academy in 1966. Col. Veach served as a fighter pilot in the United States, Europe, and Asia, including combat missions in the Republic of Vietnam. He left active duty in 1981 but continued to fly F-16s for the Texas Air National Guard. In 1982, NASA invited Veach to Houston's Johnson Space Center to work as an engineer and research pilot. He served as a mission specialist on two space shuttle missions, 1991-92. He died October 3, 1995 (Section CT3-J, Row 200, Grave 233).
We are developing educational content for this national cemetery, and will post new materials as they become available. Visit the Veterans Legacy Program and NCA History Program for additional information. Thank you for your interest.
return to top