Attention A T users. To access the menus on this page please perform the following steps. 1. Please switch auto forms mode to off. 2. Hit enter to expand a main menu option (Health, Benefits, etc). 3. To enter and activate the submenu links, hit the down arrow. You will now be able to tab or arrow up or down through the submenu options to access/activate the submenu links.

National Cemetery Administration
Togus National Cemetery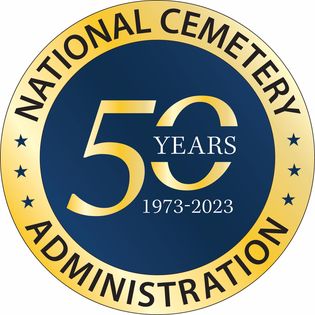 NCA marks 50 years (1973-2023) of serving America's Veterans, Service Members, and Families.

Learn more and watch NCA's 50th Anniversary Ceremony.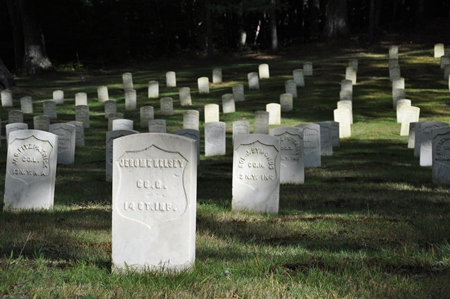 Visitation Hours: Open daily from dawn to dusk.
Office Hours: Please contact the Massachusetts National Cemetery at the number listed Monday thru Friday 8:00 a.m. to 4:30 p.m. for information.
Togus National Cemetery is closed to new interments. The only interments that are being accepted are subsequent interments for veterans or eligible family members in an existing gravesite. Periodically however, burial space may become available due to a canceled reservation or when a disinterment has been completed. When either of these two scenarios occurs, the gravesite is made available to another eligible veteran on a first-come, first-served basis. Since there is no way to know in advance when a gravesite may become available, please contact the cemetery at the time of need to inquire whether space is available.
Burial in a national cemetery is open to all members of the armed forces who have met a minimum active duty service requirement and were discharged under conditions other than dishonorable.
A Veteran's spouse, widow or widower, minor dependent children, and under certain conditions, unmarried adult children with disabilities may also be eligible for burial. Eligible spouses and children may be buried even if they predecease the Veteran.
Members of the reserve components of the armed forces who die while on active duty or who die while on training duty, or were eligible for retired pay, may also be eligible for burial.
From Portland Municipal Airport, travel on Interstate 95 North to Exit 14 (Gardiner) or Exit 15 (Augusta). The VA Medical Center is six miles equal distance from Gardiner or Augusta. From Gardiner, travel on Maine Route 226. From Augusta travel on Maine Route 17 to the cemetery.
Fax all discharge documentation to the National Cemetery Scheduling Office at 1-866-900-6417 and follow-up with a phone call to 1-800-535-1117.
For information on scheduled burials in our national cemeteries, please go to the Daily Burial Schedule.
Under Development.
For educational materials and additional information on this cemetery, please visit the Education section, located below.
Cemetery policies are conspicuously posted and readily visible to the public.
Floral arrangements accompanying the casket or urn at the time of burial will be placed on the completed grave. Natural cut flowers may be placed on graves at any time of the year. They will be removed when they become unsightly or when it becomes necessary to facilitate cemetery operations such as mowing. Water is available at outside faucets from April 15 to October 10.
The cemetery will provide temporary floral containers to the public for displaying floral arrangements. Containers such as pots, baskets, etc. are not authorized. Privately owned, permanent in-ground flower containers are not allowed.
Artificial flowers will be permitted on graves from October 10 through April 15 and may be removed when their presence interferes with grounds maintenance.
Potted plants will be allowed on graves for a period extending 10 days before through 10 days after Easter Sunday.
Christmas wreaths, grave pillows (3x2) and other seasonal adornments may be placed on graves from December 1 through January 20. They may not be secured to headstones or markers.
Flags and flag holders are not permitted on graves at any time. The Avenue of Flags, which consists of donated casket flags, is displayed on Memorial Day, Veterans Day, and other special occasions in lieu of individual grave flags.
Permanent plantings, statues, vigil lights, wind chimes, breakable objects and similar items are not permitted on cemetery grounds. The Department of Veterans Affairs does not permit adornments that are considered offensive, inconsistent with the dignity of the cemetery or considered hazardous to cemetery personnel. For example, items incorporating beads or wires may become entangled in mowers or other equipment and cause injury.
Unauthorized items removed from graves and surrounding areas will be disposed of in a proper manner.
VA regulations 38 CFR 1.218 prohibit the carrying of firearms (either openly or concealed), explosives or other dangerous or deadly weapons while on VA property, except for official purposes, such as military funeral honors.
Possession of firearms on any property under the charge and control of VA is prohibited. Offenders may be subject to a fine, removal from the premises, or arrest.
Togus National Cemetery is located in Kennebec County, in the town of Chelsea, ME, on the grounds of the Department of Veterans Affairs Medical and Regional Office Center.
The name Togus comes from the Native American name Worromontogus, which means "mineral water." The Togus property was originally a summer resort called Togus Springs. It was owned and operated by Horace Beals, a wealthy granite merchant from Rockland, ME, who hoped to establish a racing and resort community like Saratoga Springs, NY. He invested over $250,000 in a hotel, stables, bowling alley, farmhouse, bathhouse, driveways and racetrack. The untimely resort opened in 1859 but failed to generate business due to the Civil War. The resort, known locally as "Beals' Folly," closed in 1863. Beals died shortly after his business failed and the government obtained the property for $50,000. The spot was selected because of its isolation from large cities, well-known spring and bargain price tag.
In 1865, as the Civil War was drawing to a close, President Abraham Lincoln signed an act establishing the National Asylum (later changed to Home) for Disabled Volunteer Soldiers. The Eastern Branch at Togus was the first of these facilities to open, in November 1866.
The first veteran was admitted to Togus on November 10, 1866. The home's population remained below 400 until a building program began in 1868, which eventually provided accommodation for nearly 3,000 veterans. The facilities were organized much like a military camp with men living in barracks and wearing modified Army uniforms. Although a 100-bed hospital was completed in 1870, medical care at the home was limited, even by the standards of the day.
Togus was a relatively isolated location until 1890, when a narrow-gauge railroad from the Kennebec River in Randolph and an electric trolley line from Augusta were completed. These transportation improvements led to the home becoming a popular excursion destination for Sunday picnics. The grounds featured a zoo, hotel and theater that brought shows directly from Broadway. Band concerts were also held there regularly. The facility became part of the Veterans Administration (VA) in July 1930 when all agencies administering benefits to veterans were consolidated.
Togus National Cemetery is divided into a West Cemetery and an East Cemetery, with a total of 31 acres. The older West Cemetery was established in 1865 and moved to its present location west of the home around 1867; it closed for interments in 1936. To continue providing burial space, the East Cemetery was established in 1936 and closed for interments in 1961.
Monuments and Memorials

Eastern Branch - National Home for Disabled Volunteer Soldiers' Soldiers & Sailors Monument, 1889
The Soldiers and Sailors Monument was erected in 1889 at what was the north end of the cemetery (now West Cemetery) at Togus VAMC, historically the Eastern Branch - National Home for Disabled Volunteer Soldiers (NHDVS). All cemeteries affiliated with the eleven oldest NHDVS branches, designated national cemeteries in 1973, feature a prominent monument, typically an obelisk. Governor Luther Stephenson purportedly lamented that other Homes already had a monument, leading to this one being built at Togus by residents. No record has been found to indicate who among the 2,000 or so residents at time worked on the structure.
The 1890 National Home annual report described the monument as "very handsome in its rough simplicity, and is a source of pride to the men." The design was reputedly drawn by William Spaulding, a home resident and former marble worker from Philadelphia, PA; stonework may have been completed under the supervision of Jeremiah O'Brien, also a home member and formerly a noted stonecutter of Quincy, MA.
The three-tiered obelisk is approximately 26 feet tall and 11 feet square at the base, built of ashlar granite blocks about 1 foot high by 2 feet wide each. Four polished granite plaques are centered on each side of the upper base. The west face is inscribed: "In memory of the soldiers and sailors who fought for the Union." In 1922, National Home officials approved the replacement of the plaque on the east face "with a slab bearing an inscription showing dates of all wars in which those who served are entitled to membership in the National Home": "WAR WITH GREAT BRITAIN 1812–1815 / WAR WITH MEXICO 1846–1849 / WAR OF THE REBELLION 1861–1865 / WAR WITH SPAIN 1898–1899 / PHILLIPINE INSURRECTION 1898–1902 / WORLD WAR 1917–1918."
More than 120 years after its dedication, NCA conservators determined that the monument's inner core was so deteriorated that it had to be rebuilt. In June 2010, as masons began to dismantle the monument, they discovered a time capsule—a copper box which contained newspapers, NHDVS annual reports and photographs. With the box was a green glass bottle and the bowl of a smoking-pipe. The rebuilt monument features a new foundation and core. NCA rededicated the Soldiers and Sailors Monument on September 15, 2010, in a ceremony that included the placement of a new time capsule under the capstone.
1916 Soldiers & Sailors Monument
The Soldiers & Sailors Monument erected in the Togus West Cemetery in June 1916 honors the "memory of the soldiers and sailors of the Spanish-American War and service other than the Mexican and Civil Wars." Funds to construct it, $250, came from the Eastern Branch - National Home for Disabled Volunteer Soldiers' general post.
Made of reinforced concrete with a white protective coating, the overall monument is 10 feet high and nearly 7 feet square at the base. The form is reminiscent of an altar: the tall base has corner posts that support a roof, which covers two angled marble plaques. The main plaque reads: "In Memory of the / Soldiers and Sailors / who served their country / in the War with Spain 1898 / Philippine Insurrection 1899–1902 / China Relief Expedition 1900 / Indian Campaigns."
Celtic Cross, ca. 1930
The Celtic Cross Monument is located in the Togus East Cemetery. Little is known about this structure—the designer, builder, and donor have not been identified—but it is believed to have been erected about 1930. Carved from a single piece of Hallowell granite, the large cross stands more than 13 feet tall and is tapered from base to top. It is mounted on a stepped granite base inscribed with "LET THEM REST IN PEACE."
Medal of Honor Recipients
The Medal of Honor is the highest award for valor in action against an enemy force that can be bestowed upon an individual serving in the Armed Services of the United States. Recipients receive the Medal of Honor from the president on behalf of Congress. It was first awarded during the Civil War and eligibility criteria for the Medal of Honor have changed over time.
Recipients buried or memorialized here:
Landsman John Preston (Civil War). He received the Medal of Honor while serving in the U.S. Army on board the USS Oneida during the Battle of Mobile Bay, Alabama, August 5, 1864. Preston died in 1885 and is buried in Section H, Site 456.
Private David John Scannell (Boxer Rebellion). He received the Medal of Honor as a U.S. Marine during the Boxer Rebellion. His citation reads: "In the presence of the enemy during the action at Peking, China, 21 July to 17 August 1900. Throughout this period, Scannell distinguished himself by meritorious conduct." Scannell died as a resident of the Soldiers Home on May 7, 1923, and is buried in Section C, Site 3955.
return to top