Attention A T users. To access the menus on this page please perform the following steps. 1. Please switch auto forms mode to off. 2. Hit enter to expand a main menu option (Health, Benefits, etc). 3. To enter and activate the submenu links, hit the down arrow. You will now be able to tab or arrow up or down through the submenu options to access/activate the submenu links.

National Cemetery Administration
Fort Sam Houston National Cemetery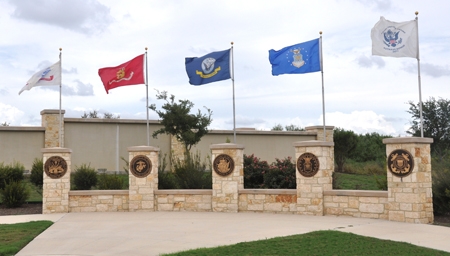 HOURS
Office Hours: Monday thru Friday 8:00 a.m. to 4:30 p.m.
Closed federal holidays except Memorial Day and Veterans Day.
Visitation Hours: Open daily from sunrise to sunset.
BURIAL SPACE
This cemetery has space available to accommodate casketed and cremated remains.
ELIGIBILITY
Burial in a national cemetery is open to all members of the armed forces who have met a minimum active duty service requirement and were discharged under conditions other than dishonorable. A Veteran's spouse, widow or widower, minor dependent children, and under certain conditions, unmarried adult children with disabilities may also be eligible for burial. Eligible spouses and children may be buried even if they predecease the Veteran. Members of the reserve components of the armed forces who die while on active duty or who die while on training duty, or were eligible for retired pay, may also be eligible for burial. For more information visit our eligibility web page.
DIRECTIONS FROM NEAREST AIRPORT
Cemetery is located in the northeast section of San Antonio. From International Airport, take NE Loop 410. Travel East to Harry Wurzbach Road and then south approximately four miles to the cemetery on your left.
SCHEDULE A BURIAL
Fax all discharge documentation to the National Cemetery Scheduling Office at 1-866-900-6417 and follow-up with a phone call to 1-800-535-1117.
GENERAL INFORMATION
Military Funeral Honors
The Fort Sam Houston National Cemetery Memorial Service Detachment (MSD) is available Monday through Friday to provide military funeral honors for veterans. MSD teams are volunteers. They complement the services provided by the Department of Defense. They ensure that all veterans are provided the rifle salute and taps. All military funeral honors performed by the MSD are provided at no cost to the family. Contact the cemetery office for scheduling information for the MSD.
FLORAL/GROUNDS POLICY
Fresh cut flowers are permitted on graves year round. Flowers may be removed to facilitate cemetery operations such as lawn mowing and grounds maintenance.
Flower pick-up dates are posted on "Next Flower Pick-Up" signs posted at cemetery entrances. During flower pick-up dates, all items will be removed from graves and will not be retained. Persons who placed items on graves may recover those items from their loved one's gravesites prior to the scheduled pick-up dates.
2016
January 20-22
February - no pickup
March 1-3
April 5-7
May 10-12
June 7-9
July 5-7
August 2-4
September 6-8
October 4-6
November 1-3
December 6-8
Artificial flowers may be placed on graves throughout the year but may be removed as soon as they become faded and unsightly.
To preserve the dignity of the cemetery, items placed on graves must be floral in nature. Commemorative items, balloons, pinwheels, glass items, votive or vigil lights, candles, statues, shepherd's hook and stuffed animals are not permitted. Items not permitted on gravesite will be removed from graves to be held in a centralized area on cemetery grounds and will be held for one month prior to disposal. The cemetery staff will assist families in retrieval of the tributes when requested.
Flowers delivered by a florist must have all wrapping paper removed and no other packing materials may be left at the gravesite.
The Cemetery Director reserves the right to remove and destroy without notice, anything left on graves that violates the intent of these regulations, offends the sensibilities of the public, or the dignity of this cemetery, is an eyesore, or threat to the safety of the public or cemetery personnel.
Plantings or potted plants will not be permitted on graves at any time.
Christmas wreaths or grave blankets are permitted on graves during the Christmas season from December 1 until January 20 of each year. Grave floral blankets may not be larger than 2 feet by 3 feet. Cemetery trees, shrubs and/or any other plants may not be decorated with any ornaments of any kind at any time.
Floral items and other types of decorations or objects may not be attached to headstones, markers or niches at any time.
Plastic or metal vases are only permitted on graves. Cemetery supplied vases are Federal property and are not allowed to be removed from the cemetery. Plastic vases are located in receptacles throughout the cemetery and should be returned to the receptacles when no longer needed.
Glass or easily breakable objects of any kind are not permitted in the cemetery and will be immediately removed.
Headstones are Federal property. Altering or marking by paint, marker, lipstick or any other means is considered vandalism and may be subject to penalty as defined in Title 38 U.S. Code of Federal Regulations, Sec. 1.218 Security and law enforcement at VA facilities.
Fort Sam Houston National Cemetery assumes no responsibility for items left on gravesites. Due to the open nature of the grounds, we cannot guarantee against theft, vandalism or the effects of nature. Anyone caught removing items from gravesites not their own will be prosecuted to the fullest extent of the law.
WEAPONS POLICY
VA regulations 38 CFR 1.218 prohibit the carrying of firearms (either openly or concealed), explosives or other dangerous or deadly weapons while on VA property, except for official purposes, such as military funeral honors. Possession of firearms on any property under the charge and control of VA is prohibited. Offenders may be subject to a fine, removal from the premises, or arrest.
HISTORICAL INFORMATION
Fort Sam Houston National Cemetery is located in San Antonio, Texas, adjoining the Fort Sam Houston Military Post. As early as 1846, the residents of San Antonio attempted to establish a permanent military facility in their town. During the Mexican War, the U.S. Army established a quartermaster depot at San Antonio and a training camp at San Pedro Spring. In 1849, San Antonio was named the headquarters of the U.S. Army, Eighth Military District and the Alamo was leased from the Catholic Church to use as a storage facility.
A formal request for an Army post was made in 1870, but Secretary of War W. W. Belknap opposed it. As a result, funding was delayed until 1875 and construction of the fort on 93 acres donated by the city did not begin until June 1876. In 1885 and 1891, 43 acres and 60 buildings were added, respectively, to what would become the post. In 1890 the military post at San Antonio was re-designated Fort Sam Houston by President Benjamin Harrison. Prominent visitors to the post included Chief Geronimo, who was held there in 1886 before his exile to Florida and Theodore Roosevelt, who stopped with his men at the base to receive provisions before leaving for Cuba in 1898.
By 1917 the installation had been raised to general depot status and was supplying the Mexican frontier, including troops engaged in General John J. Pershing's pursuit of Francisco "Pancho" Villa. In 1940, it was the largest army post in the United States and it served as a major internment center for prisoners of war during World War II. By 1949, Fort Sam Houston had 1,500 buildings on more than 3,300 acres and was the headquarters for the Fourth U.S. Army.
Although the post was established in 1875, the land upon which Fort Sam Houston National Cemetery is located did not become a burial ground until approximately half a century later. Interments of men from the post were made in a portion of the city cemetery until 1867, when the United States acquired the tract by donation from the city government and designated it San Antonio National Cemetery. Even at that early date, the city completely surrounded the new national cemetery and the possibility for expansion was extremely limited. As the years passed, the number of military personnel grew with a corresponding increase in the number of post deaths. This created a need for more burial facilities.
In recognition of this need, in 1924 a portion of the military reservation was set aside to be used as a post cemetery. The first interment was made two years later in 1926. On Aug. 6, 1931, the War Department announced the transfer of 60 acres, including the post cemetery, from the military reservation and designated the tract an addition to San Antonio National Cemetery. It retained this status until 1937 when the War Department formally renamed it Fort Sam Houston National Cemetery. Remains from one-time frontier posts in Texas such as Fort Ringgold, Fort Clark, and Fort McIntosh were reinterred in Fort Sam Houston when those facilities closed in 1947.
Monuments and Memorials
Fort Sam Houston features a memorial pathway lined with a variety of memorials, donated by various organizations, that honor America's veterans. Most commemorate soldiers of the 20th-century wars.
NOTABLE PERSONS
Medal of Honor Recipients
Master Sergeant Roy P. Benavidez (Vietnam), US Army, Detachment B-56, 5th Special Forces Group. West of Loc Ninh, Republic of Vietnam, May 2, 1968 (Section AI, Grave 553).
Colonel Cecil Hamilton Bolton (World War II), US Army, Company E, 413th and 104th Infantry. Mark River, Holland, Nov. 2, 1944 (Section PC, Grave 22-J).
Staff Sergeant William J. Bordelon (World War II), US Marine Corps, 1st Battalion, 18th Marines, 2nd Marine Division. Tarawa, Gilbert Islands, Nov. 20, 1943 (Section AI, Grave 558).
Santiago J. Erevia was born in Texas in 1946. He enlisted in the Army in 1968 and served for two years. Specialist 4 Erevia was a radio-telephone operator with the 101st Airborne Division in Vietnam. On May 21, 1969, he neutralized four enemy bunkers, saving lives of wounded U.S. soldiers and rescuing his company from a precarious position. He joined the Texas National Guard after his army tour. Although he received the Distinguished Service Cross among other citations, he had been recommended for the Medal of Honor for bravery in 1969. In March 2014, President Barack Obama awarded Erevia and twenty-three other veterans the Medal of Honor--all men who had been overlooked due to cultural prejudice. Erevia died March 22, 2016 (Section AD, Grave 486).
Platoon Sergeant William George Harrell (World War II), US Marine Corps, 1st Battalion, 28th Marines, 5th Marine Division. Iwo Jima, Volcano Islands, March 3, 1945 (Section W, Grave 3247).
Second Lieutenant Lloyd H. Hughes (World War II), US Army Air Corps, 564th Bomber Squadron, 389th Bomber Group, 9th Air Force. Ploesti Raid, Rumania, Aug. 1, 1943 (Section U, Grave 53).
Fireman First Class Peter Johnson (Spanish-American War), US Navy, On board U.S.S. Vixen on the night of May 28, 1898 (Section F, Grave 442).
Private First Class Milton A. Lee (Vietnam), US Army, Company B, 2nd Battalion, 502nd Infantry, 1st Brigade, 101st Airborne Division (Airmobile). Near Phu Bai, Thua Thien Province, Republic of Vietnam, April 26, 1968 (Section X, Grave 2475).
First Lieutenant James E. Robinson, Jr. (World War II), US Army, Battery A, 861st Field Artillery Battalion, 63rd Infantry Division. Near Untergriesheim, Germany, April 6, 1945 (Section T, Grave 98).
Master Sergeant Cleto Luna Rodriguez (World War II), US Army, Company B, 148th Infantry, 37th Infantry Division. Paco Railroad Station, Manila, Philippine Islands, Feb. 9, 1945 (Section AI, Grave 700).
Colonel Seth Lathrop Weld (Philippine Insurrection), US Army, Company L, 8th US Infantry. La Paz, Leyte, Philippine Islands, Dec. 5, 1906 (Section AH, Grave 189).
Staff Sergeant Lucian Adams, (World War II), US Army, 30th Infantry, 3rd Infantry Division. Near St. Die, France, Oct. 28, 1944 (Section AI, Grave 555).
Chief Warrant Officer Two Louis R. Rocco, (Vietnam), US Army, Advisory Team 162, U.S. Military Assistance Command. Northeast of Katum, Republic of Vietnam, May 24, 1970 (Section AI, Grave 549).
Sergeant First Class Jose M. Lopez (World War II), U.S. Army, 23rd Infantry, 2nd Infantry Division. Near Krinkelt, Belgium, Dec. 17, 1944 (Section AI, Grave 542).
Others
Harry George Armstrong, native of South Dakota, enlisted in the U.S. Marine Corps in October 1918. Pvt. Armstrong served during World War I and left in March 1919 to attend medical school. He graduated from the University of Louisville in 1925 and joined the U.S. Army Medical Reserves. In 1931 he was attached to the Air Corps as a flight surgeon. He established the Aero-Medical Laboratory in 1935, where his aero-medical research improved flight conditions and pilot safety. His research is credited with saving the lives of more than 2,000 aviators. Armstrong was appointed Command Flight Surgeon of the 8th Air Force (1942), named Air Force Surgeon General (1949), and Surgeon General of the U.S. air forces in Europe (1954). He received the Distinguished Service Medal and Legion of Honor, among other commendations. Gen. Armstrong retired from service in 1957 and died in 1983 (Section 2, Grave 419).
Twenty-seven Buffalo Soldiers from the 9th and 10th Cavalry who served during the Indian Wars are interred in Section PE. Their remains were initially buried in the frontier forts where they were assigned, such as Fort Clark, Fort McIntosh, and Fort Ringgold. As these frontier posts were closed, the remains were disinterred and brought to Fort Sam Houston National Cemetery.
Captain William Randolph, for whom Randolph Air Force Base was named. He died in a plane crash in 1928. (Section Q, Grave 133)
Raymond Hatfield Gardner, otherwise known as "Arizona Bill." He was an Indian scout during the Indian Wars and served with the 5th Regiment Cavalry, Company A and C. (Section AC, Grave 287-B)
U.S. Congressman Frank Tejeda, who served as a major in the U.S. Marine Corps in Vietnam. (Section AI, Grave 554)
Leon Van Autreve was the fourth Sergeant Major of the Army (SMA) and the highest ranking enlisted man. Van Autreve first joined the Army in 1941 and served overseas during World War II. After a break in service from 1949-50, he rejoined the Army serving with the 54th Engineer Battalion in Germany. Over the next 23 years, Van Autreve would serve in positions across the United States from Virginia to Alaska, in addition to assignments in Korea, Indonesia and Vietnam. He was selected as the fourth Sergeant Major of the Army (a position created in 1966) in July 1973, a position he filled until June 1975. As the SMA, he sought to increase the standards of the Army's noncommissioned officer corps and oversaw the development of the Noncommissioned Officer Education System. (Section AI, Grave 546)
return to top