Attention A T users. To access the menus on this page please perform the following steps. 1. Please switch auto forms mode to off. 2. Hit enter to expand a main menu option (Health, Benefits, etc). 3. To enter and activate the submenu links, hit the down arrow. You will now be able to tab or arrow up or down through the submenu options to access/activate the submenu links.

National Cemetery Administration
History: Publications and Outreach
World War II Commemorative Series
America's World War II Burial Program
This National Cemetery Administration (NCA) publication is the first in a series on topics related to World War II, and it coincides with the 75th anniversary of the end of the war. It tells the story of how service men and women who perished abroad were repatriated between 1947-1951—about 20 percent to VA national cemeteries—as well as the essential features of these properties.
America in World War I: 1917-1919
World War I introduced major changes to government-provided headstones, including size and inscribed features, as well as provisions for foreign-national POWs interred in national cemeteries.
Read "World War I Veterans and Their Federal Burial Benefits" by NCA Senior Historian Sara Amy Leach, from the AGS Quarterly - Bulletin of the Association for Gravestone Studies, Winter 2017 (Vol. 41, No. 4), provided with permission from the Association for Gravestone Studies.
Learn About Essential Historic NCA Cemeteries - Two Books Available as Free Downloads
The National Cemetery Administration (NCA) History Program has released two educational products based on research completed for the sesquicentennial of the Civil War, 2011-2015. Interpretive signs on site explore local military activity, why soldiers are buried here, Medal of Honor recipients, memorials and more. While much has been written about honoring the Union dead, until now little documentation was assembled about Confederates who died as POWs and whose graves are managed by the U.S. government. Both books support the NCA Veterans Legacy Program, begun in 2014.
Interpretive Signs in VA National Cemeteries: Commemorating the Civil War Sesquicentennial, 2011-2015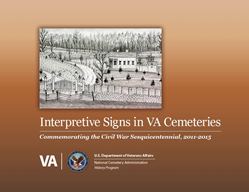 In 2014-2015, NCA installed interpretive (or wayside) signs in VA's oldest cemetery properties: 78 national cemeteries, 15 soldiers or government lots in private cemeteries, and 9 all-Confederate cemeteries.
Federal Stewardship of Confederate Dead

Civil War-era national cemeteries were created to bury Union dead. But the U.S. government was also responsible for Confederate dead--most associated with prisoner-of-war camps. This cultural resource study examines 9 all-Confederate cemeteries and 9 national cemeteries containing the greatest number of Confederate graves. The 311-page book contains 245 illustrations (GPO 2016, ISBN 978-0-16-093255-7).
History Blogs
NCA historians blog about current events, cemeteries, preservation projects, headstones and monuments, Memorial Day, notable persons and more.
Find them here.
Remembering Fort Gratiot's July 1832 cholera victims at Lakeside Cemetery Soldiers Lot / July 31, 2020
https://www.blogs.va.gov/VAntage/77490/remembering-fort-gratiots-july-1832-cholera-victims/
Remembering the USS Indianapolis (CA 35) on its 75th Anniversary / July 30, 2020
https://www.blogs.va.gov/VAntage/77034/remembering-the-uss-indianapolis-ca-35-on-its-75th-anniversary/​
Jo Ann K. Webb: NCA's First Female Director / March 19, 2020
https://www.blogs.va.gov/VAntage/72702/jo-ann-k-webb-ncas-first-female-director/
The Story of NCA's Presidential Memorial Certificate / January 21, 2020
https://www.blogs.va.gov/VAntage/70475/story-ncas-presidential-memorial-certificates/
National Day of the Horse & the 3rd Massachusetts Cavalry / December 3, 2019
https://www.blogs.va.gov/VAntage/69492/national-day-horse-3rd-massachusetts-cavalry/
Enslaved to Enlisted: Reddy Gray's Grave is Underground Railroad site / September 4, 2019
https://www.blogs.va.gov/VAntage/65329/enslaved-enlisted-reddy-grays-grave-underground-railroad-site/
Emma Morrill Fogg French – Civil War Nurse / July 8, 2019
https://www.blogs.va.gov/VAntage/62805/emma-morrill-fogg-french-civil-war-nurse/
Cemetery Monuments Embody Service, Sacrifice / May 24, 2019
https://www.blogs.va.gov/VAntage/60544/cemetery-monuments-embody-service-sacrifice/
May is for Memorial Day...and Mowing / May 23, 2019
https://www.blogs.va.gov/VAntage/60673/may-memorial-day-mowing/
Mount Moriah Naval Plot: History and Restoration / May 16, 2019
https://www.blogs.va.gov/VAntage/60383/mount-moriah-naval-plot-history-restoration/
Resuscitating Dayton National Cemetery's 'Tunnel of Death' / May 3, 2019
https://www.blogs.va.gov/VAntage/59698/resuscitating-dayton-national-cemeterys-tunnel-death/
97 years ago: New Government Headstone for World War Veterans / April 26, 2019
https://www.blogs.va.gov/VAntage/58748/97-years-ago-new-government-headstone-for-world-war-veterans/
President Lincoln's Gettysburg Address in National Cemeteries is a Birthday Legacy / February 12, 2019
https://www.blogs.va.gov/VAntage/56551/presence-of-president-lincolns-gettysburg-address-in-national-cemeteries-is-a-birthday-legacy/
Memorial Day at 150 / May 17, 2018
https://www.blogs.va.gov/VAntage/48501/memorial-day-150/
Buffalo Soldier Makes History Serving as Superintendent of VA Cemeteries / February 28, 2018
https://www.blogs.va.gov/VAntage/45829/buffalo-soldier-makes-history-serving-as-superintendent-of-va-cemeteries/
NCA Historians Preserve National Cemeteries: 50th anniversary of National Historic Preservation Act / October 27, 2016
https://www.blogs.va.gov/VAntage/32345/nca-historian-works-to-preserve-national-cemeteries-50th-anniversary-of-the-national-historic-preservation-act/
Publications
American Military Cemeteries: A Comprehensive Illustrated Guide to the Hallowed Grounds of the United States, including Cemeteries Overseas, by Dean W. Holt (McFarland & Co., Jefferson, North Carolina) 2010, Second Edition.
Education Tools
Teaching with Historic Places (TwHP) Lesson Plans is a component of the National Register of Historic Places, which helps develop guidance on using historic places to teach and encourages educators, historians, preservationists and others to work together effectively. Three NCA properties are the subject of TwHP lesson plans:
"A Nation Repays Its Debt: The National Soldiers' Home and Cemetery in Dayton, Ohio" (Dayton National Cemetery)
"Not to Be Forgotten: Camp Chase Confederate Cemetery"
Comfortable Camps?" Archeology of the Confederate Guard Camp at the Florence Stockade (This lesson was developed as part of mitigation associated with NCA's expansion of Florence National Cemetery.)
More Lesson Plans
Helpful Research Links
'Discover Our Shared Heritage Travel Itinerary' Series
A program of the National Park Service, this series consists of travel guides to historic destinations around the country, all listed on the National Register of Historic Places. VA's oldest properties are the subject of two itineraries:
Civil War Era National Cemeteries: Honoring Those Who Served
Veterans Affairs National Home for Disabled Volunteer Soldiers
Programs in Public History
In 2017 NCA's History Program joined the Virtual Student Federal Service (VSFS) e-Internship program offered through the U.S. Department of State to work with undergraduate and graduate students in public history programs. We continue to host virtual interns who research aspects of burial and memorial benefits, notable burials, and veteran memorialization that complements their studies. Each year new topics and products result in findings that support NCA's commitment to exploring the history of the National Cemetery system and making the information digitally accessible.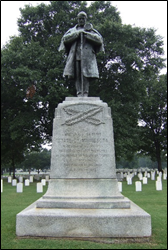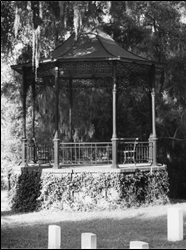 In 2017 two students from Rhodes College (Memphis, TN) and Central Connecticut State University (New Britain, CT) studied important built features in the national cemeteries. Students examined the early twentieth century sculptural monuments and those along more-recent memorial walks. Rostrums are literally the platform used for Memorial Day events since the late nineteenth century. Physically they reflect changing architectural trends, but they also reflect how we commemorate the dead.
Monumental Minnesota
Rostrums Over the Years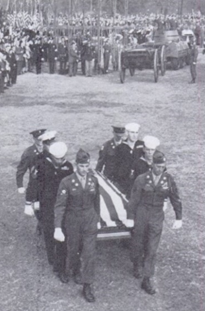 In 2018 three students from Concordia College (Moorhead, MN), Michigan State University (East Lansing, MI), and New York University (New York, NY) explored special populations associated with the national cemeteries. Like Civil War veterans before them, some World War I veterans continued to service with the Quartermaster Corps as a civilian, earning a livelihood as a cemetery superintendent. During and after World War II, superintendents oversaw the burials of foreign nationals who died in the United States as prisoners of war and the final disposition of American war dead repatriated from overseas cemeteries, respectively. They researched War Department decisions that impacted who was buried where, and why, in VA national cemeteries in the 1940s. The legacies of those decisions are intertwined and collectively they offer insights into the inter-world war period.
World War I Veterans turned Cemetery Superintendents
World War II German POWs at Fort Custer National Cemetery
World War II Repatriation at Long Island National Cemetery
NOTE: Page may contain links that will take you away from the Department of Veterans Affairs website.
return to top