Attention A T users. To access the menus on this page please perform the following steps. 1. Please switch auto forms mode to off. 2. Hit enter to expand a main menu option (Health, Benefits, etc). 3. To enter and activate the submenu links, hit the down arrow. You will now be able to tab or arrow up or down through the submenu options to access/activate the submenu links.

National Cemetery Administration
St. Augustine National Cemetery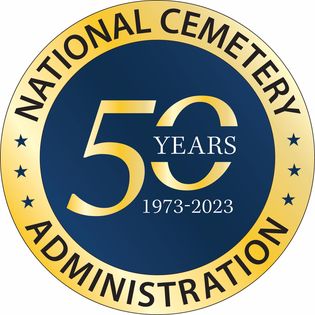 NCA marks 50 years (1973-2023) of serving America's Veterans, Service Members, and Families.

View events, daily photos of national cemeteries and more.


St. Augustine National Cemetery is closed to new interments. The only interments that are being accepted are subsequent interments for veterans or eligible family members in an existing gravesite. Periodically however, burial space may become available due to a canceled reservation or when a disinterment has been completed. When either of these two scenarios occurs, the gravesite is made available to another eligible veteran on a first-come, first-served basis. Since there is no way to know in advance when a gravesite may become available, please contact the cemetery at the time of need to inquire whether space is available.
Burial in a national cemetery is open to all members of the armed forces who have met a minimum active duty service requirement and were discharged under conditions other than dishonorable.
A Veteran's spouse, widow or widower, minor dependent children, and under certain conditions, unmarried adult children with disabilities may also be eligible for burial. Eligible spouses and children may be buried even if they predecease the Veteran.
Members of the reserve components of the armed forces who die while on active duty or who die while on training duty, or were eligible for retired pay, may also be eligible for burial.
From Jacksonville International Airport: Take Interstate 95 South. Take the SR-16 E exit, Exit 318, toward Flagler College/St. Augustine. Turn left onto FL-16E. Turn right onto N Ponce De Leon Blvd/US 1. Turn left onto W Castillo Drive. Turn right onto S Castillo Dri/FL-A1A continue to follow FL-1A. FL-A1A becomes Avenida Menendez. Turn left onto Marine Street; cemetery is on the right.
From the South (Daytona Beach International Airport): Take Interstate 95 N toward Jacksonville. Take the US-1 N exit, Exit 298 toward St. Augustine/Fort Matanzas. Turn right onto US-1 N. Turn right onto W King St/CR-214E. Turn right onto St. George Street. Turn left onto St. Francis Street. Turn right onto Marine Street - to #104 Marine Street.
Fax all discharge documentation to the National Cemetery Scheduling Office at 1-866-900-6417 and follow-up with a phone call to 1-800-535-1117.
For information on scheduled burials in our national cemeteries, please go to the Daily Burial Schedule.
Under Development.
For educational materials and additional information on this cemetery, please visit the Education section, located below.
Cemetery policies are conspicuously posted and readily visible to the public.
Floral arrangements accompanying the casket or urn at the time of burial will be placed on the completed grave. Natural cut flowers may be placed on graves at any time of the year. They will be removed when they become unsightly or when it becomes necessary to facilitate cemetery operations such as mowing.
Artificial flowers and potted plants will be permitted on graves during periods when their presence will not interfere with grounds maintenance. As a general rule, artificial flowers and potted plants will be allowed on graves only during the period of October 10 through April 15.
Christmas wreaths, grave blankets and other seasonal adornments may be placed on graves from December 1 through January 20. They may not be secured to headstones or markers.
Permanent plantings, statues, vigil lights, breakable objects and similar items are not permitted on the graves. The Department of Veterans Affairs does not permit adornments that are considered offensive, inconsistent with the dignity of the cemetery or considered hazardous to cemetery personnel. For example, items incorporating beads or wires may become entangled in mowers or other equipment and cause injury.
Permanent items removed from graves will be placed in an inconspicuous holding area for one month prior to disposal. Decorative items removed from graves remain the property of the donor but are under the custodianship of the cemetery. If not retrieved by the donor, they are then governed by the rules for disposal of federal property.
All graves will be decorated on the workday immediately preceding Memorial Day with small United States flags, which will be removed on the first workday after Memorial Day. Flags are not permitted on graves at any other time.
VA regulations 38 CFR 1.218 prohibit the carrying of firearms (either openly or concealed), explosives or other dangerous or deadly weapons while on VA property, except for official purposes, such as military funeral honors.
Possession of firearms on any property under the charge and control of VA is prohibited. Offenders may be subject to a fine, removal from the premises, or arrest.
St. Augustine National Cemetery is located in St. Johns County, in the city of St. Augustine, adjacent to what is now the headquarters of the Florida National Guard.
Although the St. Augustine burial ground was not designated a national cemetery until 1881, this hallowed site played a vital role in the colorful history of the oldest city in the nation. St. Augustine was originally established in the 17th century as a Spanish colonial possession. The land that is now a national cemetery was part of a Franciscan monastery, and the southern boundary marks the periphery of the old Spanish-walled city. During England's rule of Florida from 1763 to 1783, the monastery was occupied by the military. During the second Spanish occupation of Florida, from 1783 to 1821, the property remained in the hands of the military.
When the United States gained possession of Florida in 1821, the old fort barracks was set aside for a post cemetery. According to historical records, the first interment took place in 1828. Most early burials were soldiers who died during the "Indian War," either in battle or due to sickness and disease—not uncommon in Florida's subtropical climate. The native Seminoles resisted the U.S. government's attempts to forcibly remove them from their territory and seven years of fighting ensued.
On December 23, 1835, Maj. Francis L. Dade and his company were ordered to reinforce Gen. Wiley Thompson's troops stationed at Fort King, Ocala. During the trek from Tampa to Fort King, Dade, believing there was no threat as they passed through Seminole-controlled territory, failed to take appropriate precautions. The heavy winter garments of the soldiers covered their weapons, so that when the Seminoles staged an attack, Dade's troops were virtually wiped out—only two or three soldiers survived. A few months later, when travel in the area was again possible, the massacred soldiers were buried at the site.
In 1842 when hostilities ceased, the Army proposed to transfer the remains of all who died in the territory, including those who fell with Dade, to a single burial ground. Reinterment took place at the St. Augustine Post Cemetery. In addition to Dade's command, others killed during the Florida Indian War were interred in three collective graves. Three distinctive pyramids constructed of native coquina stone were erected in their memory and that of more than 1,400 who died or were killed in battle during the war.
Two years later, it was proposed that a monument be erected to the soldiers who died in the Florida wars. It would be a tall obelisk to stand before the three pyramids, the cost of which would be met by a donation of one day's pay from each soldier stationed at the barracks.
When Florida became the 27th state in the Union in 1845, the city was already developing as a winter resort, offering a warm climate that attracted northern visitors. Florida seceded from the Union in 1861 and Confederate troops raised the fourth flag to fly over the city; sentiment in St. Augustine was about equally divided between the North and the South. The Confederate army appropriated Fort Marion and St. Francis Barracks.
The city suffered greatly under federal blockades, and in March 1862 when a Union gunboat entered St. Augustine harbor, the mayor quickly surrendered. It was again a permanent part of the Union. Two decades after the Civil War, St. Augustine again flourished, and the commander of St. Francis Barracks recognized the need to assure the proper care and respectful treatment of the old post cemetery. That same year, Quartermaster Gen. Montgomery Meigs proposed that "As Florida is now a resort of many thousands of citizens with their families in search of benefit from its mild winter climate, it will only be becoming to put this cemetery, too long neglected and falling lately into decay, into as good condition as the other national cemeteries." The adjutant general concurred, and the post burial grounds were declared a national cemetery.
By 1893, a wall of coquina stone was constructed to enclose the cemetery properly. In 1912 and 1913, additional land from the military reservation was added to the cemetery, nearly doubling its size to 1.36 acres.
In 1938, a new superintendent's lodge was constructed according to designs approved by the city council, which sought to preserve the heritage of St. Augustine. Built of coquina with an overhanging balcony and shingle roof, the building was architecturally in keeping with the style of the old Spanish homes in the historic district. A coquina rostrum at the northern end of the cemetery, the stage for official ceremonies, echoed the curving roofline silhouettes of the Spanish Baroque style seen in other prominent city structures.
Monuments and Memorials
The Dade Monument is composed of three pyramids constructed of native coquina stone and originally covered with white stucco. The pyramids were dedicated at a ceremony on August 15, 1842, that marked the end of the Florida Indian Wars. The structures cover vaults that contain the remains of soldiers who died during the Florida Indian Wars (1835–1842). According to the inscription, the wars began on December 25, 1835. Three days later, Maj. Francis L. Dade and his regiment were enroute from Fort Brooke (Tampa) to Fort King (Ocala) when they were ambushed and killed. Of the 108 men and officers under his command, only two or three survived. Maj. Dade and his men are among those entombed at the pyramids.
The Dade Monument, a coquina stone and marble obelisk, was erected in 1844 and commemorates Maj. Francis L. Dade and the men who died with him at the 1835 massacre. Soldiers stationed at the St. Augustine post contributed one day's pay to fund the memorial.
James William Dell was born in Kentucky in 1876. He enlisted in the U.S. Army in October 1897 and fought in the Spanish American War and World War I. Cited for gallantry in action, Staff Sergeant Dell was selected to serve as a pallbearer for the interment of the Unknown Soldier of World War I at Arlington National Cemetery, a ceremony held on November 11, 1921. Dell retired at the rank of master sergeant after 32 years. As a civilian, Dell was appointed the first superintendent of Zachary Taylor National Cemetery (KY) and later oversaw St. Augustine National Cemetery (FL). He died July 28, 1968, and is buried in St. Augustine National Cemetery (Section C, Site 205).
Alabama native David Moniac was the first American Indian to attend the U.S. Military Academy at West Point, New York. A Creek Indian, he graduated in 1822 and reenlisted in the army during the Indian Wars. Maj. Moniac was the only officer killed during the Battle at Wahoo Swamp in Sumter County, Florida, on November 21, 1836. Moniac's remains were buried with others, including the victims of Dade's Massacre (1835), a watershed event in the Second Seminole War. These graves at St. Augustine National Cemetery are marked by the Dade Monument, a trio of pyramids dedicated August 14, 1842. He is also memorialized at Florida National Cemetery (Section MD, Site 1).
return to top