Attention A T users. To access the menus on this page please perform the following steps. 1. Please switch auto forms mode to off. 2. Hit enter to expand a main menu option (Health, Benefits, etc). 3. To enter and activate the submenu links, hit the down arrow. You will now be able to tab or arrow up or down through the submenu options to access/activate the submenu links.

National Cemetery Administration
Washington Crossing National Cemetery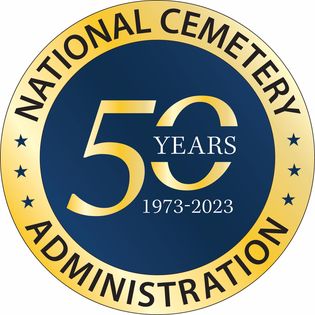 NCA marks 50 years (1973-2023) of serving America's Veterans, Service Members, and Families.

Learn more and watch NCA's 50th Anniversary Ceremony.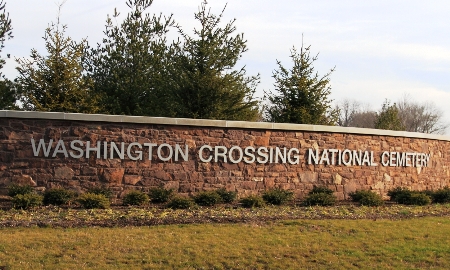 Visitation Hours: Open daily from sunrise to sunset.
Office Hours: Monday thru Friday 8:00 a.m. to 4:30 p.m. Closed federal holidays except Memorial Day and Veterans Day.
This cemetery has space available to accommodate casketed and cremated remains.
Burial in a national cemetery is open to all members of the armed forces who have met a minimum active duty service requirement and were discharged under conditions other than dishonorable.
A Veteran's spouse, widow or widower, minor dependent children, and under certain conditions, unmarried adult children with disabilities may also be eligible for burial. Eligible spouses and children may be buried even if they predecease the Veteran.
Members of the reserve components of the armed forces who die while on active duty or who die while on training duty, or were eligible for retired pay, may also be eligible for burial.
From Philadelphia International Airport: Take Interstate 95 North for approximately 36 miles to exit 49. Turn left onto Yardley Newtown Road/PA Highway 332 West (Newtown Bypass) for 0.8 miles, then turn right at Lindenhurst Road. Travel 2.3 miles, then turn left at PA Highway 532/Washington Crossing Road, then turn right at Highland Road.
From Interstate 95 South, take exit 49. Turn right onto Yardley Newtown Road/PA Hwy 332 West (Newtown Bypass) for 0.6 miles, then turn right at Lindenhurst Road and travel 2.3 miles. Turn left at PA Hwy 532/Washington Crossing Road, then turn right at Highland Road.
Fax all discharge documentation to the National Cemetery Scheduling Office at 1-866-900-6417 and follow-up with a phone call to 1-800-535-1117.
For information on scheduled burials in our national cemeteries, please go to the Daily Burial Schedule.
The 205-acre national cemetery in southeastern Pennsylvania will serve veterans' needs for the next 50 years. The cemetery is located in Bucks County, north of the city of Philadelphia, about three miles northwest of Interstate 95, and less than three miles from Washington Crossing Historic Park.
In January 2008, VA awarded a design contract to Cairone & Kaupp, Inc. of Philadelphia. Completing a 12-acre early burial area with temporary facilities (Phase 1A) followed by the second construction stage of the project (Phase 1B). The 64-acre Phase 1 development provides 15,500 full casket gravesites, including 15,100 pre-placed crypts, and 6,500 in-ground cremation sites and 4,100 columbarium niches. The cemetery also includes an administration and public information center complex and public restrooms, a maintenance facility, a cemetery entrance area, a flag assembly area, and committal shelters for funeral services. Other infrastructure design elements include roadways, landscaping, utilities, and irrigation.
For educational materials and additional information on this cemetery, please visit the Education section, located below.
You can place fresh cut flowers on your loved one's grave throughout the year.
Floral items will be removed from graves when they become faded or unsightly. They may also be removed to allow mowing. Government supplied plastic flower containers are available for your use and located within the cemetery.
You can place artificial flowers on graves from November 1st through April 1st. Artificial flowers are also allowed five days prior to Memorial Day. They will be removed five days after the holiday.
From December 1st through January 10th, holiday wreaths less than 18 inches in diameter and no higher than the headstone and grave blankets that are less than 2 feet by 3 feet may be placed on graves. Holiday wreaths and grave blankets will be removed after January 20.
To preserve the dignity and appearance of your loved one's final resting place, the following items aren't allowed at headstones or columbariums:
Alcoholic products
Balloons, candles, or vigil lights
Decorative and breakable glass, plastic items, or objects
Non-government supplied floral containers (pots, planters, glass vase, etc.)
Objects such as rocks or other durable items, beads or wires that when mowing or performing maintenance could become projectiles or become entangled in equipment that may cause injury
Offensive items or those deemed contrary to honoring Veterans
Permanent in-ground plantings
Pinwheels or windchimes
Statues or stuffed animals
Weapons of any kind, explosives, or ammunition
Please note:
Floral items or decorations may not be secured to headstones.
In-ground floral containers may not be placed in new cemeteries or new sections of national cemeteries.
VA regulations 38 CFR 1.218 prohibit the carrying of firearms (either openly or concealed), explosives or other dangerous or deadly weapons while on VA property, except for official purposes, such as military funeral honors.
Possession of firearms on any property under the charge and control of VA is prohibited. Offenders may be subject to a fine, removal from the premises, or arrest.
In 1681, King Charles II of England granted a sizable piece of his land holdings in America to William Penn to satisfy a debt owed to the Penn family. The next year, Penn established the three original counties in the Pennsylvania Colony, including Bucks County. Immigrants, primarily from the British Isles and Germany, arrived and settled on small farms, producing potash, wheat, salted pork and other products.
During the Revolutionary War, in the summer and fall of 1776, General George Washington's Continental Army suffered a series of losses in New York and New Jersey. By December, the British offensive forced General Washington and his troops to withdraw into Pennsylvania and decamp in Bucks County. The general was in desperate need of a military victory to resuscitate the morale of his army and the American public.
General Washington suspected that the British were complacent after their successes, and sought an offensive maneuver that might catch them off guard. On the night of December 25–26, 1776, Washington led his troops across the Delaware River in the first movement of a surprise attack against Hessian forces in British service. The Continental Army won the subsequent Battle of Trenton and provided the Americans with a much-needed victory.
The Delaware River crossing was more than a strategic triumph. It grew to symbolize both Washington's heroism and the resiliency of the burgeoning republic at one of the darkest hours of the revolution. German artist Emmanuel Leutze depicted this momentous event in his 1849 painting Washington Crossing the Delaware, to inspire supporters of democracy and greater political representation in Germany in the aftermath of the unsuccessful Revolutions of 1848. The idealized and historically inaccurate scene has become an iconic depiction of the crossing; copies hang in the White House and the Metropolitan Museum of Art in New York.
Today, both sides of the Delaware River are preserved as part of the Washington Crossing National Historic Landmark district, composed of Washington Crossing Historic Park on the Pennsylvania side, and Washington Crossing State Park in New Jersey.
The character of Bucks County continued to be primarily agricultural throughout the 19th century and into the next, with pockets of industrial activity near the Delaware River. Suburbanization accelerated after World War II as the economy expanded, automobile ownership increased, and the extension of the Pennsylvania Turnpike stimulated local housing construction. Levittown, an early subdivision developed by the pioneering suburban developer Levitt & Sons, is located in the southern part of Bucks County. In 1951, U.S. Steel opened a mill in Bucks County, which sparked even more growth.
Today, Bucks County is suburban in areas nearest to the Delaware River. The northern region is more pastoral, and is popular with tourists in search of natural scenery, historic covered bridges, and the location of General Washington's crossing.
Washington Crossing National Cemetery is located approximately three miles southwest from the location where General Washington crossed the Delaware River. The cemetery is located on land that William Penn deeded to Euro-American settlers in 1698, and was used as farmland for centuries. In 2008, the Department of Veterans Affairs purchased the property from Dolington Land, L.P., a subsidiary of the homebuilding company Toll Brothers. The cemetery was formally dedicated in 2009 and opened for burials the following year. Washington Crossing National Cemetery is the fourth national cemetery established in Pennsylvania and the 131st in the national cemetery system.
Georgian Mildred J. Dalton (1914–2013) graduated from Grady Memorial Hospital School of Nursing and was head surgical nurse there before joining the U.S. Army. She served in the Army Nurse Corps from 1939 to 1946 at Fort Benning, then in the Philippine Islands. Already in the Pacific when the United States entered World War II, Dalton tended the wounded on the Bataan Peninsula. In May 1942 she was among 66 army nurses captured at Corregidor and sent to Santo Tomas prison camp. Despite being malnourished captives themselves, the nurses treated thousands of prisoners until Allied troops liberated them. Dalton was awarded the Bronze Star and promoted to first lieutenant. She participated in a war bond campaign to end her tour, where she met her husband, Arthur Manning. By the time of her death, Manning was known as the last "Angel of Corregidor." She is buried in Section 6, Site 1270.
We are developing educational content for this national cemetery, and will post new materials as they become available. Visit the Veterans Legacy Program and NCA History Program for additional information. Thank you for your interest.
return to top