Attention A T users. To access the menus on this page please perform the following steps. 1. Please switch auto forms mode to off. 2. Hit enter to expand a main menu option (Health, Benefits, etc). 3. To enter and activate the submenu links, hit the down arrow. You will now be able to tab or arrow up or down through the submenu options to access/activate the submenu links.

National Cemetery Administration
Fort Smith National Cemetery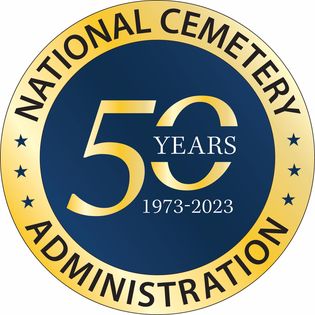 NCA marks 50 years (1973-2023) of serving America's Veterans, Service Members, and Families.

Learn more and watch NCA's 50th Anniversary Ceremony.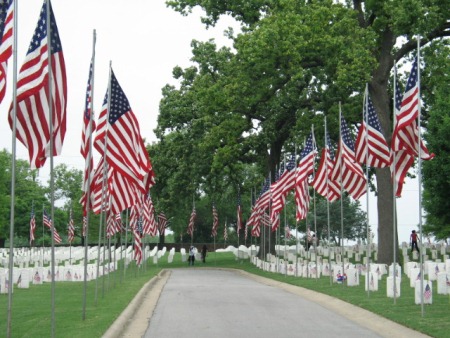 Visitation Hours: Open daily 7:30 a.m. to sunset.
Office Hours: Monday thru Friday 8:00 a.m. to 4:30 p.m. Closed federal holidays except Memorial Day and Veterans Day.
IMPORTANT: The main phone line at Fort Smith National Cemetery is experiencing service outages periodically. If you call the main phone number listed and cannot reach the cemetery, please dial 479-435-3044 or try your call again later. To schedule a burial, please call the National Cemetery Scheduling Office toll-free at 1-800-535-1117. VA is actively working to resolve this issue and appreciates your patience.
This cemetery has space available to accommodate casketed and cremated remains.
Burial in a national cemetery is open to all members of the armed forces who have met a minimum active duty service requirement and were discharged under conditions other than dishonorable.
A Veteran's spouse, widow or widower, minor dependent children, and under certain conditions, unmarried adult children with disabilities may also be eligible for burial. Eligible spouses and children may be buried even if they predecease the Veteran.
Members of the reserve components of the armed forces who die while on active duty or who die while on training duty, or were eligible for retired pay, may also be eligible for burial.
From Fort Smith Airport, take South 74th Street to Rogers Avenue, turn left and proceed west approximately five miles to S. 6th Street, turn left and proceed three blocks to cemetery entrance. From Oklahoma on Interstate 40, take the Roland, Oklahoma exit, follow US 64 south to Fort Smith, approximately six miles. Turn right on South 6th Street and proceed three blocks to cemetery entrance. From Fayetteville or Little Rock, Arkansas on Interstate 40 going west, take the Interstate 540 exit to Rogers Ave. (West) exit. Proceed west, approximately 4-1/4 miles, to South 6th Street, turn left and proceed three blocks to cemetery entrance.
Fax all discharge documentation to the National Cemetery Scheduling Office at 1-866-900-6417 and follow-up with a phone call to 1-800-535-1117.
For information on scheduled burials in our national cemeteries, please go to the Daily Burial Schedule.
Under Development.
For educational materials and additional information on this cemetery, please visit the Education section, located below.
Cemetery policies are conspicuously posted and readily visible to the public.
Floral arrangements accompanying the casket or urn at the time of burial will be placed on the completed grave. Natural cut flowers may be placed on graves at any time of the year. They will be removed when they become unsightly or when it becomes necessary to facilitate cemetery operations such as mowing.
Artificial flowers will be permitted on graves during the period from November 1 through March 1. Artificial flowers and potted plants are allowed on graves 10 days prior and up to 10 days after Easter Sunday, Memorial Day, and Veterans Day.
Christmas wreaths, grave blankets and other seasonal adornments may be placed on graves from December 1 through January 20.
Permanent plantings, statues, vigil lights, breakable objects and similar items are not permitted on the graves. The Department of Veterans Affairs does not permit adornments that are considered offensive, inconsistent with the dignity of the cemetery or considered hazardous to cemetery personnel. For example, items incorporating beads or wires may become entangled in mowers or other equipment and cause injury.
Decorative items removed from graves remain the property of the donor but are under the custodianship of the cemetery. If not retrieved by the donor, they are then governed by the rules for disposal of federal property.
VA regulations 38 CFR 1.218 prohibit the carrying of firearms (either openly or concealed), explosives or other dangerous or deadly weapons while on VA property, except for official purposes, such as military funeral honors.
Possession of firearms on any property under the charge and control of VA is prohibited. Offenders may be subject to a fine, removal from the premises, or arrest.
Fort Smith National Cemetery is located in Sebastian County, Arkansas. Fort Smith has played an important role in the expansion and development of the United States. By the early 19th century more and more white settlers were moving into the territory acquired through the Louisiana Purchase of 1805. Tensions with the local Native Americans increased as both groups competed for space and resources. To ensure the safety of the settlers, the U.S. Army established a string of military posts along the western frontier. Fort Smith was the first and westernmost of these.
On Christmas Day 1817, General William Bradford and his men arrived on the point of land just below the confluence of the Poteau and Arkansas rivers, where they began constructing a stockade fort sufficient for one company. Within a few years of its establishment, additional troops were garrisoned to maintain peace and prevent hostilities between the Cherokee and the Osage. However, 50 men (about 25 percent of the command) died in 1823, with forty-four of the deaths occurring during the summer months. Despite its strategic importance the Army closed the fort in 1824. Doors, windows, and all other movable equipment at Fort Smith were transported to Fort Gibson for use in the construction of that post.
The first cemetery at Fort Smith was most likely established during this period. A newspaper article published in 1841 suggests there was a dilapidated burial ground outside of the stockade containing three graves marked by marble slabs. This cemetery may have been established in 1819 at the time of, or just prior to, the death of the Fort Smith surgeon Thomas Russell.
In 1838 the Army permanently returned to Fort Smith with the arrival of Company F, 7th U.S. Infantry. A new garrison was constructed, including an officers' log house where General Zachary Taylor lived from 1841 until 1845. In addition, the original post cemetery was rehabilitated and enlarged. On April 23, 1861, at the onset of the Civil War, Fort Smith was evacuated and Confederate forces occupied the garrison. By May of that year, the Arkansas legislature had ceded the fort to the Confederate States of America. During the War Between the States more than 400 Confederate soldiers were buried at Fort Smith, including Generals James B. McIntosh and Alexander E. Steen.
On September 1, 1863, Union troops were able to retake Fort Smith and it remained in Union hands for the rest of the war.
In 1867, the old post burial ground was elevated to a national cemetery consisting of about five acres enclosed by a white-washed fence. Many military dead were removed from battlefields and private cemeteries and reinterred here. So many, in fact, that when the Fort Smith military reservation closed in 1871, President Grant ordered that Fort Smith National Cemetery be reactivated by the War Department and remain open for the purpose of future military burials.
Probably the most famous interment at Fort Smith is Isaac C. Parker, better known as the "Hanging Judge." Parker was born in 1838 in Ohio and began practicing law in 1859; during the Civil War he was a corporal assigned to the 61st Missouri Infantry. After the war, Parker became a judge for the 12th Circuit of Missouri and was elected to Congress twice. In 1875, President Grant appointed him U.S. District Judge for the Eastern District of Arkansas. At the relatively young age of 37, Parker found himself responsible for a 74,000-square-mile area. In his 21 years in this position, Parker sentenced 151 men to death by hanging (of these, 83 were actually executed). In a territory noted for its lawlessness, his harsh but effective administration helped make the settlement of the West possible. On November 17, 1896, two months after Judge Parker was removed from office due to a movement toward the establishment of local courts, he died and was buried at Fort Smith National Cemetery.
Also buried at this cemetery is Fort Smith-native Brigadier General William O. Darby, who organized and commanded the First Ranger Battalion, or "Darby's Rangers". The highly-decorated Col. Darby was killed in Italy's Po Valley only days before the end of World War II in Europe; he was posthumously promoted to the rank of Brigadier General.
The once-small cemetery at Fort Smith has been expanded several times over almost 200 years and today totals 32 acres. Many of the private monuments in the national cemetery face west, in the opposite direction of government furnished headstones. This is in accordance with a religious custom in some Arkansas communities to bury the dead with the feet to the east so that on Resurrection Day the body will arise facing east. The inscription is facing west as it is believed that a person, when reading the headstone, would be in a proper position (facing east) to say a prayer for the deceased.
Fort Smith National Cemetery was placed on the National Register of Historic Places on May 29, 1999.
Monuments and Memorials
A carillon was donated by the American Veterans as part of their international living memorial program, which began shortly after World War II. The carillon was dedicated on Veteran's Day, 1986.
A marble memorial to Unknown Confederate Dead also commemorates Brig. General James McIntosh, CSA, who was killed at the Battle of Pea Ridge on March 8, 1862 and Brig. General A. Steen, CSA, who was killed at Prairie Grove on December 7, 1862.
The Vietnam Veterans Memorial of granite and bronze was dedicated May 30, 1998 to honor all who served their country during the Vietnam War.
The Pearl Harbor Memorial was dedicated on December 7, 1997 by the Pearl Harbor Survivors Association in memory of all who served on the island of Oahu, Territory of Hawaii on December 7, 1941 during the attack by Japan.
Judge Isaac C. Parker - A veteran of the civil war and two-time congressman, was appointed by President Grant as United States District Judge of the western district of Arkansas. Judge Parker had criminal jurisdiction over the frontier territory and Indian Territory. Judge Parker served the court for 21 years and became known as the "Hanging Judge". Judge Parker died November 17, 1896.
Brigadier General William O. Darby - A veteran of World War II known for his many exploits and establishment of the rangers. General Darby, a West Point graduate, patterned his rangers after the British Commandos. Only five days after Germany's surrender in 1945, Colonel Darby died in Italy's Poe Valley. His courageous actions were recognized by the U.S. Army, which posthumously raised him to the rank of brigadier general.
return to top